08 Nov

Brownie Bites: Newest Food Pasalubong in Cagayan de Oro!
Whenever we travel we usually bring home with us a pasalubong- a souvenir or treats- to give to our loved ones. Filipinos are fond of giving pasalubong as it has been a tradition and it shows how naturally generous and hospitable we are.
In Cagayan de Oro, there is a wide selection of delicacies to choose from. But do you know what the newest pasalubong goodie we have?
You must have heard it on social media, radio or from a common friend… the newest brownie craze, the homegrown and tasty Brownie Bites!
Brownie Bites
Brownie Bites is a product of Bite Me Up Food Corporation. A lightbulb moment occurred when the owners, a group of local entrepreneurs, thought of a product which we are all familiar or something that we've grown up with and most importantly, it should be made locally so we could finally have to say it's a Cagayan de Oro product –and that's how Brownie Bites came to life.
The makers of Brownie Bites ensure consistency and quality of their product as it has been carefully studied and tested by their team.
Time flies indeed as Brownie Bites is almost a year already but was officially launched last March of this year. TV Host and Kagay-anon personality, Nicole Abas Datayan, is the official endorser of Brownie Bites. Check out the Brownie Bites' video of  Ms. Nicole and her daughter Aiyana.
The Brownie Bites jingle sure is fun and catchy with MOR 91.9's Ms. Jane Rose Fiel Abaday Jr a.k.a. Maria Feelingera singing.
Social Media
Embracing the trend, of course, Brownie Bites has a Facebook and an Instagram. Be sure to follow them for updates as they actually have promotions and games to offer for everybody.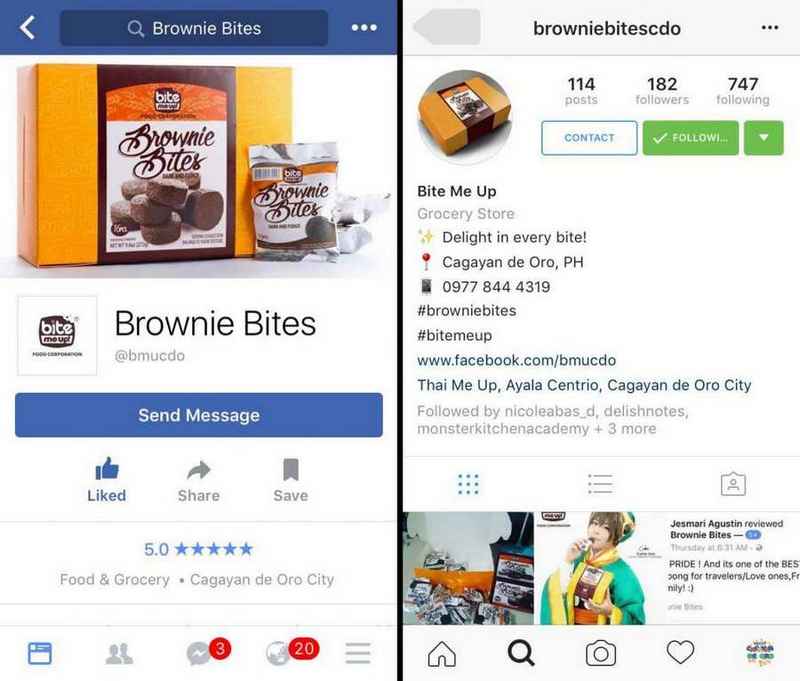 Facebook: https://www.facebook.com/bmucdo/
Instagram: https://www.instagram.com/browniebitescdo/
Locations
Below are the specific stores where Bite Me Up Food Corp's Brownie Bites are available:
MINDANAO
Selected 7-Eleven Cagayan de Oro Outlets
Halal PasalubongLaguindingan Airport
Starmart – Caltex Gusa
Vjandep Bakeshop – Bulua National Highway
Limketkai Mall
E.S Pasalubong
Pasalubong Shop (beside Island Souvenir)
Prime Meat Deli (Rosario Strip)
Thai Me Up
Ayala Centrio Mall Branch
Malunggay Pastel Breads & Cafe
Mastersons Avenue (Uptown) Branch
Divisoria Branch
Monster Kitchen
San Agustin Rizal (Cathedral) Branch
Cogon Branch
Iligan City
Cheding's Peanuts
Camiguin
Pasalubong sa Camiguin (Lumad, Mambajao, Camiguin)
VISAYAS
Profood Gallery Giftshop (V. Albano Street, Maguikay, Mandaue City)
Philippine Paradise (J Centre Mall, 2nd Level behind Octagon)
LUZON
Jonas (The Forth Strip, 26th Corner 5th Avenue, Bonifacio Global City, Taguig City)
Six months after the official launching, Brownie Bites is overwhelmed with the all the positive feedbacks coming from fellow Kagay-anons as it is now becoming everybody's favorite. Truly a delight in every bite!
Support local products, love Brownie Bites!