28 Nov

Bucket List: Have an Amazing Christmas Experience with Blu Sands' Fear and Fancy Parasailing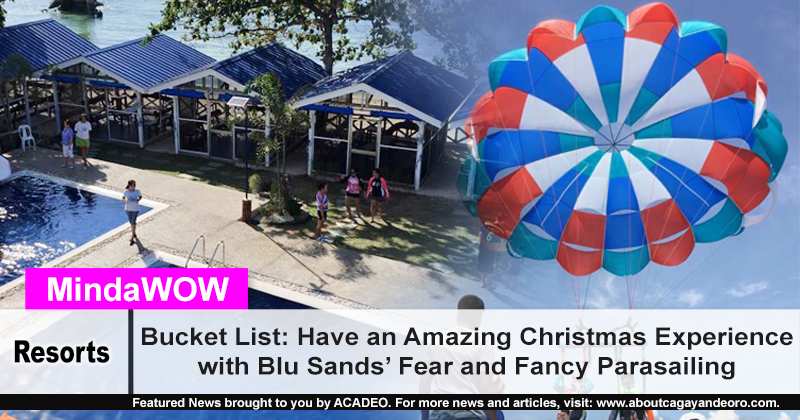 How about an outdoor Christmas party at the heart of white beaches in Misamis Oriental?
Surely, that would be a great moment for every hard working person out there to give themselves a break from all the toxic stresses they feel at work or at school. And if you're on the hunt for a really good resort outside of the city that is both amazing in view and perfect for holding parties now is your chance to take a look at the Blu Sands Beach Resort.
For those who did not know where Blu Sands  Resort is located, it can be found at Tubigan, Initao, Misamis Oriental, in between Midway and Hapitanan Beach Resorts.
Have the most unforgettable Christmas Experience by checking off items on your bucket list.
Try Blu Sands' the fear and fancy, parasailing. Ever wondered how it feels to become a kite, this is your chance to feel the wind and be above the sky.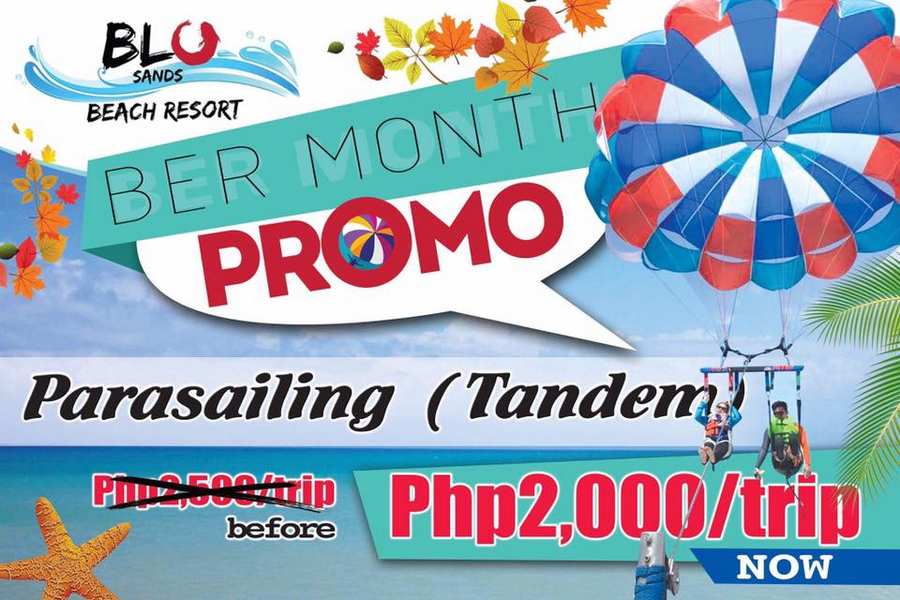 I know it's crazy to be up there alone without anyone to console how you feel, why not try parasailing in Tandem. And since it's Christmas Season, they are giving the experience for only Php2000.00
It may feel like your life was at the mercy of a single rope but once you've pulled yourself together you'll start to be amazed by the beautiful sceneries that surround you.
And if you are screaming for more WaterPark Adventures, you can try their profuse Water Sports: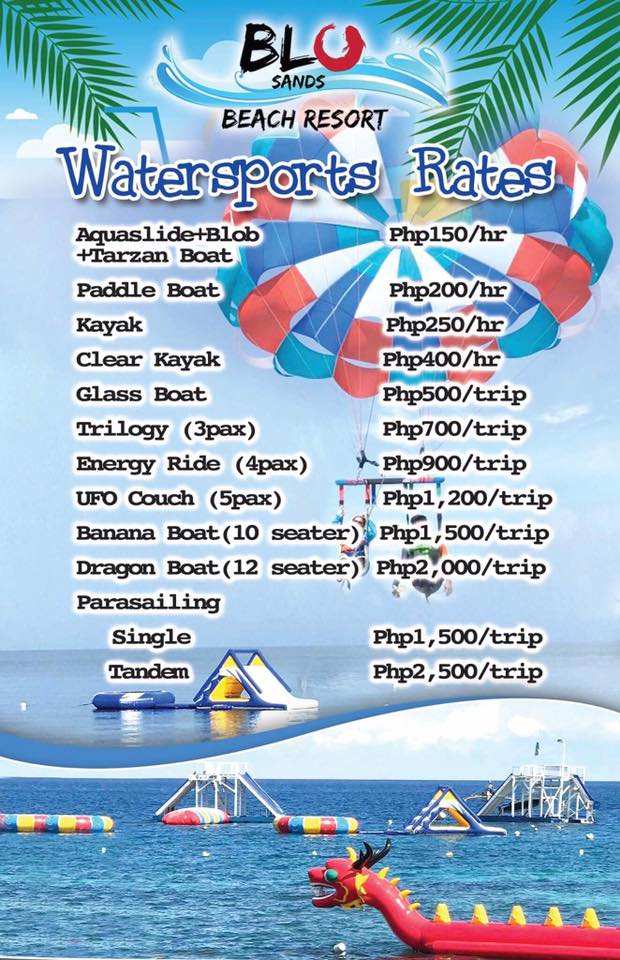 Rates
Entrance
Weekdays: P150.00
Weekends: P200.00
(waived for checked-in guests and for children below 3ft)
Rooms
| | |
| --- | --- |
| Deluxe Room (good for 2 pax) | P1800 |
| Deluxe Room w/ Veranda (good for 2 pax) | P2200 |
| Twin Room (good for 4 pax) | P2800 |
| Twin Room Pool Side (good for 4 pax) | P3800 |
| Superior Room (good for 2 pax) | P2500 |
| Deluxe Poolside (good for 2 pax) | P3000 |
| Suite Room (good for 4 pax) | P4500 |
| Barkadahan Room w/ small Cottage (good for 12 pax) |  P7000 |
Cottages
Small (good for 15 persons)
7AM-5PM P1500
5PM-10Pm P1000
Big (good for 30 persons)
7AM-5PM P2000
5PM-10Pm P1500
What is great about Blu Sands is, although they are serving appetizing meals for your delicate palate they are allowing their guests to pack their own foods. However, lechon and drinks have a corresponding corkage fee.
Even some artists can attest to how crazy and fun-filled it is to book your adventures with Blu Sands Resort Inc. For bookings and reservation, you may contact them at 09258987640 or you can also visit their Official FB Page for updates: Blu Sands Resort, Inc.