13 Nov

Buffalo Resto Grill: Good Food and Better Personalized Service
What really keeps a restaurant afloat for many years? Location perhaps? But location can be somewhat subjective, and many restaurants have proven that you don't need to be in a mall to be popular with many people. Many restaurant owners will agree that for people to flock to your place you need to be consistently delicious for them to keep coming back again and again.
After all, the reason people go to a restaurant is for the delicious food, right? Of course, this has to be coupled with good personalized customer service. This is probably the reason why Buffalo Resto Grill has always stayed on the radar of Cagayanons when it comes to delicious fusion dishes and probably the best pancit in the city. This resto grill knows that Cagayanons love to eat and so deals out some of the most delicious foods that your food buds will ever savor.
A little bit of history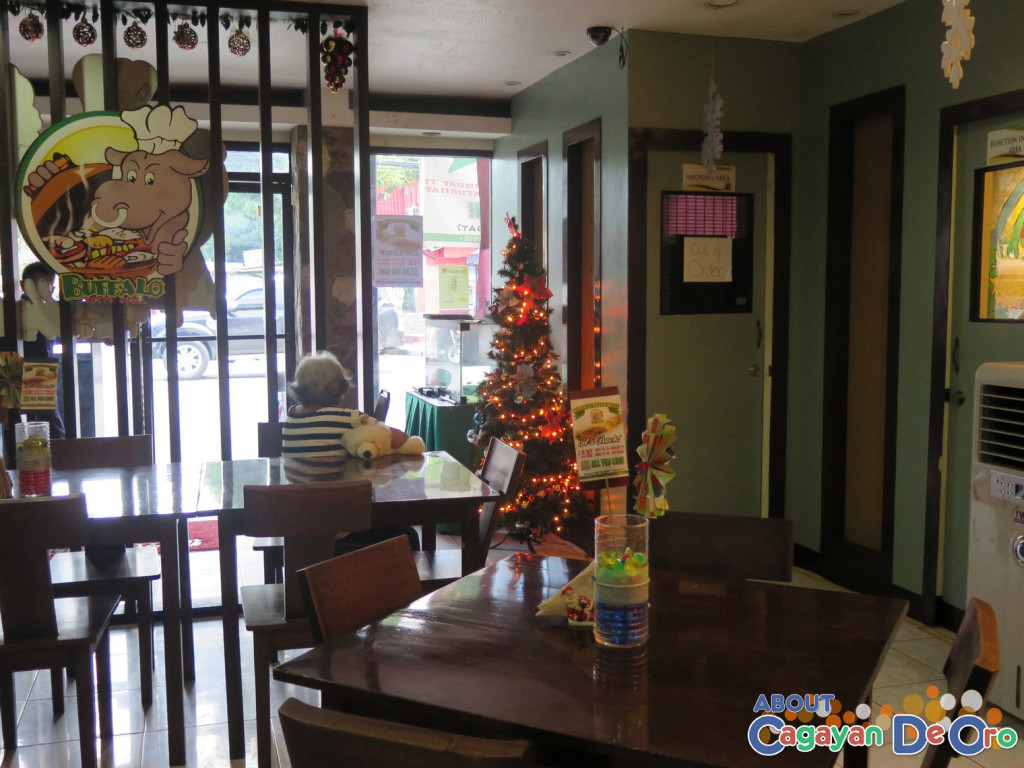 Buffalo Resto Grill is conveniently located along Apolinar Velez Street, beside the RMN DXCC building and in front of the Press Freedom Monument. For the old timers, many would remember this as the former Caprice Steakhouse back in the 1970's and 80's.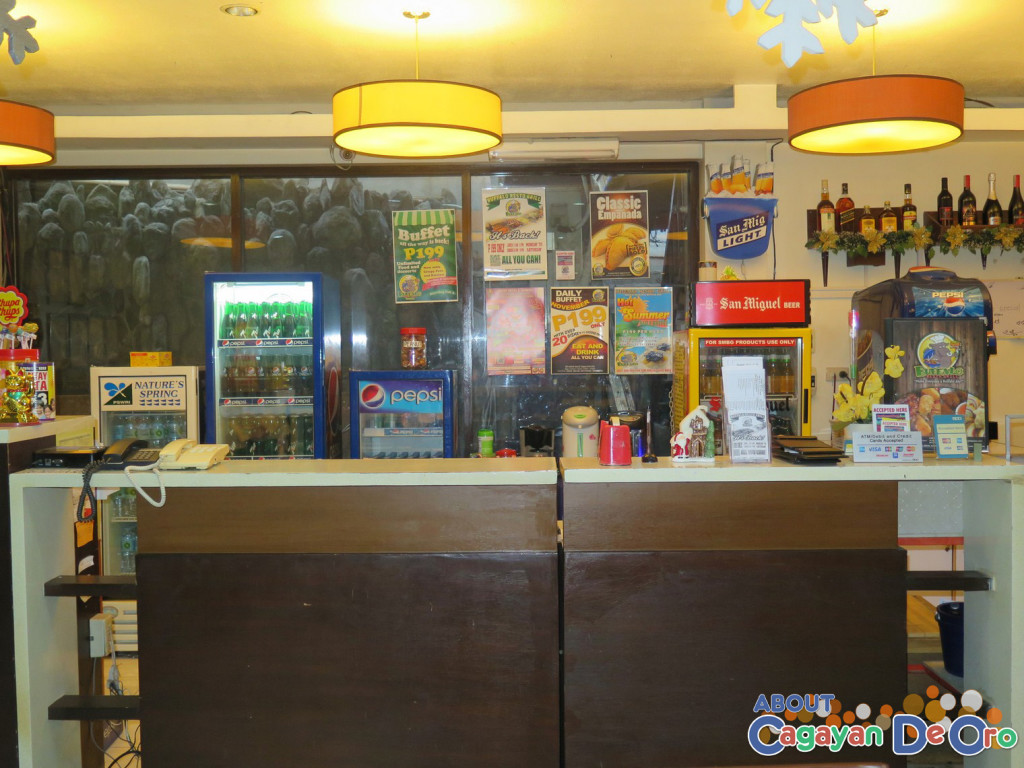 Later on it became the Gourmet de Oro and then later still became the Sunriva Restaurant. On October 10, 2010 (10/10/10) Buffalo Resto Grill finally opened and has remained open and growing to this day, even outlasting some mall-based restaurants for almost 6 years.
How it all started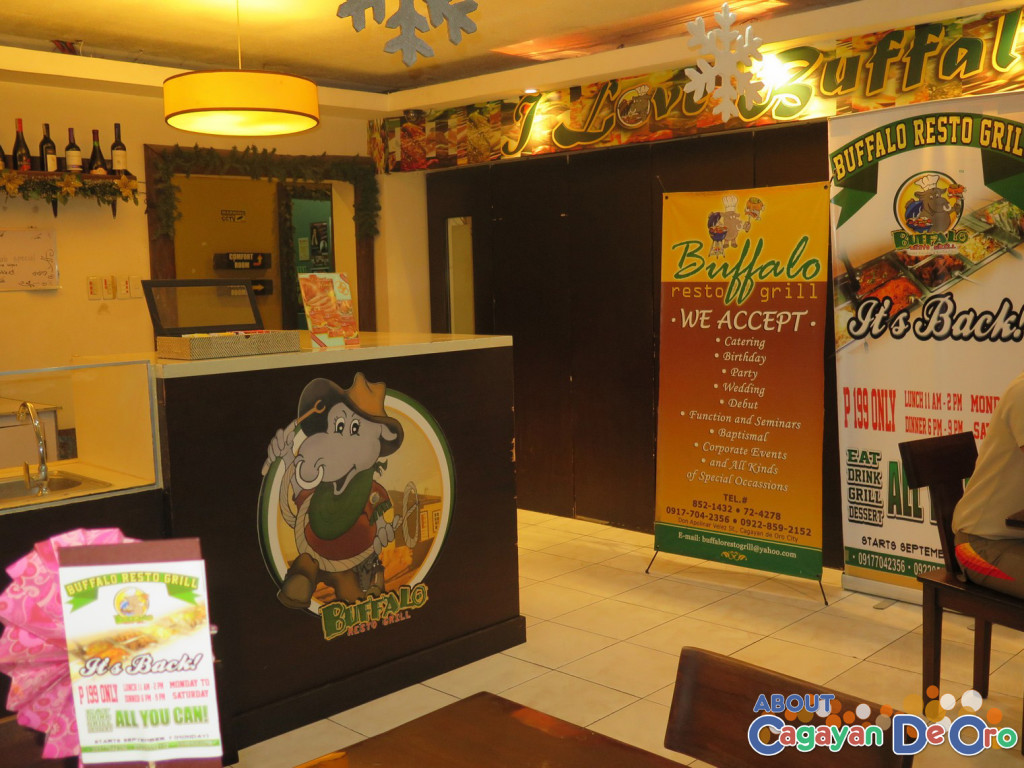 In all honesty when you ask the owners where they came up with the idea and concept of the "Buffalo" name, they said it just came out of the blue. Somehow while trying to come up with a name for the new restaurant, the "Buffalo" word just suddenly popped into their heads. They even had to look up what type of animal a buffalo was so as not to confuse it with the Asian water buffalo that we commonly have. However, in relation to the true North American animal, the owners tend to think of the symbolism of the animal in terms of strength, resilience, and stability.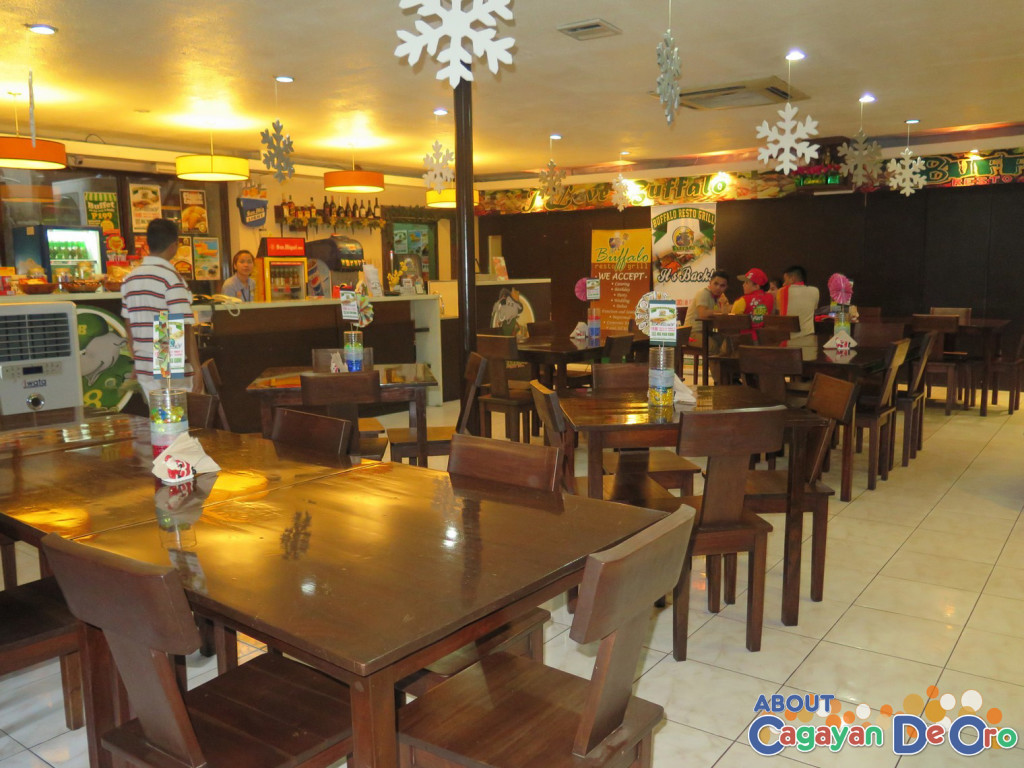 The design, concept, and wall decorations are an amalgamation of several ideas from the owners and some hired designers and painters. The discovery of the location was decided by the owners and they finally decided to invest in the place because of the number of function rooms available plus the location is already well known to many Kagay-anons.
That Buffalo taste experience
The menu line-up at Buffalo Resto Grill is mostly made up of Filipino and Fusion dishes. Their order best-sellers are their Baby Back Ribs, Sinuglaw, and Kinilaw. Their Pancit and Empanada are also second to none in the city, and many regulars of the restaurant will swear to this.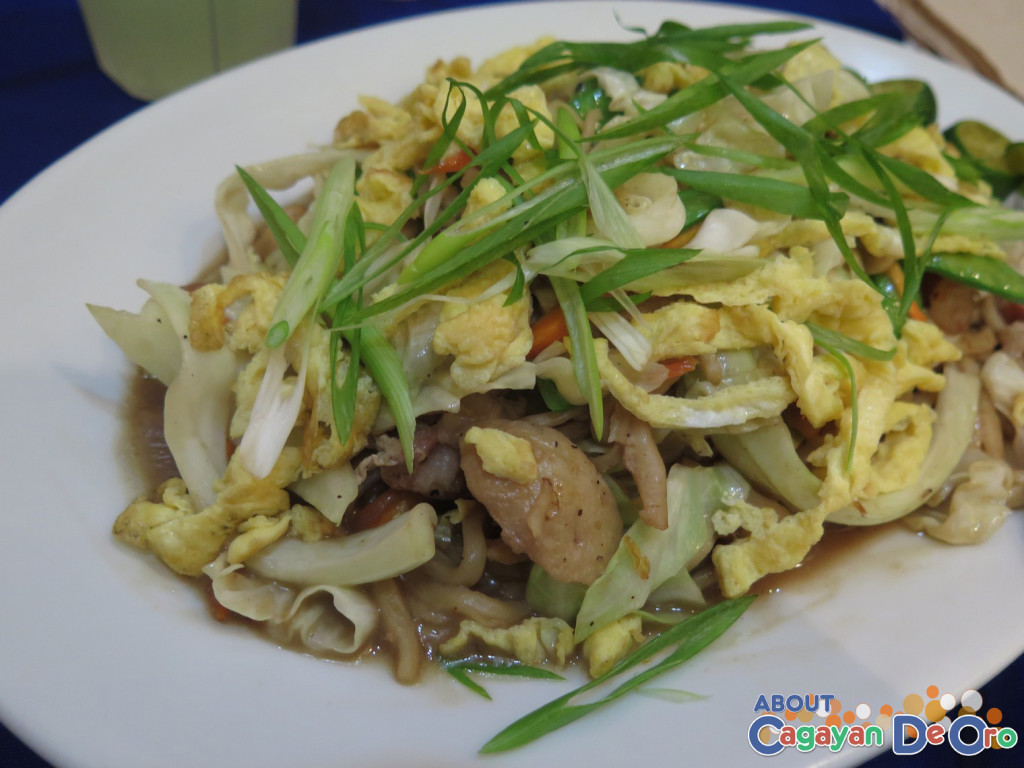 Their empanada is sometimes ordered in large quantities for take out to be served at parties and other special occasions.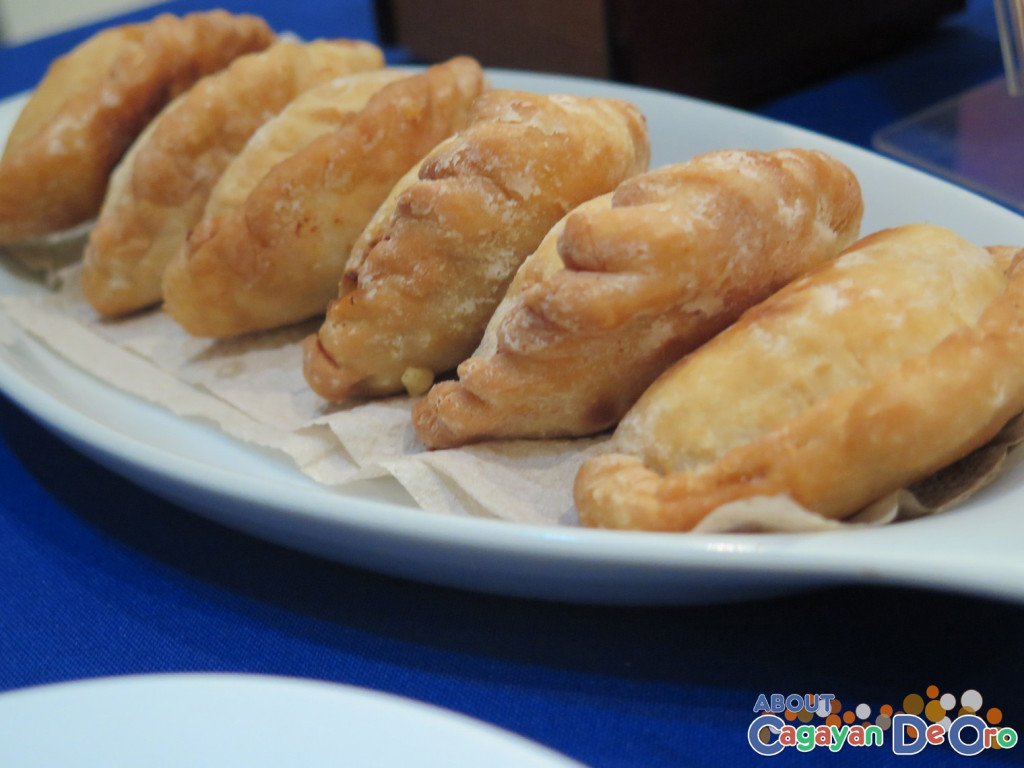 Many also swear to their Lengua Estofada as delightfully delicious.
The Buffalo Function Rooms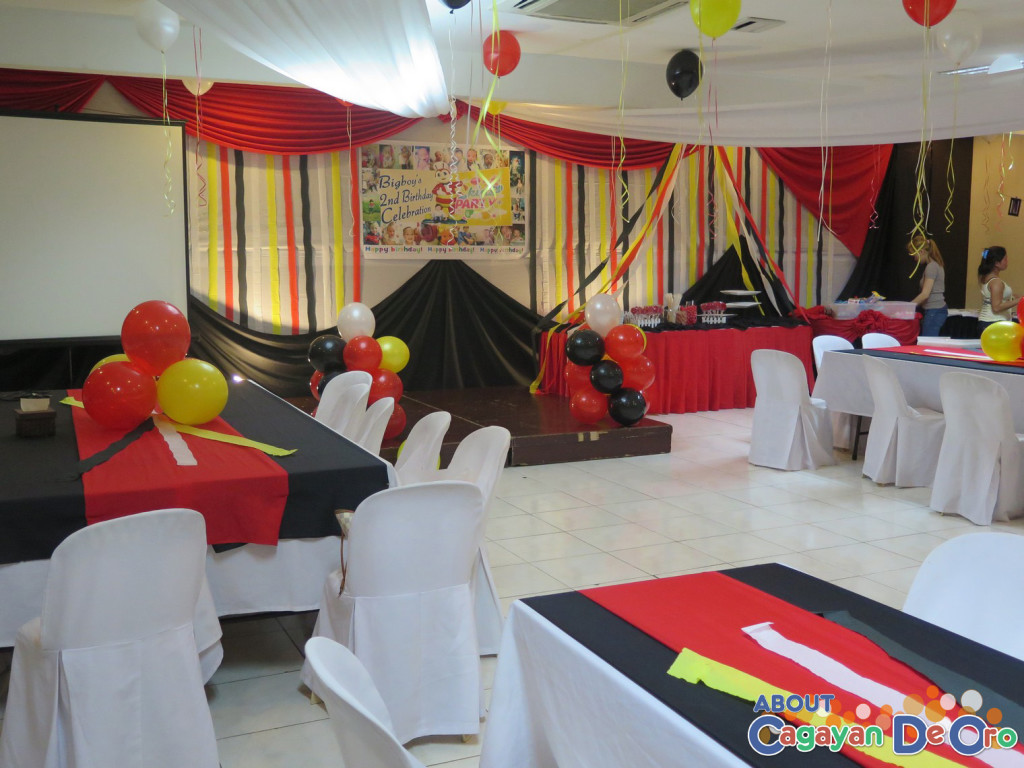 Not many people know that what keeps the restaurant on its toes are its bevy of function rooms on the ground and second floors. Technically they have five function rooms; each function room is also collapsible to utilize a smaller space or can be connected to another one for a larger space.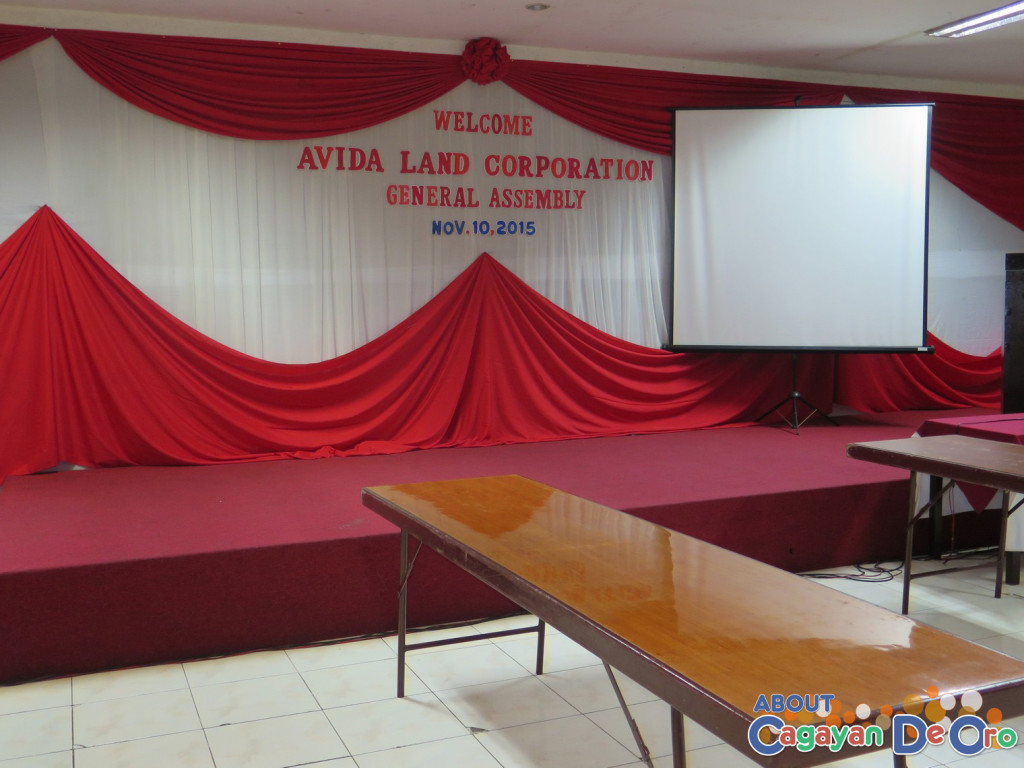 Anywhere from 30 to 40 persons and up to 150 persons can be accommodated. Up to 400 persons can be accommodated on the ground floor for a large event if the two functions rooms are opened up and includes the dining room.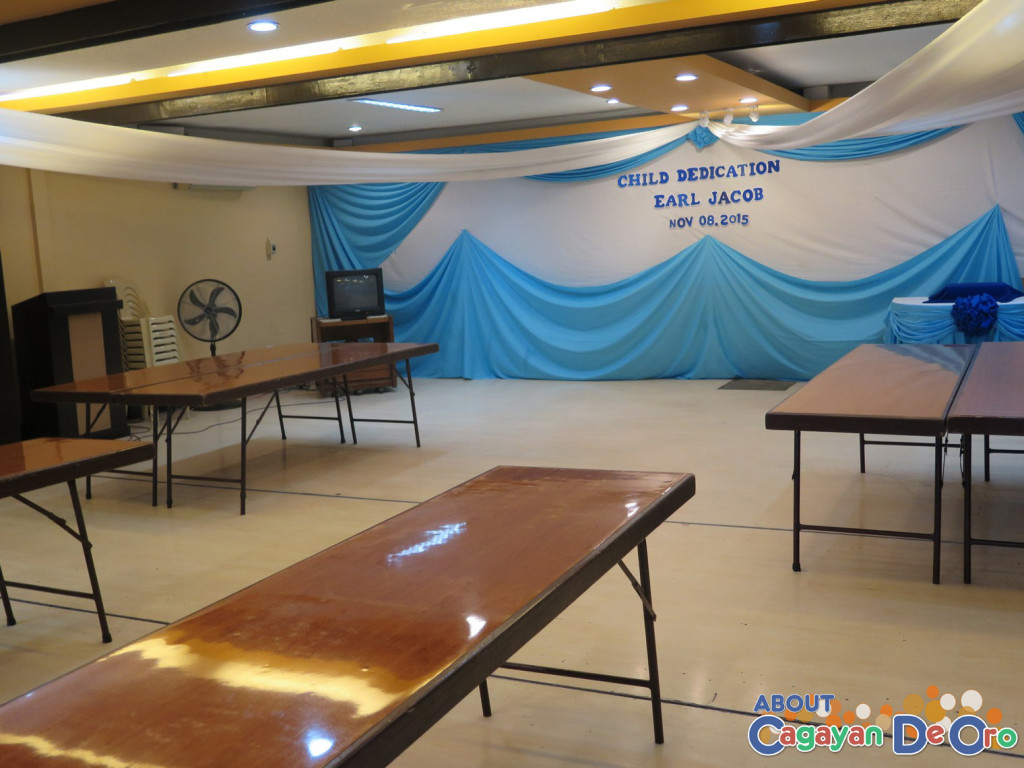 Function rooms can be availed for a maximum of 4 or 5 hours depending on the event or occasion. For evening functions, while the restaurant normally closes at 10:30 p.m., functions can go on up to 11:00 p.m. or 12:00 midnight. On very special and unique occasions or events the management allows special functions from 1:00 a.m. up to 4:00 a.m.
Their catering service is also busy almost the whole year round. Their menus for both the function rooms and the catering service are adjustable and can be customized based on the client's budget. Basic decorations are provided for special occasions like weddings or birthdays, and each function room can be provided with a small sound system or a videoke machine for additional entertainment.
Meet the owners
Mr. Ivan Lloyd Tan-Leh and Robert Dy are members of a business partnership. However, Sir Ivan is the main managing partner and general manager who calls most of the shots for the restaurant.
Sir Ivan is a graduate from De La Salle University in Manila, taking up two courses, Economics and Accountancy.
He is also a certified public accountant. Sir Ivan admits that in all his wildest dreams he never foresaw his future as owning and managing a restaurant.
Promos and Events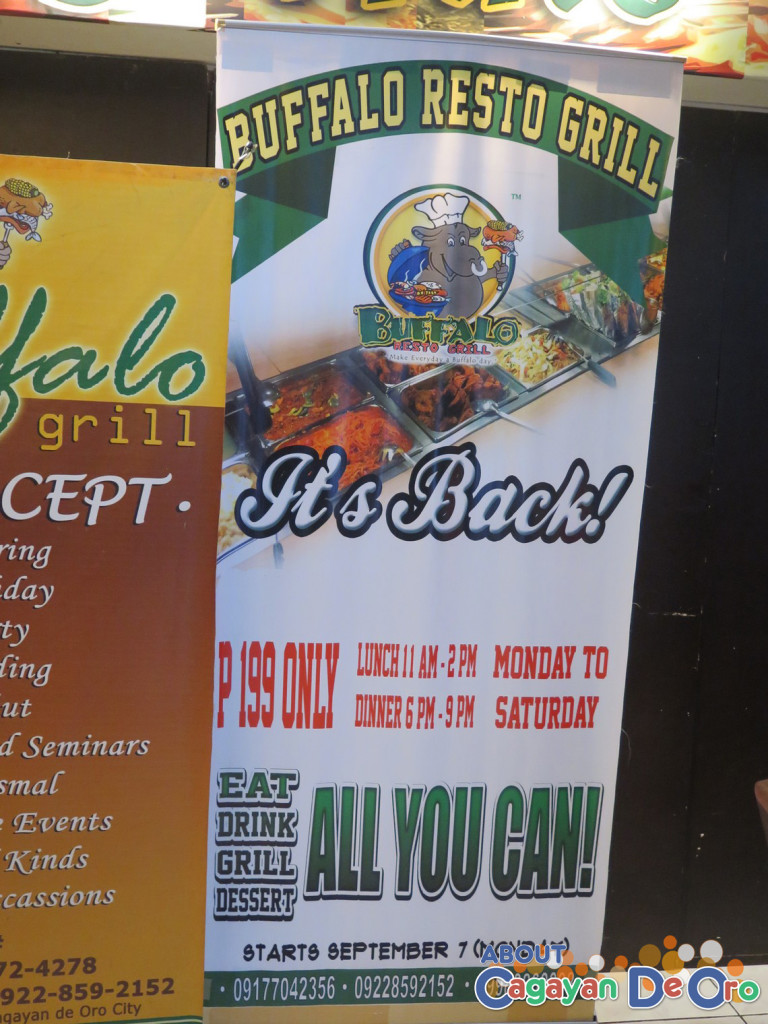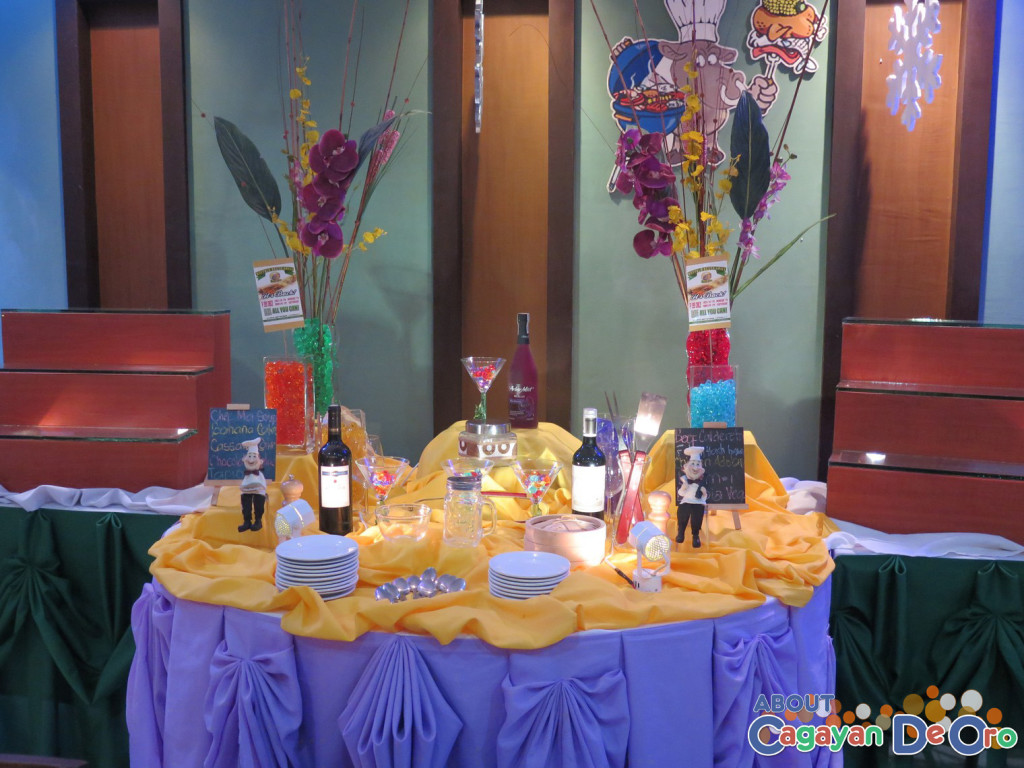 At present and probably up to the month of December the restaurant serves up a lunch and dinner buffet called Eat/Drink/Grill/Dessert All You Can for Only P199. The lunch buffet is at 10:30 a.m. until 1:30 p.m. while the dinner buffet is at 6:00 p.m. until 9:00 p.m.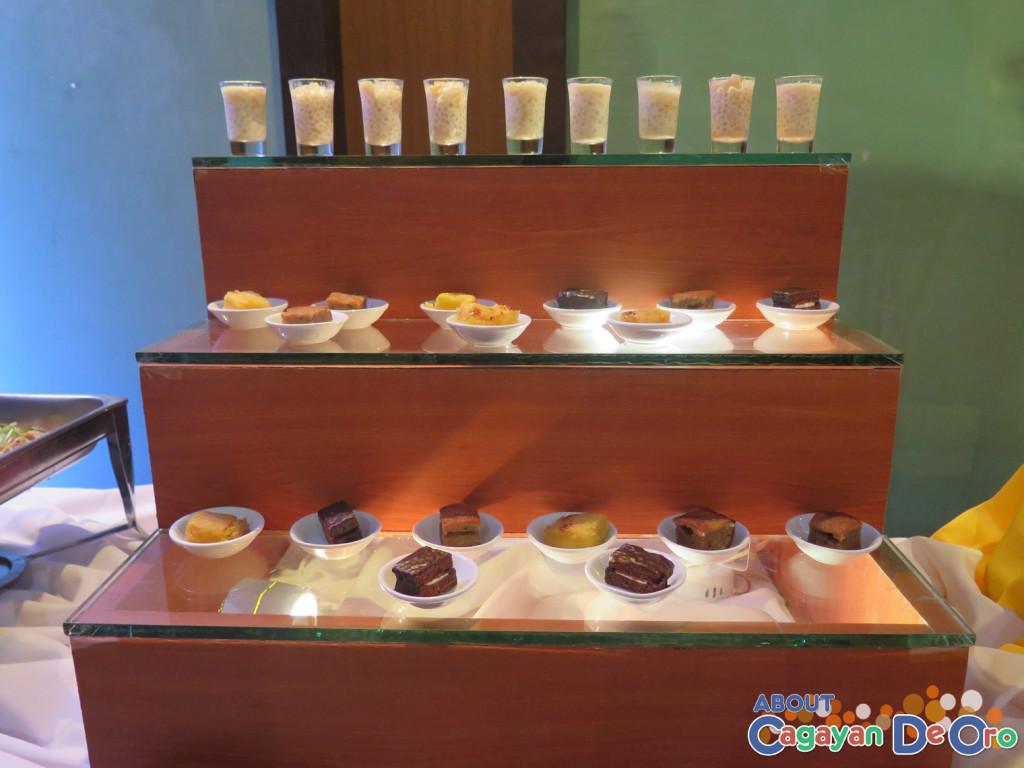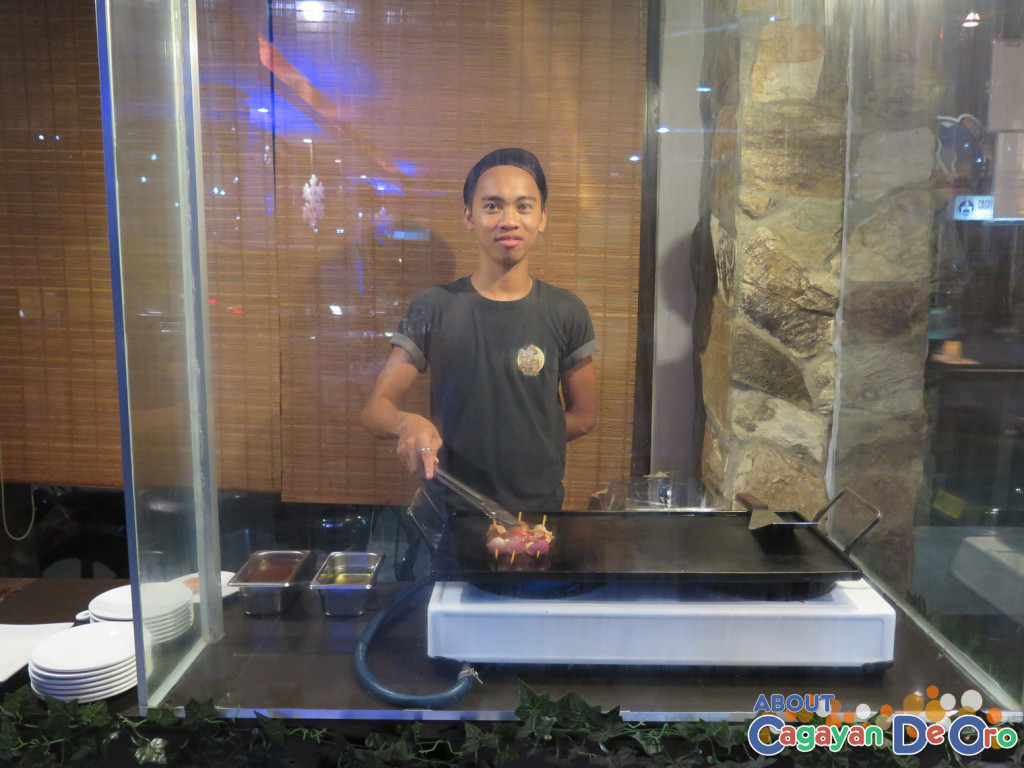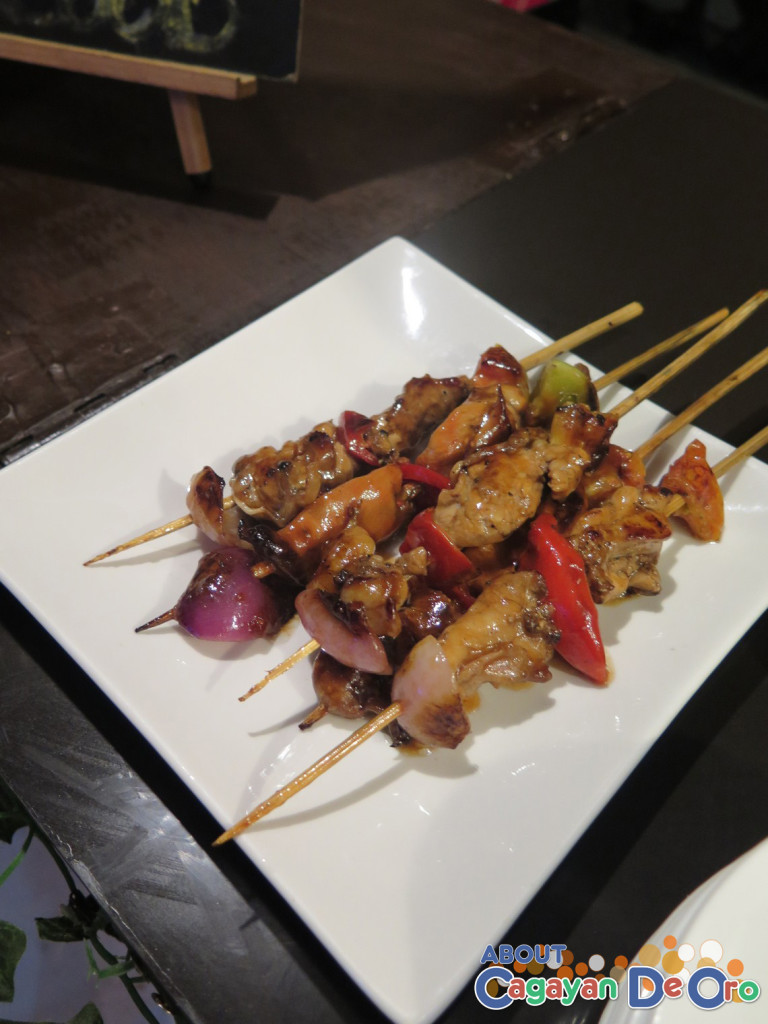 There is a special December Promotion for those who avail of the function rooms. For a minimum price of P10,000, a free large ILT Food Products Christmas Ham will be given.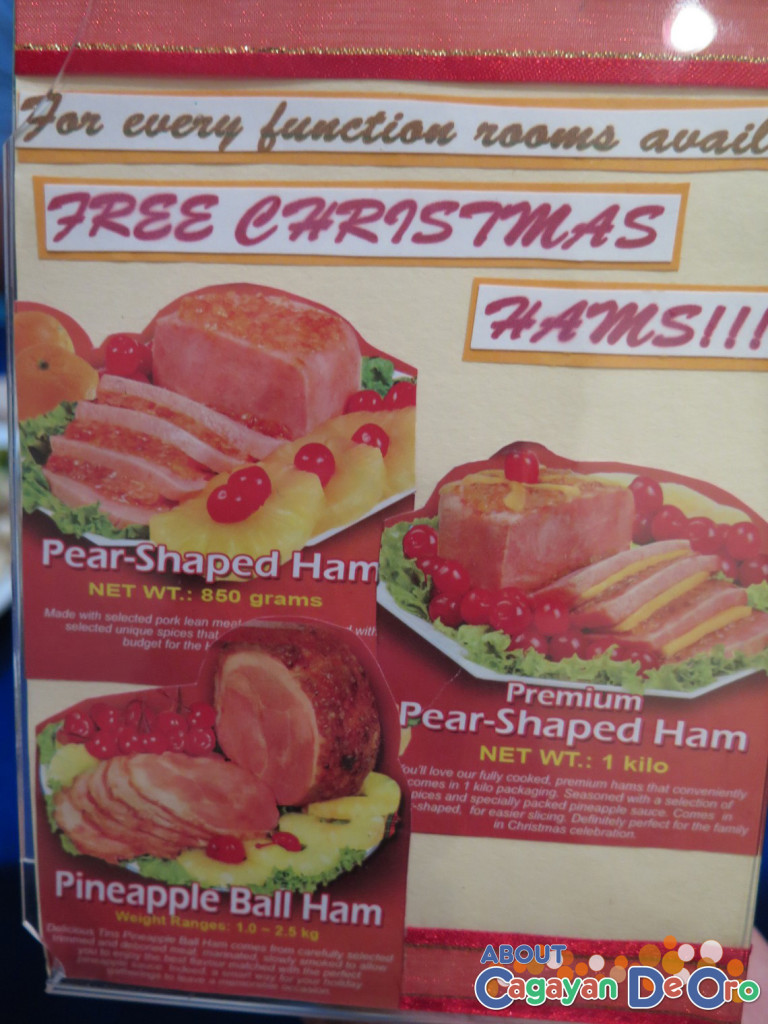 ILT Hams are processed in Cebu using imported ingredients. ILT Hams are usually served at the Cebu Shangri-La Hotel, Marco Polo, and Del Monte Country Club.
Conclusion
When mentioning strength, resilience, and stability, all these traits in a Buffalo can be truly found in Buffalo Resto Grill. And it can be seen in their great food, great personal customer service, and great function rooms and catering. This resto shows that there's more to just location than meets the eye when it comes to restaurants.