26 Aug

BULAKLAK.COM: Affordable Flower Arrangements as Low as P300 in a Single Store with Free Delivery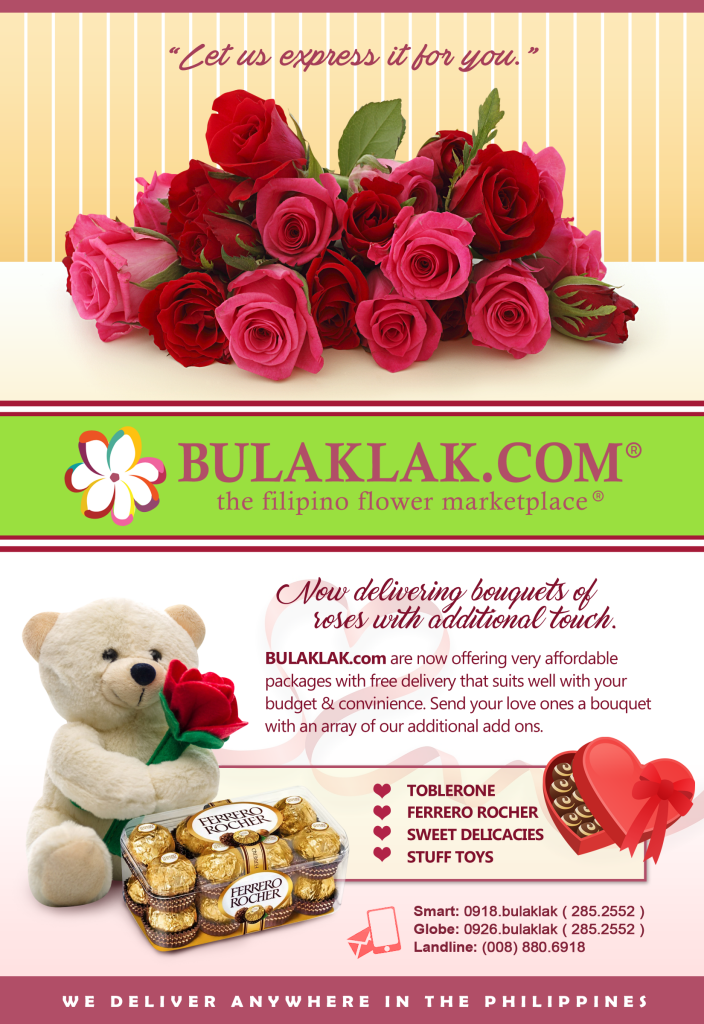 How do you express your love to someone? Or how will you let the other know that you care for her/him? Possibly, there are infinite ways we can think of. Some through sending personalized letters, giving presents such as chocolates, flowers, gift certificates, treating a trip to any destination in or outside the country, singing favorite songs, and what have you. Just like what I've told you, there are infinite ways.
The most common thing that we do to show that we have a deep affection, adoration or sympathy towards a person is through giving gifts. It may be a bouquet of flowers, a box of chocolates, a basket of fruits, etc. Some prepare it on their own, while some have them ordered from trusted makers. The former may seem more special as it is personalized, but may take more time compared to the latter which is more convenient, well, on your side. Know that the latter can still become personalized, for some makers offer customized arrangements. Whichever you prefer, the receiver will always have a say, and probably that would be "Thank You".
The usual present that people give to their loved ones is flowers. It may be a single stalk, a dozen, wrapped in clear plastic, ribbon-tied, or contained in a box. Mostly during Valentine's Day, then Mother's Day, and other special occasions. It's a common act here in the Philippines. Filipinos really are thoughtful. caring and loving.
With a lot of flower sellers out there, may they be in the market, mall, seller's garden, or online, rest assured that we can always find a source, however, not all can be convenient. What if you live far from the city, or the nearest flower seller lives two-rides away? That could be a hassle. But how about having it ordered online?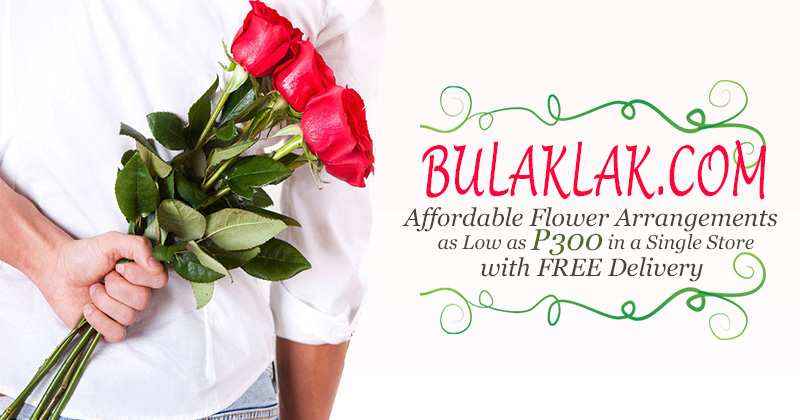 BULAKLAK.COM
Bulaklak.com, an eCommerce site which was made possible by CEO and co-Founder Marc M. Redilla, is an online flower marketplace which partnered some 100+ local florist in the Philippines, to mention big flower businesses such as Flower Depot and Flower Express offering nationwide delivery with official partner in distribution logistics LBC, to enable Filipinos and even foreigners to choose elegant flower arrangements that they prefer in a more convenient way. Since their soft-launching last January 12, 2014, they have been known to deliver whatever time or day a client suggest delivering a product to a recipient's doorstep.
To complement with their flower arrangements, they also come up with add on products such as stuff toy, delicacy, chocolates, fruit basket, wine and jewelries.
Bulaklak.com offers affordable flowers as low as P300, with free delivery. Yes, you've read it right. Exclusively within Cagayan de Oro City.
They have packages which include flowers (color of your choice) and complementary products such as Toblerone and Ferrero Rocher chocolates, Pane e Dolci Sylvannas and Brownies. The most affordable package was the R1-B for only P290. See the full list of packages below. All comes with FREE DELIVERY.
Packages (P300-700):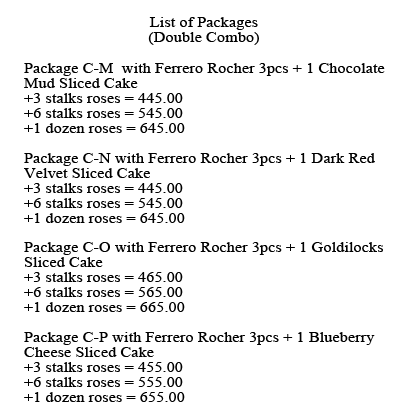 Packages (above P1000):
Bulaklak.com decided to offer these packages for those who are fond of celebrating monthsaries, especially among students. These are also perfect congratulatory gifts for your friends who just graduated, or got pregnant for her first baby, or got a new job or even got promoted.
Some of bulaklak.com's local partners include Pane e Dolci and the supplier of their lechon. Goldilocks is also their partner for their cakes.
On their first year, most of the orders come from outside the country, to mention Canada and the US. Then Valentine's Day came, they boosted their marketing with most of the delivery addresses of orders coming from Cagayan de Oro, then around Misamis Oriental such as in Jasaan, then Bukidnon. They have also reached the Manila area, in Pampanga. They also had some orders coming from Cebu. Bulaklak.com was able to supply and deliver their products even the remote areas with the help of the florists coming from different parts in the country, plus with the services of LBC.
They have also sponsored some of the largest events here in Cagayan de Oro. To name a few, Kumbira hosted by COHARA, Mindanao Fashion Week and among others.
About the Owner
A resident of Linabo, Bukidnon, Marc M. Redilla flew to the United States to pursue work. Currently he is in New York together with his family. Until Redilla and his family decided to start their own business. They developed websites and the first one was Bulaklak.com together with other over 200 websites such as delikasi.com and calamay.com.
Commitment
Being a private company, Bulaklak.com is integrating the Corporate Social Responsibility Initiative in the business model. Their commitment is to give back to the community through supporting Republic Act 8525 which is also known as the Adopt-A-School Act of 1998, aiming to help the underprivileged students in the Philippines. "ONE BUY. ONE FILIPINO", their program which suggests that in every flower arrangement purchased from them, they will give notebooks, pencils and ballpoint pens to a student in need. Most of the beneficiaries are students from remote areas who are in deep need of school materials for they believe that providing their need will allow them to have a better education and a better future.
Other Services
Aside from flower arrangements and package combos, Bulaklak.com also offers Wedding Decorations, Lechon and Lechon belly, and Harana Services.
Harana Services

Flowers alone can make hearts flutter, how much more when there's a group of people singing their hearts out. Not only will your ears get overwhelmed, but your heart as well. Bulaklak.com believes that harana is more than just a thing. It's the voice that comes from the heart, then close to your ears and straight to your heart. With this, they offer harana services with their most expensive one of P2,500. Compared to others that offer the same services that can reach up to P7,000, Bulaklak.com's harana services is already inclusive of flowers, free cake and 3 songs. Such service can be customized whatever a client prefers.
Bulaklak.com sure has a lot to offer for us Kagay-anons. Not that they only deliver orders of their flowers and combo packages for FREE, they also have other services such as lechon and lechon belly, wedding decorations and harana services that are already accessible in just a few clicks online!
For orders and inquiries, you can directly send a private message to their official Facebook page facebook.com/bulaklakcom