27 Jan

Buying vs Loaning: Choosing The Ideal Home Financing for You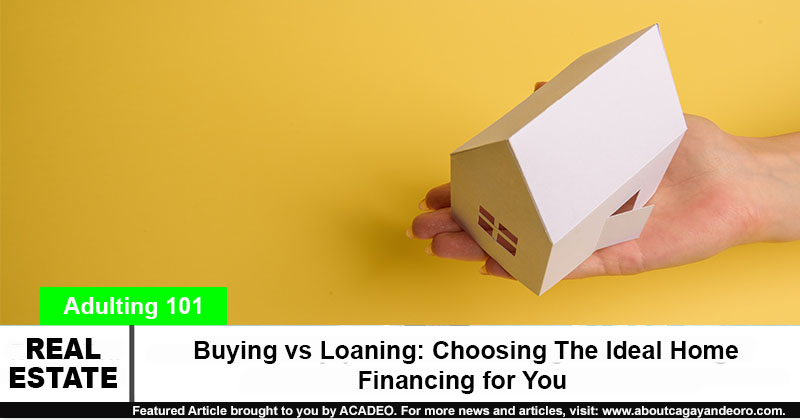 Hi, mga higala! Are you thinking about getting your first home? Maybe you're interested in getting a vacation home for your elderly parents? Or perhaps you're considering getting a place of your own closer to your place of work or business?
Whatever the reason is for window-shopping for homes, one concern that many people looking to buy homes is how they're going to finance their acquisition of the property. So let's talk about that in today's Acadeo feature!
There are two types of financing that are very common in the Philippines: a housing loan (also known as mortgage loan) and full-price offers (buying a property at its listed price). A majority of Filipinos choose to finance their homes through a mortgage, which is paid over a period of several years in monthly tranches.
With that said, though, let's look at the benefits and risks of taking a housing loan versus buying a house at full price.
THE DIFFERENCE BETWEEN CASH AND LOAN
In simple terms, the difference between paying in cash and paying with a loan is easy to grasp: a cash payment covers the cost of a purchase in its entirety, while a loan payment covers the cost of a purchase in credit, which is paid in increments over an agreed period of time.
House financing is only a little different, in that people generally don't carry huge amounts of cash and pay through checks or bank transfers instead. On the other hand, the principle of loans remain the same with mortgages, only instead of small amounts paid over some months, the considerable amount involved in buying a house is paid over years.
Now, when it comes to financial advice, many are often told that debt is a bad thing. With this thinking, it would make sense to pay for a house in full, or to pay as much as possible for the down payment. Right?
Well, it's not that simple.
BENEFITS OF TAKING A HOUSING LOAN
While the principle and details of housing loans vary from country to country, in the Philippines, your housing loan approval depends largely on your ability to pay. This means that your loan will match the finances you have available, giving you more freedom to spend as much or as little as you can afford.
This is good news for those who have some wiggle room to pay for a housing loan on a monthly basis, but not enough funds to put down a large payment for a property. Lenders are often very thorough in their credit investigation, making sure that they can provide competitive rates that are favorable for everyone.
The downside to housing loans, of course, is the interest rates. Because lenders and financing institutions cover the cost of buying property through loans, they gain back their money through interest. In some cases, housing loans can cost more than 50% the full selling price of the property through accumulated interest. Housing loans also take years to complete, which can be a concern for those interested in taking a housing loan but don't have a reliable source of finances.
Of course, with a housing loan, you also don't have to worry about other costs like legal fees for title transfers or mortgage contracts, monthly or yearly insurance costs, and other fees that your financing institution are allowed to process on your behalf. This makes homeownership much more simple to manage, as you only have to worry about meeting your monthly amortization.
BENEFITS OF PAYING FULL-PRICE OFFERS
For those who can afford it, buying a property at full price has its own benefits and disadvantages. Let's start with the disadvantages first.
When purchasing real estate at full price, the buyer should account for other fees that come with processing the sale. Because a full-price offer is typically completed much sooner without the help from a loan-financed acquisition, the buyer would have the responsibility of handling other expenses, such as legal fees for the transfer of the property title, required insurance fees, realtor commission fee, and installation or connection of utilities like water and electricity.
One important advantage that full-price offers have over loan financing is that you as a buyer would actually earn from your property in the long run. This is because of property depreciation. While it's true that lots or parcels of land always appreciate in value (their value increases as time goes on), structures like houses or buildings depreciate (their value lessens over time).
What this means is that if you sell your property eventually, you won't be able to sell it for the same amount it cost to build the structure on your lot. If you plan to sell the property based on the full price of the property when you first bought it, plus loan interest and construction costs, you'll have to deduct the depreciation value of the structure.
As well, if the structure is in disrepair, buyers can leverage this and demand a lower price or for the damages to be fixed first before committing to a sale. You could end up only breaking even, or even losing money on your property.
With a property bought at full price, however, you'll earn the full appreciation value of the lot on top of its original value if you sell it later on, as well as earning back a percentage of the construction costs, especially if your building or home is well-kept and requires minimal repairs.
SUMMING IT UP
There are always pros and cons for everything. Real estate investments are no different – whether you plan on getting a loan to finance your property or intend to buy real estate listings at full price, there's bound to be good points and bad points that will affect a buyer's decision. Being aware of these points helps buyers decide what's best for them financially, based on what they can afford.
Everyone wants to have their own dream house, and with enough hard work and diligence, this dream can be within reach. That being said, careful consideration of the options available should be done, as a bad deal or an ill-suited financing option could turn a dream house into a nightmare.
Make smart investments, research your market thoroughly, and don't hesitate to ask even the embarrassing money questions when it comes to buying your first home! After all, it's a commitment of a lifetime!