08 Jun

Pane e Dolci Presents: The Cafe Zibetto Culture – Introducing Civet Coffee to Kagay-anons

Cafe Zibetto, the main café arm of Pane e Dolci, held a Civet Coffee and New Menu Tasting event at the Cafe Zibetto/Pane e Dolci at its new location at 8th and 21st Streets in Nazareth. Present were the invited bloggers and media personalities from Cagayan de Oro City.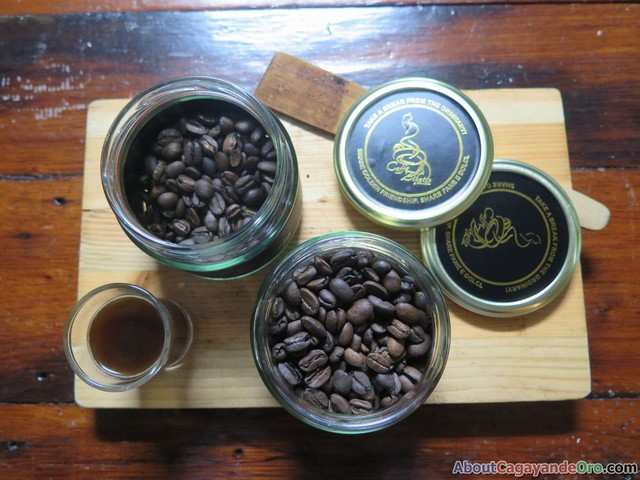 Everyone was a bit surprised when they had to register for the event, and were even issued guest ID cards bearing their nicknames. According to Chef Ruben C. Castor, one of the proprietors of Pane e Dolci, since he only knew a handful of the guests, he could now get to know them by name as well as face. Also, not everyone knew each other since Cagayan de Oro is starting to have a growing number of independent media writers and bloggers.
Chef Ruben Castor opened the event by welcoming all the guests and participants as well as giving a brief history and background of Pane e Dolci. For those not yet familiar, Pane e Dolci is pronounced as "Pan-ee Dul-chee." It officially opened on October 8, 2013 and their first and main branch and store was at the corner of 12th and 21st Streets in Nazareth. Three months ago, they moved to their new and present location on 8th and 21st Streets in Nazareth.
Afterwards, Chef Mark Anthony P. Lacuesta, the other proprietor and co-founder, gave a brief PowerPoint presentation about coffee culture, particularly, a brief history of coffee, how it is processed, and the different roasting and brewing methods. Guests were particularly intrigued to learn that coffee as a beverage was discovered in Ethiopia, in Africa, a very hot country very unlikely to favor a hot drink like coffee. What was more intriguing is learning that Yemen, another hot African country, started the international trading of coffee.
This was followed by another presentation and discussion by their master roaster and barista, Ernesto V. Tenestrante, Jr. about what civet coffee is, it's history, and the civet coffee cycle that benefits both nature and coffee lovers.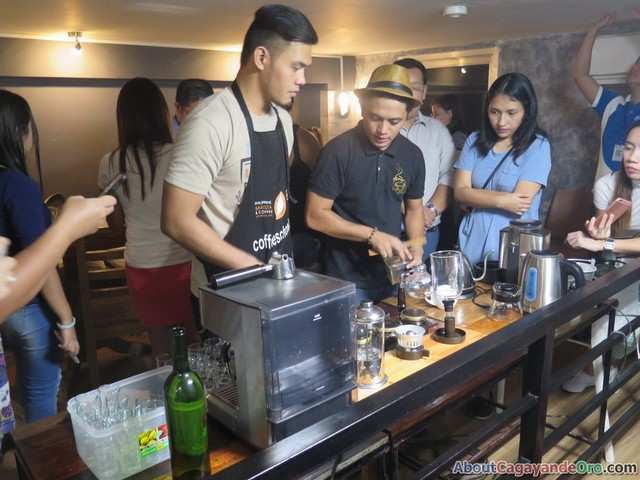 Ernesto, assisted by another barista, Devon Lloyd Rivera, then demonstrated the different ways of brewing civet coffee beans, particularly, Espresso based (Cafe Americano), the Drip Method, Siphon Brewing, and French Press.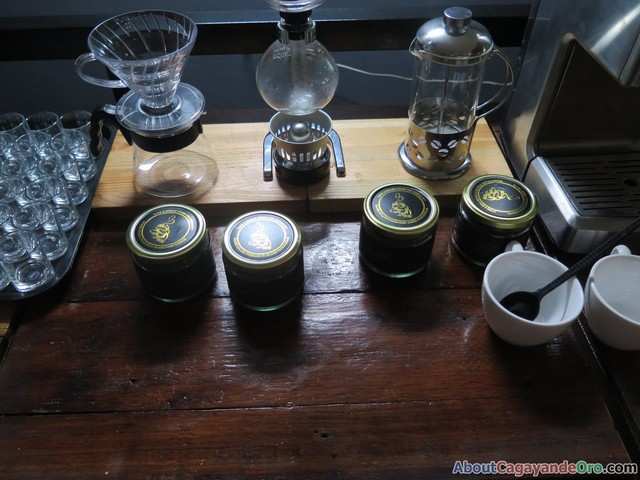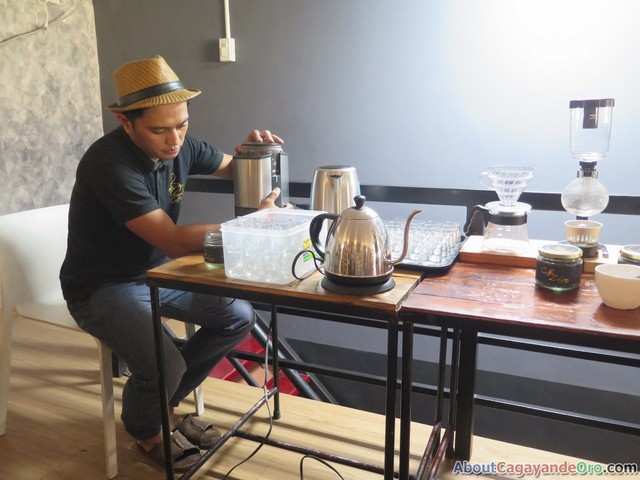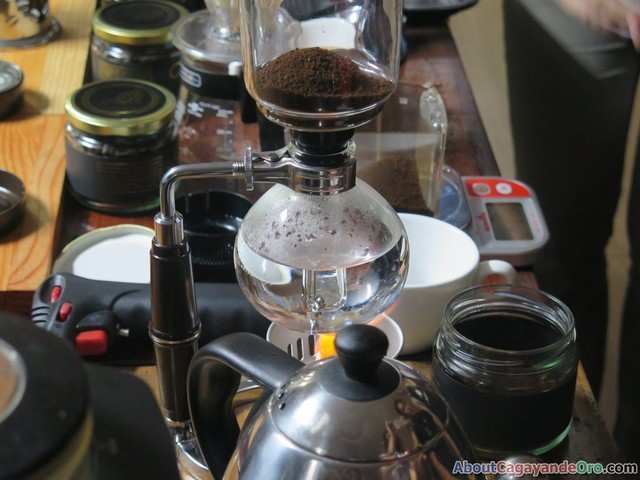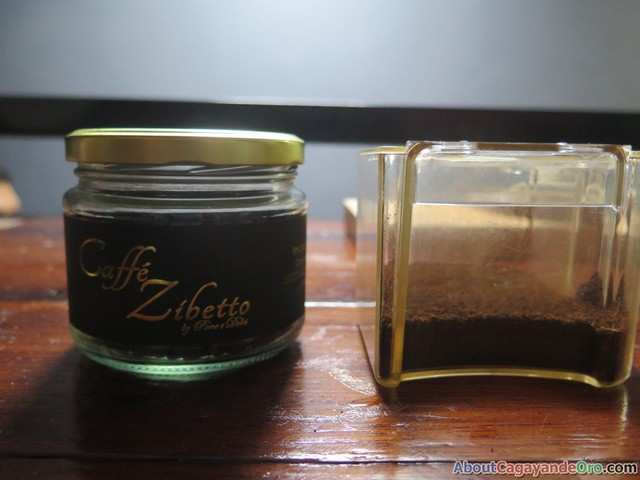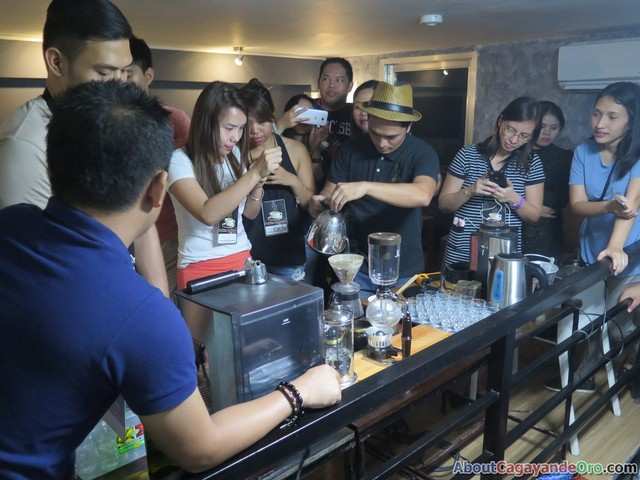 After each demonstration, all guest were treated to sample the finished civet coffee product. Just to add a bit of comment here, each civet coffee output from all four methods was a very different coffee tasting experience, something you will never taste elsewhere, even without the sugar and cream. Civet coffee by itself has a really enormously delicious taste.
A Taste of New Menu Items
Aside from the civet coffee tasting, Chef Ruben and Chef Mark also had the guests taste their new menu lineup. Since Pane e Dolci is known for its delectable Sylvannas as well as delicious cakes and pastries, it is now moving up to serve coffee locally produced by Northern Mindanao farmers – something not found in other cafes – as well as serving meals pasta specials, and salads.
Coming under taste scrutiny from the guest was the Beef Lasagna, Spanish Sardine Pasta, and Chicken Carbonara. We daresay that all three proved very tasty and well prepared, more than competitive with other more expensive pasta dishes served by expensive restaurants in the city.
Next served for tasting was the Grilled Chicken Salad that proved just as tasty and delectable. Finally, their two main meals were served for tasting, the Pesto Chicken and the Sauvignon Roast Pork.
Both proved to be very delicious and worth its price as a full meal that can really fill you up. Again, both dishes are competitive to its more expensive counterparts.
The Civet Coffee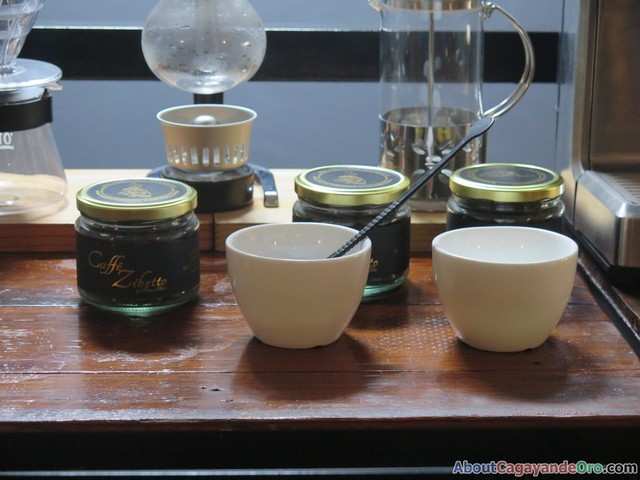 Are Kagay-anons ready for civet coffee? Well, in the past Ruben and Mark never knew if sylvannas would make an impact in Cagayan de Oro, and it did, so hopefully civet coffee will make the same impact as sylvannas did. However, unlike the Kopi Luwak that uses civet cat coffee beans from Indonesia, the coffee beans that Caffe Zibetto will use are from civet cats from Bukidnon, and will therefore cost much less than Kopi Luwak.
This is one way to bring to Kagay-anons a different coffee experience away from the traditional (and often boring) taste of commercial coffee. Also, aside from civet coffee, the other coffee preparations on the menu are made possible from Catimor coffee beans from the Jack Marianito farm in Claveria, Misamis Oriental. In short, all coffee beverages, hot or cold, served in Caffe Zibetto are taken from coffee products locally produced.
A Brief Historical Background of Civet Coffee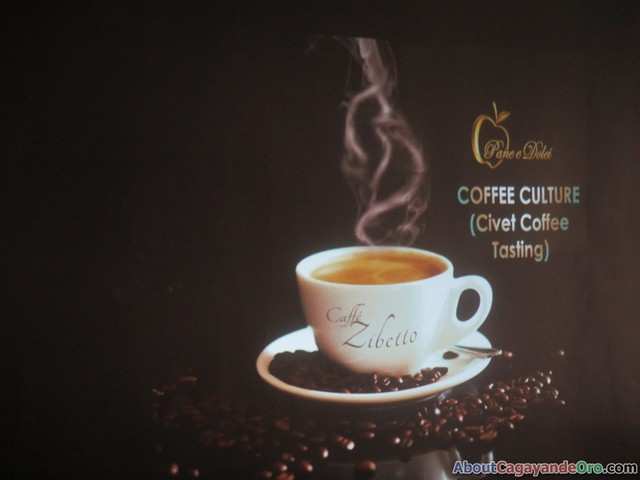 If you research about the civet coffee and the civet cat, you'll find out that this is the world's most expensive and rarest coffee. It also started in Indonesia in the 1800's when Indonesia was still a colony of the Netherlands. Indonesian plantation workers were forbidden from consuming coffee beans taken from the plantation, so the workers began to pick up, clean, and roast the coffee beans excreted by the wild Asian Palm Civets that are native to Southeast Asia.
The natives soon realized that the civet cat's digestive system gave kopi Luwak (as the natives began to call it) a uniquely rich aroma and smooth, rounded flavor. In time, even the Dutch colonizers were impressed with civet coffee and began drinking it as well.
Unfortunately, to satisfy present global demands for civet coffee, many illegal farmers in Indonesia, China, Vietnam, and the Philippines have taken to capturing large numbers of Asian Palm Civets, placing them in cages, and feeding them nothing but coffee bean cherries.
What a big contrast to the large protected DENR area in Bukidnon where Ernesto and other farmers simply plant more and more fruit trees, of course including coffee plants, in order to attract the civets. When the civets are done eating and defecating, the farmers simply pick up the beans for the processing into civet coffee beans. No mass caging of civets, no mass cruelty, and Mother Nature is respected while harvesting the bounties of this rare coffee.
While a few may comment that this seems a lot of hullabaloo over nothing but cat s–t made into coffee, true coffee connoisseurs will definitely tell you that there is nothing like the taste of civet coffee, and this is what Cafe Zibetto and Pane e Dolci wants to bring to Kagay-anons.
After the Event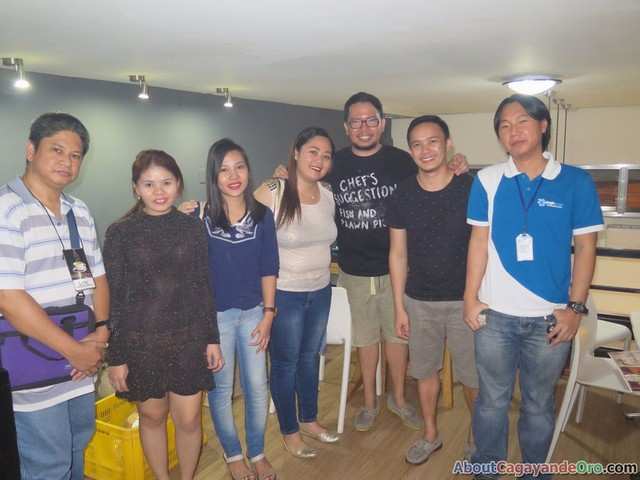 When the event was over, Team About Cagayan de Oro took the opportunity to have a photo taken with the owners of Pane e Dolci; Mr. Ruben Castor and Mr. Mark Anthony Lacuesta.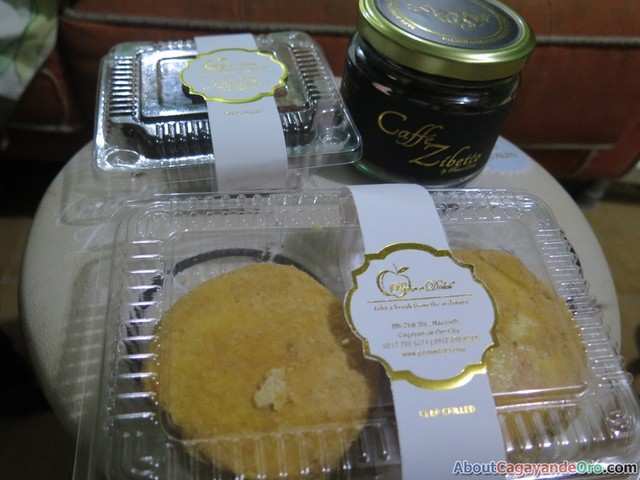 All who attended were given a surprise gift and went home happy and full with the delicious food and Civet Coffee.