25 Oct

Cagayan de Oro City 3-day Weather Forecast (October 25-27)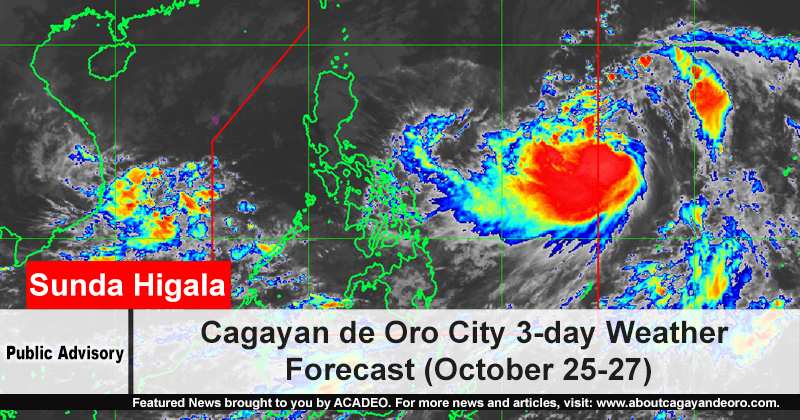 In a statement released by PAGASA earlier today, neither storms nor Low Pressure Area (LPA) is within the Philippine Area of Responsibility (PAR). However, Mindanao will still have cloudy skies with scattered rains and thunderstorms due to Intertropical Convergence Zone (ITCZ) or the winds traversing from the Northern and Southern Hemispheres near the equator resulting to the formation of heavy clouds of rain.
Possible strong winds, lightning and scattered light to moderate with occasionally heavy rains may cause flooding and landslides to some areas in Mindanao.
Meanwhile, tropical storm "Saola" has not yet entered PAR and was reported to be over 1,405KM away from Southern Luzon, travelling at an average speed of 80KPH.
On the other hand, below is the three-day weather forecast for Cagayan de Oro City.
October 25, 2017
Summary: Showers and Heavy Thunderstorms
Day: Showers and a heavier thunderstorm in the morning and cloudy with a heavy thunderstorm in the afternoon
Night: Considerable cloudiness
Temperature: 22-29°C
October 26, 2017
Summary: Thunderstorm in spots
Day: Intervals of clouds and sunshine with widely separated thunderstorms
Night: Partly cloudy with rain showers in some areas
Temperature: 22-29°C
October 27, 2017
Summary: Thunderstorm around
Day: Rather cloudy with a thunderstorm in spots in the afternoon
Night: Considerable cloudiness
Temperature:23-30°C