14 Jan

Cagayan de Oro City College Scholarship For 2020 To Open This January 17-March 7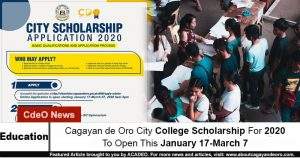 Mga higala! Do you wanna avail of a COLLEGE SCHOLARSHIP from the City Government of Cagayan de Oro? Well, this is your chance!
The CDO City Scholarships Office will be opening the 2020 City College Scholarships this coming Friday, January 17, up until March 7, 2020, from 8:00 am to 5:00 pm.
Below are the basic qualifications:
Applicant must be a Filipino citizen

Applicant must be a resident of Cagayan de Oro City

Applicants must be pursuing an undergraduate degree on a full-time basis

Applicants must be a graduate of Senior High School

Applicants must have not been enrolled in College


Must not exceed the total annual family income of 300,000 pesos
Interested? Follow the application process:
STAGE 1. APPLY ONLINE
at http://cityscholar.cagayandeoro.gov.ph:8080/apply-scholar
Online Application OPENS 8 AM-5 PM,
January 17-March 07, 2020.
STAGE 2. ATTEND APPLICANT'S ASSEMBLY
on February 08, 2020, at XU Gymnasium
(Hinterland students may not attend because we will visit your schools on January 27-31)
STAGE 3. SUBMISSION OF DOCUMENTS
Submit photocopy (present original copies upon submission) of the following:
– A copy of Grade 12 First semester Grades
– A copy of Certificate of Residence
– A copy of Certificate of Indigency from the Barangay or ITR copy from BIR of both parents
– A copy of clear and authentic residence sketch in a long bond paper ( kung asa ka gapuyo karun for validation purposes)
– Medical Certificate from a Government Physician
If applicable, submit certificate/s; (kung naa, kung wala okay lang)
– IP certificate/ 4Ps, Solo Parent, PWD
– Grade 11 to Grade 12 Certificate of Leadership and Involvement duly signed by the School Head/ Principal (if available)
Enclosed all documents in a long brown envelope, with name, reference number, and contact number written on the upper right corner. Receiving of Requirements Starts January 17,2020.Deadline of submission is on March 07, 2020.
STAGE 4. VALIDATION OF APPLICANTS
STAGE 5. TAKE THE QUALIFYING EXAM.
Watch out for the exam schedule which will be announced at www.facebook.com/CDOCityScholarshipsOffice.
For more details: