03 Jan

Cagayan de Oro Descent Whiz Kid Awarded Player of the Year by Chess Nonprofit Org in the US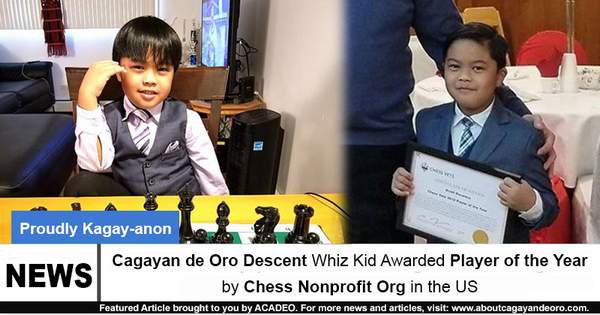 Filipino-American Scott Matthew Escalera, whose biological father is a native of Cagayan de Oro, was declared "Player of the Year" by Chess Vets (a chess nonprofit organization) in Illinois, Chicago during their annual Christmas and awards ceremony and party last December 21, 2019.
Escalera was given the award by the club president Michael Lenox along with the vice president Robert Stoltz.
The organization considered the whiz kid due to his remarkable performances for the whole year of 2019. This includes Escalera winning the 2019 K1 Illinois Chess Championship, 2019 first grade Illinois State All Grade Championships, and 2019 K3 Ice Harbor Championships, bagging the first place. Also, he became the United States Chess Federation's highest rated 6-yr-old player.
Recently, Escalera finished tenth place in the National All Grade Championship first grader division.