17 Jun

CDO Father's Day Promos and Activities: What To Give and Where To Bring Dad This Father's Day
It's that day of the year when we are able to celebrate our appreciation and love for all the hardworking fathers around the globe. And here in the Philippines, such event has always been celebrated by most Filipinos. May it be through giving greeting cards, gifts, treating them at a restaurant, and whatever ways you can think of.
Our fathers serve as the foundation of the home, and being the one doing the hard works such as fixing broken furniture, malfunctioning electrical appliances and other stuff, they provide a role that every home really needs.
How important is your father to you? What do you call him? You should always show him how much you love him. If not everyday, then grab this opportunity to thank him for his sacrifices, understanding, love and care. And as you are reading this, greet him "Happy Father's Day!"
Do you have something to give to him this Father's Day? Know that it shouldn't be that expensive, yet make sure that it's worth keeping and remembering. But rest assured that whatever that is, your father will treasure that. How about treating him somewhere where there is good food?
We have a list of awesome promos and activities provided by some of the restaurants and businesses in Cagayan de Oro where you can take part with your father. Might as well avail them just right for Father's Day.
FREE Yoga at One Yoga Wellness Studio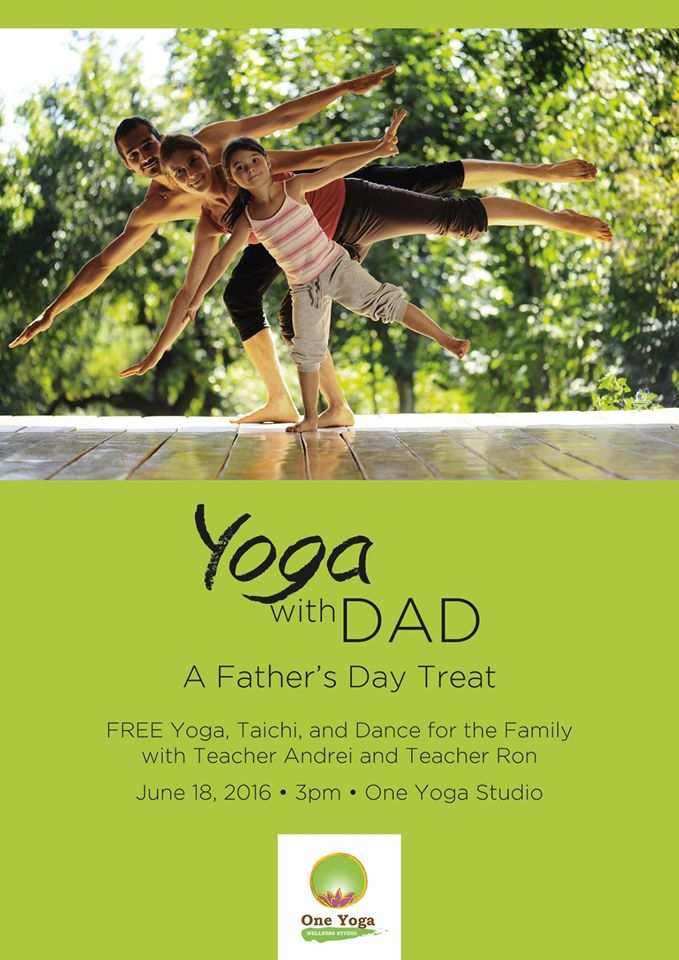 Aye for healthy living! Bring with you your father this coming June 18, 2016, that's Saturday, at One Yoga Wellness Studio to avail FREE Yoga, Taichi and Dance Classes to commence at 3:00 PM. Get to meet teachers Andrei and Ron.
FREE "Tagay" at Boy Zugba
Celebrate Father's Day at Boy Zugba where you can avail their FREE Tagay of (1) Pitcher of Iced Tea when you purchase a minimum of P1000. Dad will really enjoy this "tagay", valid on June 19, Sunday only.
Father's Day Special Buffet at Restaurant Damaso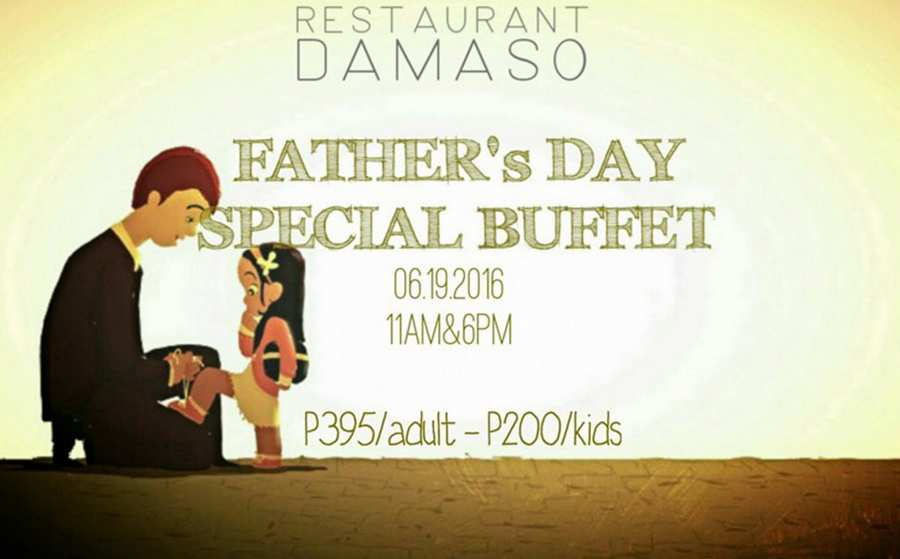 How about a special buffet from Restaurant Damaso? Your dad will surely love the ambiance and the food. Treat him on Father's Day! For only P395 (adults) and P200 (kids), you and your dad will enjoy an eat-all-you-can for their 8 course meal. FREE for those who are 3ft below in terms of height. The special buffet will start from 11:00AM until 10:00PM on June 19, Sunday.
Free Pizza for Dad at Pirates Seafood Restaurant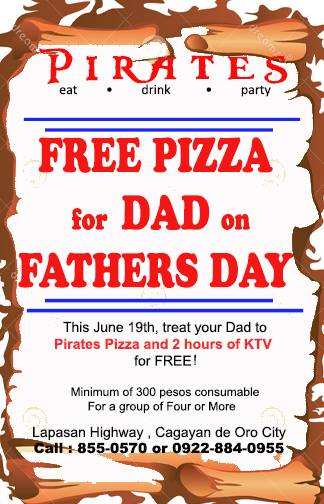 FREE pizza and use of KTV. Yes, you've read it right. Only at Pirates Seafood Restaurant! For a minimum of P300 that is already consumable, you and your dad can already enjoy FREE Pirates Pizza and 2 hours use of KTV. That's June 19!
Father's Day Treats at SEDA Centrio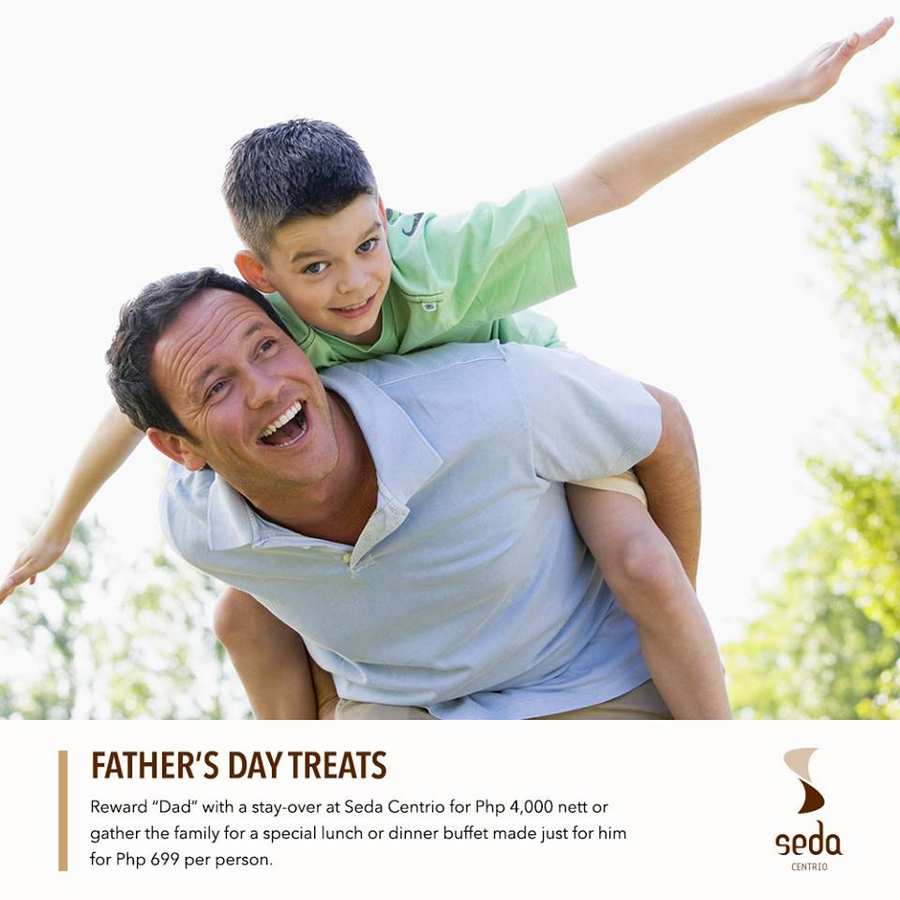 Make your dad feel special on Father's Day by celebrating it at SEDA Centrio. For P699 per person, or with a group of five paying persons (Dad will enjoy the buffet for FREE), enjoy SEDA's Luncheon and Dinner Buffets on June 19 that'll start at 11:00AM to 2:00PM (lunch) and 6:00PM to 10:00PM (dinner).
OR, treat him the SEDA's Father's Day Room Package that will run from July 15 to July 3. For P4000, your dad can already enjoy an overnight accommodation for two in a Deluxe Room with breakfast buffet, FREE use of the Wi-Fi, pool and gym, In-room body massage, and complementary activity pass to Centrio Mall's Father's Day celebration from June 15-19.
Father's Day Cake from Missy Bon Bon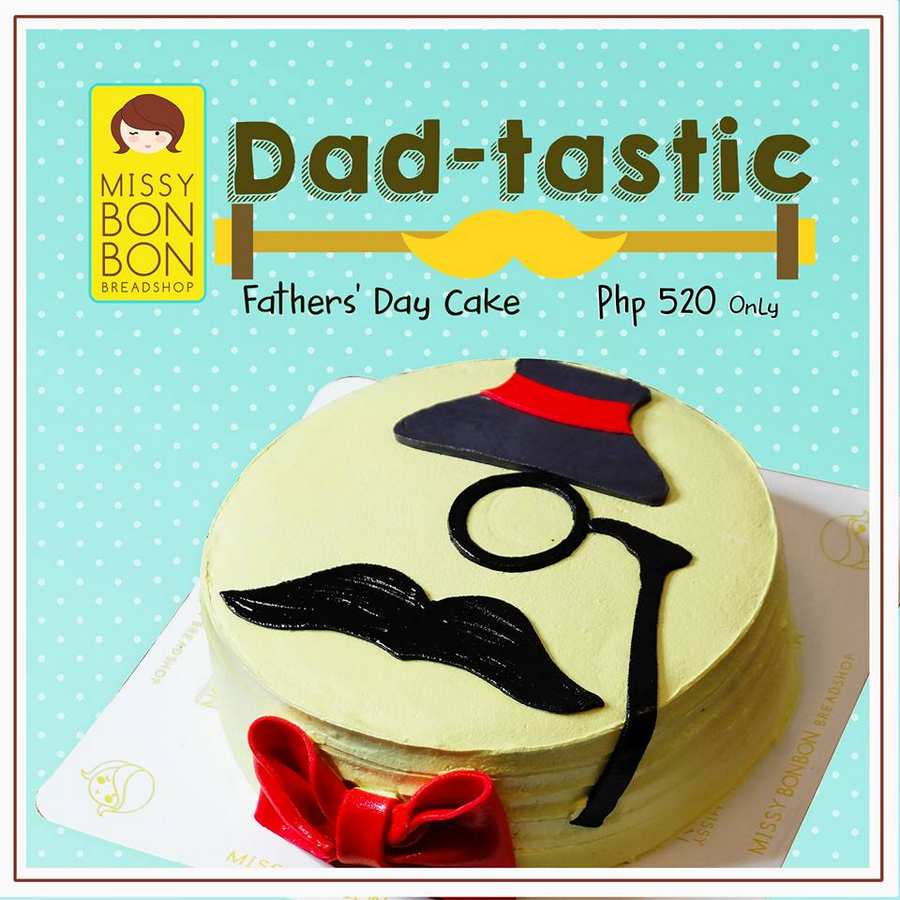 Don't have something special to give to your Dad this coming Father's Day just yet? How about this Missy Bon Bon's limited edition Father's Day cake? Let him know how special he is to you!
Free Drinks for Dad at Roadhouse Cafe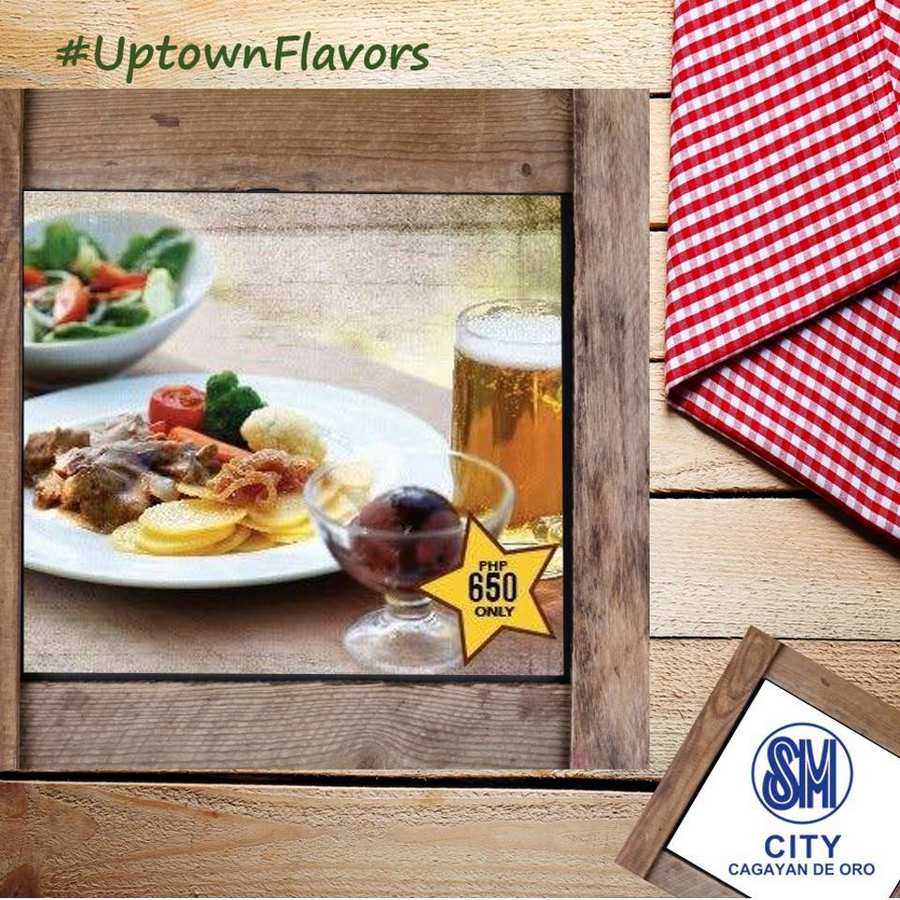 When you avail Roadhouse Cafe's Father's Day promo, an order of Roast Beef Set already comes with a FREE mug of beer or iced tea.
FREE Chicken McDo at McDonald's SM City Cagayan de Oro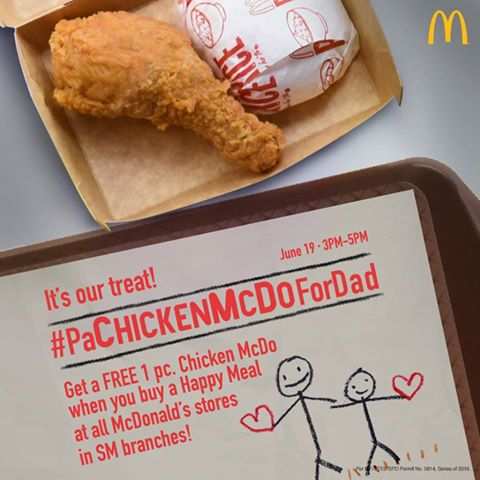 On Father's Day, you can share with your dad FREE 1pc Chicken McDo when you buy a Happy Meal on June 19 starting from 3:00PM until 5:00PM. This promo is available at all McDonald's stores in SM branches only. Mark the date and head to SM City Cagayan de Oro this Sunday!
Love 'Em Super Dads at Centrio Mall
Bring with you your dad and celebrate Father's Day at Centrio Mall's Love 'Em Super Dads. Make him feel special by giving him that VIP treatment and present to the world how you really love him by taking a photo with him while at Centrio Mall (and post it on Instagram to get a chance of winning prizes).
Roll A Dice Promo at Gaisano City Mall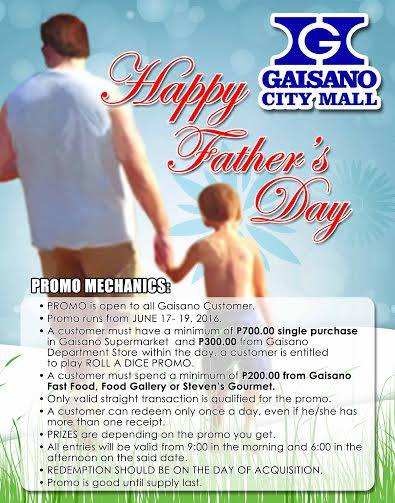 Bring your dad at Gaisano City Mall starting from June 17 to 19 and make the shopping more enjoyable! For a minimum purchase of P700.00 in Supermarket, P300 in Department Store and P200 in Gaisano Fast Food, Food Gallery or Steven's Gourmet, let him roll the dice for a chance to win prizes. Know that PRIZES depend on the promo you get.
Father's Day Gift from Cham's Convenience Store
Win a Phantom Mountain Bike or P2000 worth of Gift Certificates this Father's Day brought to you by Cham's Convenience Store! All you have to do is purchase any items from Cham's and upload a photo of you and your Dad. Then you just have to answer why your Dad is the "Best Dad". And lastly, post it on Cham's Facebook page. This contest will run from June 9 to 30, with the cutoff deadline on June 30 at 11:59PM. The winners will be determined through the number of likes, to be declared on July 4, 2016 at Cham's Luna, 5:30PM.
50% OFF on Selected Items from San-Yang Furniture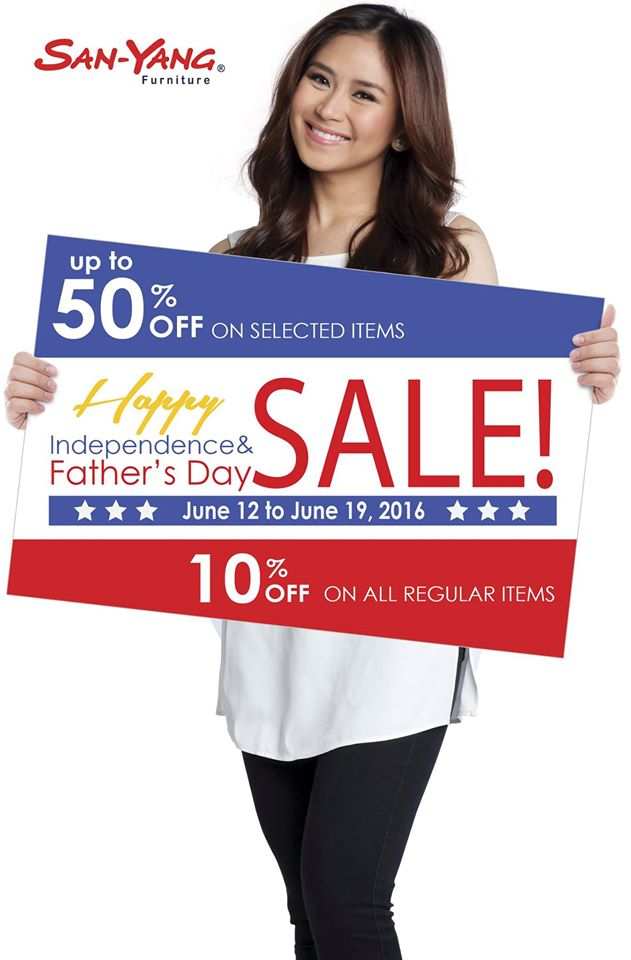 Which has already started since June 12, 2016, San-Yang Furniture's 50% OFF Sale is still up. Enjoy 50% off on selected items from San-Yang. Head on to their branch at Limketkai Mall today! Until June 19, 2016 only.
The Kaldi Bundle from Coffee Bean and Tea Leaf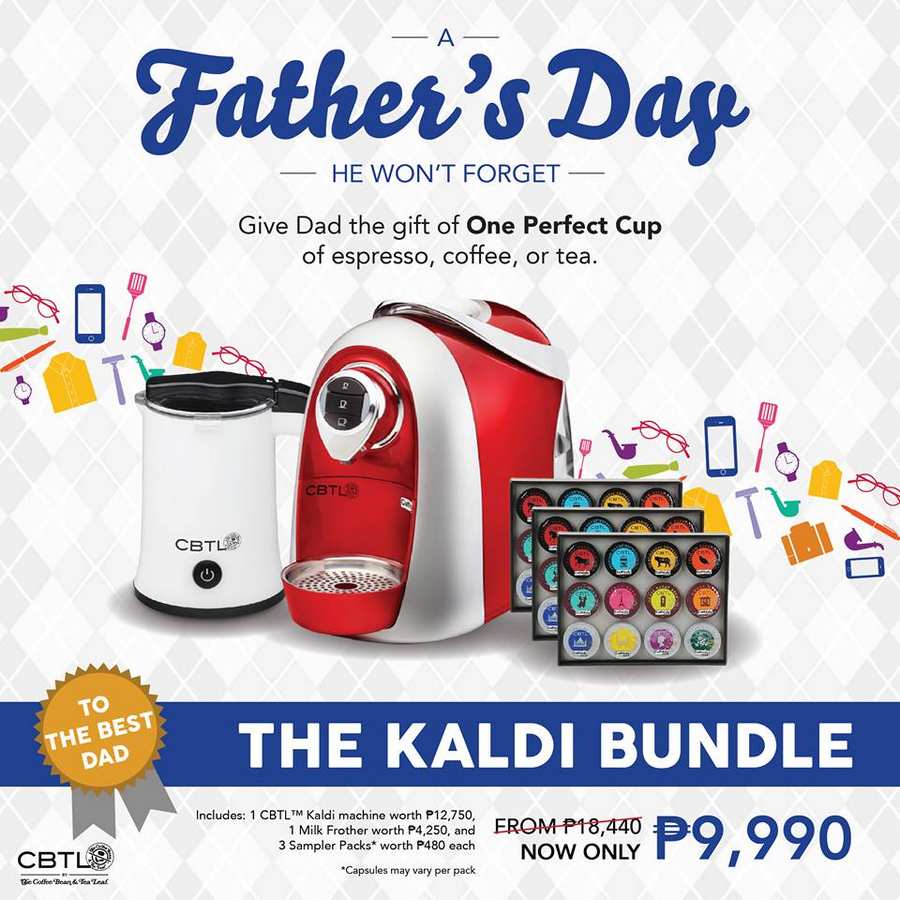 Nothing's more special for a father than getting perfect cups of espresso, coffee or tea every morning from a son or daughter. And you can only achieve this by having the Kaldi Bundle from Coffee Bean and Tea Leaf. Visit their place today at Gateway Park, Limketkai Mall.
20% OFF on Regular-Priced Sunglasses at Sunglass Haven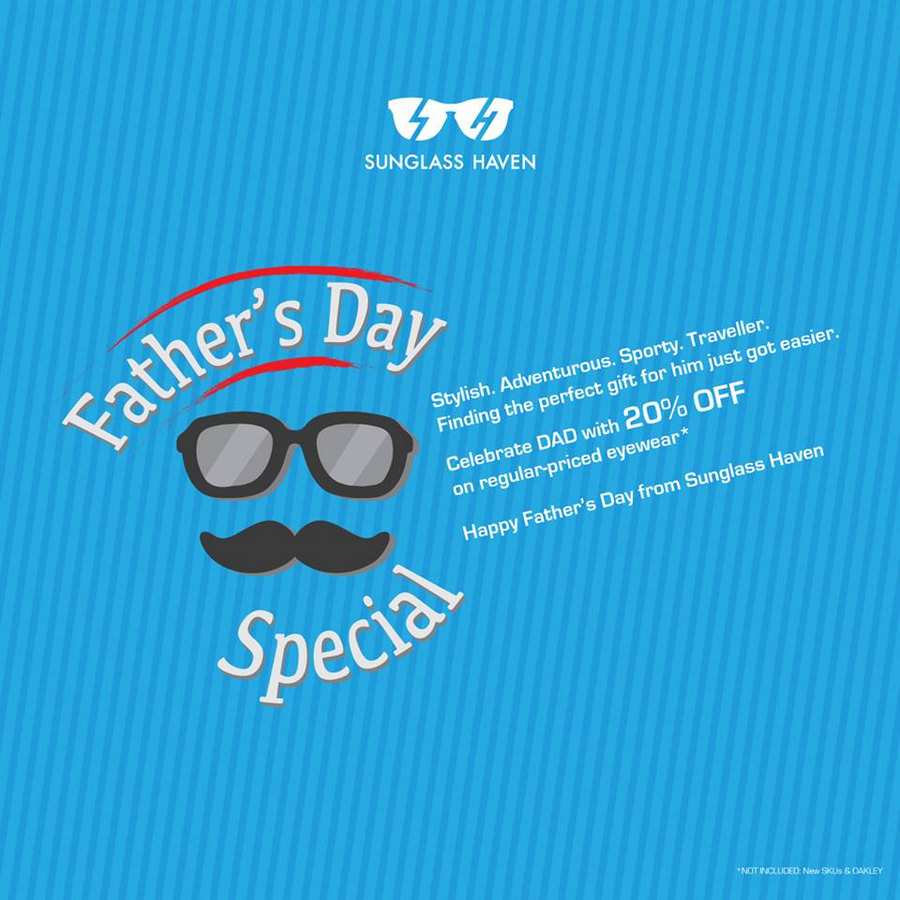 Avail Sunglass Haven's simple treat for your dad this father's Day! Enjoy 20% OFF on their regular-priced sunglasses (except Oakley). Head on to their store at Ayala Centrio Mall this June 14 to June 19.
30% OFF on Men's 501, 505 and 511 at Levi's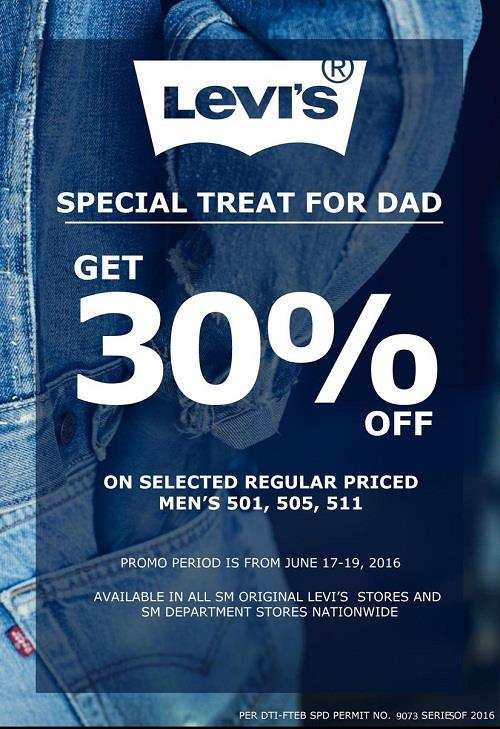 The SM Store's Levi's has a special treat this Father's Day. Enjoy 30% off on selected regular-priced items of Men's 501, 505 and 511 available only from June 17 to 19 in all SM Original Levi's Stores and SM Department Stores a nationwide.
Dad's Day at The SM Store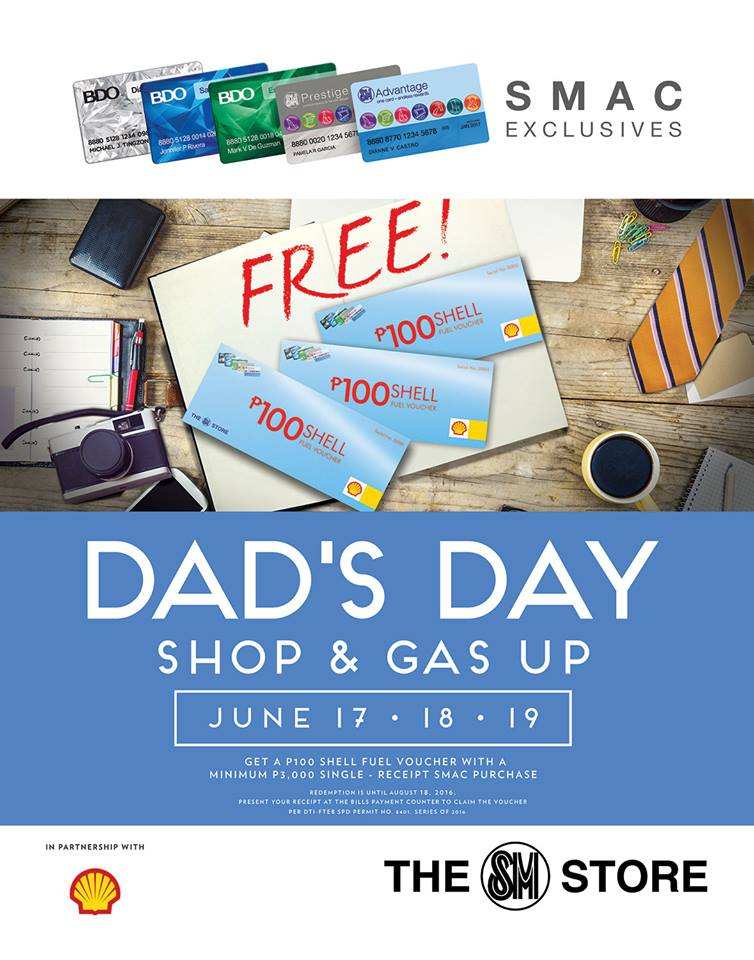 Looking for a gift to give for dad this coming Father's Day? Look no further for at The SM Store, SMAC shoppers can get a FREE P100 Shell voucher when purchasing a minimum of P3000 on June 17 to 19. Spend your weekend at SM City Cagayan de Oro!
Love Ko Si Pap! Online Promo by Camella
This Father's Day, you can get to win as much as P4000 worth of gift certificates! Interseted enough? Here's how to join Camella's Love Ko Si Pap! Online Promo.
Choose a childhood photo you had with your Papa and recreate it by portraying that photo again. Then, like Camella Northmin FB page https://www.facebook.com/Camella-Northmin-855634927914706/ and register online. You can then submit your entries by uploading your recreated photo (old and new) with the hashtag #camellalovekosipap. Only the entries with complete data on registration will be accepted, with the deadline on June 15, 2016. Entries that were qualified will be posted at camella Northmin FB page on June 14. And in order to qualify, a minimum of 300 likes is needed, with the top 3 highest in likes to be declared the winners and will win a prize. Voting will start on June 14 up to June 29, 2016 at 5:00PM. The winning entry will be posted on June 30, 2016.
50% OFF on Selected Items at Boardwalk
This Father's Day, enjoy 50% OFF on Boardwalk's selected items from June 16 to 19. Note that all products are non-rebatable and non-returnable.
These mentioned promos and activities are just a few made available by some of the establishments and businesses here in Cagayan de Oro. Only on Father's Day so might as well avail them, or wait until next year. But know that whatever you are going to give or wherever you'll be bringing your dad, he will always appreciate your effort. He appreciates it more when you are with him. Show him how much you really love him this Father's Day! Happy Father's Day to all fathers in the world!