30 Jun

SPOTTED: The "Cagayan de Oro Road" In Gwangyang City, South Korea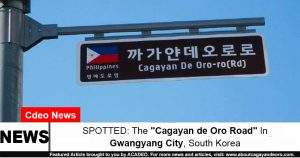 Mga higala! Did you know? A city street in South Korea was named as the "Cagayan de Oro Road" by Mayor Jeong Hyunbok in 2019!
It can be read as 까가얀데오로로 or Cagayan de Oro-ro.
The said street is in Gwangyang City, which is located in the South Jeolla Province, South Korea.
ICYDK, Cagayan de Oro and Gwangyang are sister cities and have signed a Memorandum of Agreement for Substantial Exchanges last November 6, 2019. This agreement aims to strengthen their friendship and boost bilateral ties, especially on economy, culture, and education.
The said Cagayan de Oro Road is the Korean city's way of honoring the said sisterhood.
Below are posts from Kring Kim and Leila Inin Koo. Check out the post and comments higala!