15 Aug

Cagayan de Oro To Finally Implement City-Wide Smoking Ban This October 2018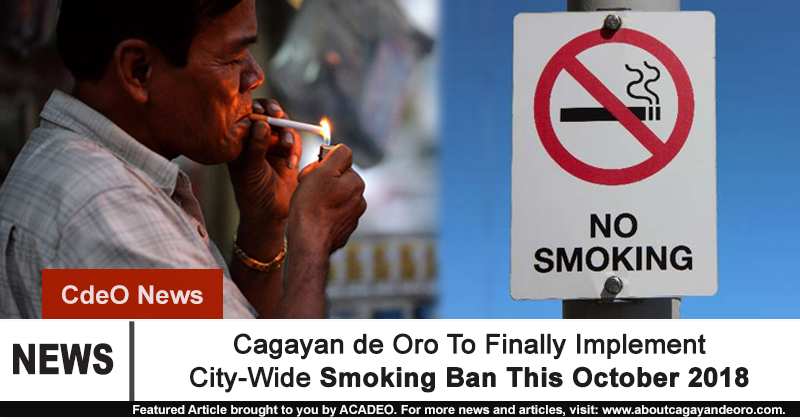 Mga higala! Cagayan de Oro City is finally set to implement President Duterte's anti-smoking law this coming October 2018.
According to a report by Sunstar CDO, the Smoke-Free Task Force of our city will first pass an ordinance this September in order to provide clear guidelines for everyone, specifically on the penalties that the ban would include.
They will also be conducting a 45-day information drive starting this August 16, so that every Kagay-anon, even those on the hinterlands would know important details regarding the smoking ban.
In case you don't know, this smoking ban prohibits smoking in enclosed public spaces such as:
Government buildings
Schools, colleges, and universities
Offices and other workplaces
Restaurants and other food and drink establishments
Hotels and other accommodation facilities
Hospitals, health centers, clinics and nursing homes
Transportation terminals
Churches
Shopping centers, retail stores, and other merchandise establishments
Entertainment establishments
Sports venues
Other establishments that provide professional services
and public vehicles:
Buses
Jeepneys
Taxi Cabs
Tricycles
PUVs
Trains
Airplanes
Ships
The smoking ban also prohibits smokers at all outdoor areas where people gather such as parks, playgrounds, sidewalks, waiting areas, open-air markets, and resorts.
However, the government will provide designated smoking areas (DSA) for all smokers, which may either be an open space or a separate area with proper ventilation.
Watch out for UPDATES, meanwhile read this article for more details: