13 Apr

Cagayan de Oro Tourist Spots: Where to Go When in Cagayan de Oro?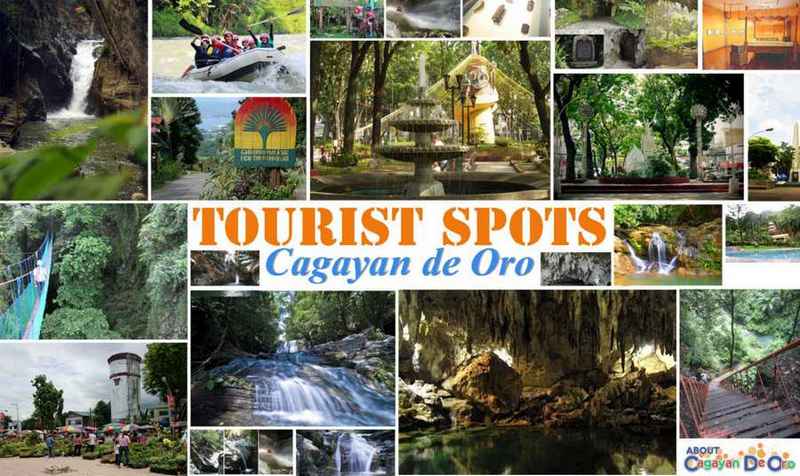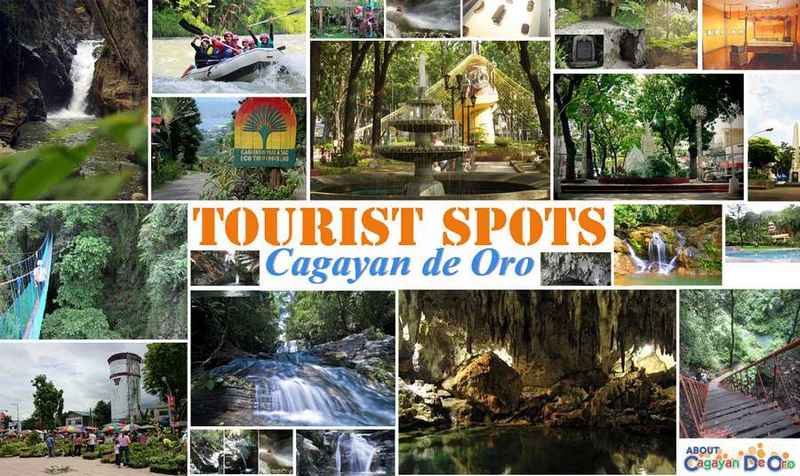 Most of us love traveling. Who would not agree with that? It is our way of discovering the other places' history, culture and the local people's way of living. Of course, we do travel to have fun and spend some quality time either with friends or family, even for self-contemplation.
Whenever we get to discover new places that we haven't gone to before, especially seeing popular landmarks and natural sceneries, they give us that feeling of satisfaction. Researches said that people who spend their money with traveling are more satisfied in life than those people who spend their money for material things. Maybe that is why more people are into traveling now that social media work as an open portfolio containing all the beautiful places in this world being posted by fellow friends and even strangers.
There are also some people who frequently travel. Maybe because it's part of their job or mainly, their job. The latter are those that you call travel bloggers who blogs about their adventures they've had from a specific city or country anywhere in this world. This job may sound easy, but according to those who are professed travel bloggers, it works just like other jobs. The difference is that you must at least blend in with the new environment, learn their culture and live like the local people living there. Exciting isn't it? Travelers, may they be local or foreign, usually travel to places they might have heard about from fellow travelers or which are yet to be discovered. But typically, travelers research the place they are planning to go to, which means those are places which have already been traveled by others. Only few dare to travel to those that are yet to be known.
Cagayan de Oro, the capital city of the province of Misamis Oriental, Philippines, has been tagged as the adventure capital in Mindanao due to its adventure and leisure venues that tourists can avail when in the city. Also called The City of Golden Friendship, the city is proud of being included to the latest list of Top 10 Next Wave Cities in the country. So, whenever you are planning to visit the city, don't miss to visit these Top 13 Cagayan de Oro Tourist Spots and live the life of being one of the Kagay-anons.
List of Cagayan de Oro Tourist Spots
St. Augustine Cathedral
Cagayan de Oro's St. Augustine Cathedral hails at the heart of the city, situated near the Cagayan de Oro River beside Gaston Park. It is the most known worship venue in the city with its gothic style architecture and that is adorned with stained glass given by the New York Sacred Heart chapel.
The cathedral was built in 1624 by Fray Agustin San Pedro who was called El Padre Capitan that time by the residents. Later in 1778, it was burned down together with the convent. With the help of Fray Pedro de Santa Barbara and with some generous Cagayanons, the cathedral's ruins were built anew in 1780. But didn't last long until 1831. Ten years later, in 1841, the church was rebuilt but this time, using concrete materials. Beautiful paintings of the four evangelists were adorned to the church, even had a pipe organ. Notice the wooden cross which stands up until today in front of the cathedral? It was erected in 1888. Until in 1946, the Cathedral and the Convent was rebuilt by Archbishop James Hayes, SJ.
In order to get there,  after arriving in Laguindingan Airport, you can ride a shuttle van going to the city proper. Usually, you need to pay P150-P200 for the ride. There are shuttle van booths around the airport, you just have to look for those that can drop you near Carmen (ride a jeepney and ask the driver or the barker to drop you at the cathedral, with a fare of P7) , better if they can drop you at the Cathedral. When from Westbound Terminal, you can ride a jeepney which shows Patag, Carmen, Cogon on its headboard and ask him to drop you at the Cathedral, a fare of P10 will do.
Gaston Park
A favorite venue after Sunday masses held at St. Augustine Cathedral is Cagayan de Oro's Gaston Park. It does now have musical fountain with lights installed just last year's December entertaining frequent visitors and passers-by. Gaston Park was once the main plaza of Cagayan de Misamis during the Spanish colonial period which served as a training ground for local patriots in the course of  the Philippine-American War. Later, it became the site of the Battle of Cagayan de Misamis which occurred in April 7, 1900. And in 2000, a National Historical Institute marker was placed in the park.
Know that Gaston Park is the park just beside the St. Augustine Cathedral. After paying a visit to the cathedral, spend some time at the park for fresh air and get entertained with the musical fountain during the night.
Vicente de Lara Park
Formerly known as MacArthur Park honoring General Douglas MacArthur who landed in Cagayan de Oro after escaping from Corregidor enroute to Australia, this one of the many parks around the city is now called Vicente de Lara Park. This redeveloped park was named after a provincial governor, Vicente de Lara. Currently, it houses a Press Freedom Monument and the Heritage Monument of Misamis Oriental that were designed by national artist Eduardo Castrillo.
It is located in front of the Provincial Capitol of Misamis Oriental building surrounded with huge mahogany trees that shade the whole place. Since before, it has became a favorite place among people who do morning jogs or even evening strolls. Also, it's a venue for dating couples.  Mostly, it's a place for groups who practice dance choreographies, chess matches and zumba activities.
Most of the events in the city are being held here. And when the sun is about to set, the whole park is being lit up with various colors by the pendant lamps hanging on the trees.
You can bring yourself to Vicente de Lara Park by riding a shuttle from the Laguindingan Airport which then drops you at the Centrio Ayala Mall. If you arrived CDO by bus, you can ride a jeepney with the route going to Centrio Mall. Since the mall is just near the park, take a short walk where you can pass by the Northern Mindanao Medical Center and the Provincial Capitol of Misamis Oriental.
Plaza Divisoria (Golden Friendship Park)
The very place which Cagayan de Oro was known for and where most Kagay-anons flock during Fridays and Saturdays for Night Cafe is the Plaza Divisoria, but that was before. Now, this place follows rules pertaining to crossing the roads via pedestrian lanes, well, strictly or else you'll get sanctioned by paying a specific fine and the Night Cafe doesn't exist anymore. But still, it is a place of commerce and does what a usual park can offer.
Plaza Divisoria, sometimes called the Golden Friendship Park, was built in the early 1900's as a town divider (Divisoria) or fire breaker. This was realized when a great fire occurred that almost burned down the entire town. Now, it is comprised of several parks dedicated to local and national heroes such as Andres Bonifacio, Dr. Jose Rizal, President Ramon Magsaysay and former Cagayan de Oro Mayor Borja. One of the parks in this Plaza Divisoria is the Bonifacio Park where most of the local soldiers who died during the 1900's Philippine-American War were buried beneath the monument.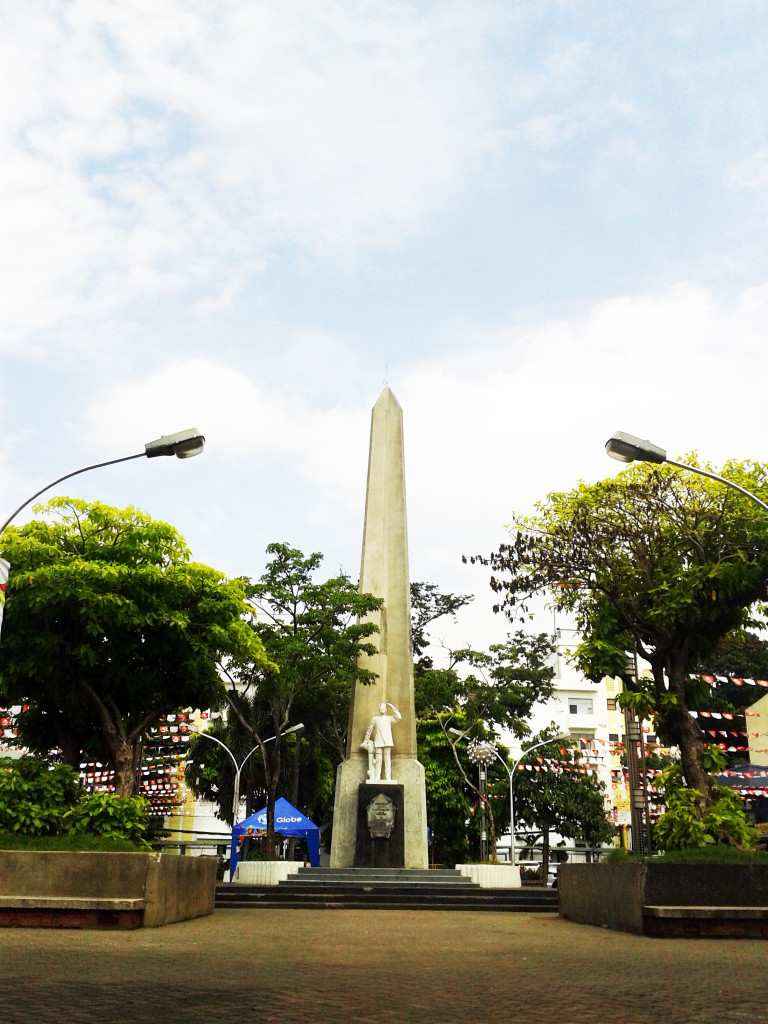 There can also be found a huge LED screen in the Divisoria where visitors and passers-by can watch news, movies and telenovelas. At the Divisoria Kiosk, the heart of the Plaza Divisoria, is where most of the events happen like last year's Carnival Parade, and among others.
When from the Laguindingan Airport, there are shuttle vans that can drop you at the Divisoria so you can ride those. When from West Bound Terminal, you can just ask any jeepney drivers or barkers  if they can drop you in Divisoria.
City Museum of Cagayan de Oro
Used as a water tank tower before, now used as a home of the city's historical treasures. This City Museum of Cagayan de Oro can be located at the left of the St. Augustine Cathedral and at the back of the Gaston Park.
Built in 1921, it was the town's water source when the tower was still tapping water from Malasag. It even endured the bombings during the past wars and until now, it is still standing proudly. And in 2008 under Mayor Constantino Jaraula, the city government received funding to renovate the said tower converting it from an old water tower into what is now, the City Museum.
The museum is consisted of three floors, all containing old photographs of events and famous Cagayanons with historical significance to the city. There are also artifacts, antiques, old paintings around, and an interesting old Ostrich egg which is believed to be centuries old. You can take pictures on the ground floor except on the second and third floors. The City Museum of Cagayan de Oro is open from 9:30 AM to 5:00 PM during weekdays, and closed during weekends and holidays with an entrance fee of P20 per person.
Planning to visit the museum? You can just bring yourself to St. Augustine Cathedral or Gaston Park. And whenever you see a tall cylindrical tower, that should be the City Museum of Cagayan de Oro.
Museum of Three Cultures
Opened to the public in 2008, the Museum of Three Cultures in Capitol University houses galleries, artifacts, arts and crafts of tribal cultures,and treasures that displays stories of the past.
The museum showcases collections of rare arts and crafts, musical instruments, jewelry, weapons, furniture, archeological dug outs from Butuan, galleries suah as of Maranao antiques from Tugaya, Lanao del Sur and of Cagayan de Oro ethnohistory and rare antiquities from the prehistoric and early Christian lowland tribes, Muslim, Higaonon and Manobo tribes. And to promote local visual arts of Mindanao, there is an art gallery and coffee shop in the said museum.
To visit this museum, you can drop yourself to Centrio Ayala Mall when riding a shuttle van coming from Laguindingan airport. Then you can look for a motorela (same as Tuk Tuk of Thailand) and ask the driver to bring you to Capitol University located at Corner Osmena Street and Corrales Avenue fronting Lifestyle District.
White Water Rafting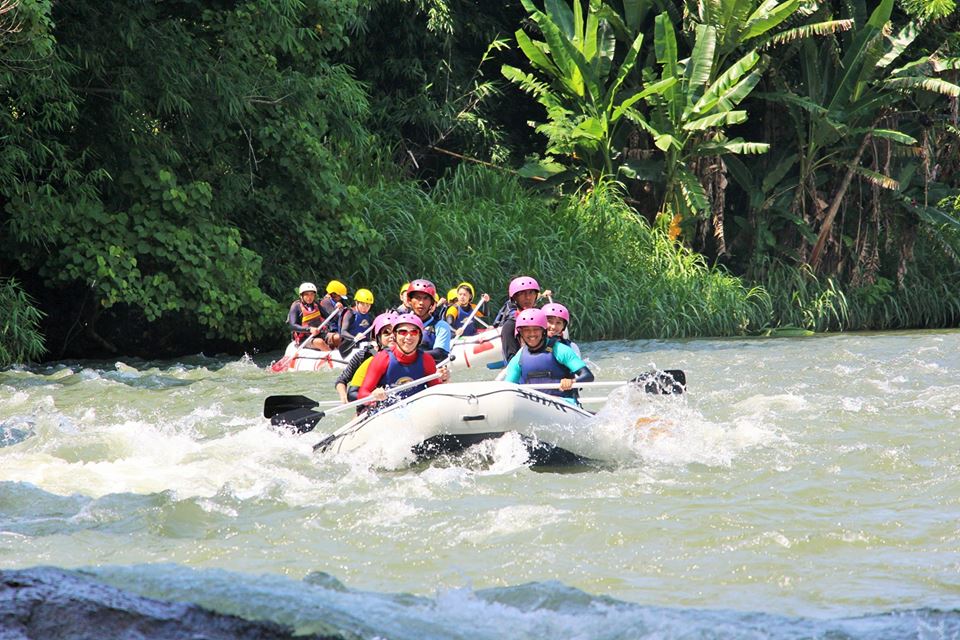 One of the things that Cagayan de Oro is known for is its challenging water rafting adventure which made the city tagged as the white water rafting capital of the Philippines. Like when dropping by the city, one should try white water rafting.
Many foreign and local tourists have already flocked to Cagayan de Oro to try taming the Cagayan de Oro river through water rafting. With the river's challenging rapids that quickly follow one after another, just enough to bring an adrenaline rush to rafters. Especially for the first timers, the experience would be unforgettable. Must say the first scare was worth it. And the wild river lets you discover your inner strength and endurance.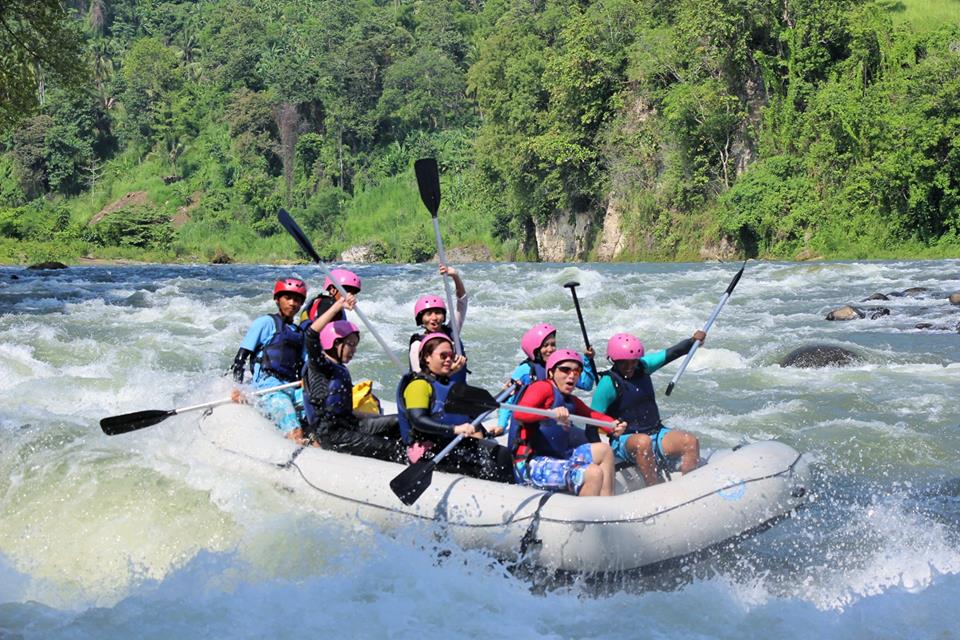 There are water rafting agencies in the city that offers safe and secured rafting adventure. You just have to look for them online or by referrals from fellow tourists who have already tried rafting. Booking is a need so make sure you have already made contact with the agency regarding the specific date of your adventure.
Mapawa Nature Park
For those who prefer nature, Cagayan de Oro is also blessed with a beautiful forest reserve namely the Mapawa Nature Park, just a few kilometers away from the city proper.
The said park is 2,500 hectare land located within the mountains of Malasag which was used as a private ranch by the Pelaez family before. And now, it was converted into a park open for the public but still, the family focuses for the preservation of its amazing scenic views, breathtaking waterfalls and abundant flora and animal wildlife.
Fun activities and attractions await for visitors of Mapawa Nature Park such as the alluring waterfalls, horse-back riding, zip-line courses, cliff jumping, canyoneering, water slide, and forest and river trekking. It is advised by the management to wear hiking shoes, loose, long pants or jogging pants and clothing that are easy to move in for those who want to enjoy the mentioned outdoor activities. There's also the Mapawa camping grounds where visitors can spend the night, with a minimum of 12 persons.
In order to get an access to the park, an entrance fee must be paid. But rates usually vary on what kind of activity you want to try in the park, and availing packages would be a wise option for bigger groups which is already inclusive of room accommodation, meals for the entire day, activity and entrance fees. During weekdays, Tuesdays to Fridays, the park is open from 9:00 AM to 5:00 PM, and on weekends, Saturdays to Sundays, from 7:00 AM to 5:00 PM.
If you're already in the city, you can rent a van that can take you to Mapawa Nature Park in Barangay Cugman directly. But it would be best if you can contact the management of the park ahead of the date of your trip to inquire if the park is suitable for doing such activities or if they can accommodate more visitors on that date.
Macahambus Adventure Park
Just a few kilometers uptown in Barangay Lumbia, Cagayan de Oro is the Macahambus Adventure Park where you can experience crossing a 150-feet high hanging bridge, 120-meter long zipline and more than a hundred feet rappelling.
What they call as the Sky Bridge is a 135m-long hanging bridge suspended 150 feet from the ground. It lets you see the beautiful greens around. There's also a zipline course which is 120 meters long. It is also called the Bouncing Zipline because the facilitators shakes the cable making the zipline course to bounce. Then there's rappelling. It lets you rappel down from a height of more than a hundred feet.
Macahambus Gorge
Along the Macahambus Adventure Park is the Macahambus Gorge that is easily accessible by going down a steel stairs of over a hundred steps. It was believed that a big cave existed 200 years ago which collapsed then created what is now this gorge. Just last 2010, this Macahambus Gorge became a heritage site by the city government of Cagayan de Oro.
Macahambus Cave
One of the historical sites tourists frequently visit in Cagayan de Oro is the Macahambus Cave that is located in Barangay Bayanga. It is also called a thru cave since there's another opening at the end of the cave.
The cave is consisted of 3 chambers. The first chamber can only be entered by kids because the route is very narrow. Connected to it is the second chamber where a big boulder can be seen at the dead end, formed like a bed. It was believed to be the specific spot where Cruz Taal's family stayed and rested after the "Battle of Macahambus". The third chamber has an exit from the cave where the Cagayan River can be seen. The ideal time to visit the cave is during 10:00 AM, then is usually off limits by late afternoon for visitors.
If you wish to experience adventure and at the same time see the historical venues in the city, Macahambus Adventure Park and paying visit to Macahambus Cave and Gorge would be worthwhile. You can rent a van that could take you directly to Barangay Bayanga. There are also souvenir shops near the vicinity so make sure you get something to be reminded of your experience.
Gardens of Malasag Eco-Tourism Village
A place where tribal houses are being displayed amidst nature trails is the Gardens of malasag Eco-Tourism Village which is owned and managed by the city government of Cagayan de Oro. It features a vast land abundant of diverse wildlife that are endemic to the mountains of Malasag, has botanical gardens and other recreational accommodations and amenities. The village also shares Mapawa Nature Park's natural forest reserve.
The said venue was established to promote awareness, teaching about the lives and rich culture of the ethnic groups settled in Northern Mindanao. For visitors who would like to visit the village, there's an entrance fee. For every guest, a map of the entire village will be given making it easier to wander around. There's also the village's Alfresco Restaurant where you can enjoy a wide selection of tasty Filipino cuisines. Cold breeze, soothing and calm ambiance and amazing view of the bay and the Malasag hills are just some of the things you will get to enjoy at the Gardens of Malasag Eco-Tourism Village.
You can ride a jeepney heading to Cugman and get off at Malasag. Take a motorcycle ride up the hill to the village. Other option is riding a taxi which will cost you around P150 one way. Or more conveniently, you can rent a van from the city proper which can bring you directly to the village.
Catanico Falls
Located in Barangay F.S. Catanico is a small narrow falls which is surrounded by magma stone boulders, called the Catanico Falls. Before, the area is a bit isolated with no electricity, potable water and public transportation. Now, the city government has developed the area near the falls with rentable picnic huts, basic toilet facility and viewing area on top of a huge boulder. After all the developments, the natural environment still remained. However, the place could not accommodate more than 50 persons and the parking is only limited for around 6 vehicles. Though, cooking using charcoal is allowed.
To get to Catanico Falls, you will need to travel for 2 stops when you aren't renting a van (which could take you to the vicinity directly). Take a taxi going to Cugman then head straight to the the F.S. Catanico Road, and get off to the Habal-habal terminal. Ride a habal-habal that can only bring you, another person plus a baggage. You can also ask the habal-habal driver to come and pick you up again given a designated time.
Migtugsok Falls
In the Sitio of Migtugsok in Cugman, Cagayan de Oro hails a falls with five beautiful cascading waters, the Migtugsok Falls. It could be reached via Barangay Indahag accessible by car until Sitio Camacawan where one has to walk for 45 minutes in a winding and descending sloping route with an estimated distance of 400 feet passing along the converging shallow river of Bigaan and Migtugsok that is more or less 20 meters in width. Another 30 minutes trek will be necessary until reaching the falls via the river.
Monigue Cave
Situated in Barangay Mambuaya is the Monigue Cave where sparkling formations of Calcium Carbonates (CaCo3) or Calcites can be found inside. At the cave entrance is a flowing water coming from an underground stream, which is only a small opening that is too narrow to get through. It requires a claustrophobia-inducing journey with a six inches airspace between the ceiling of the cave and the water that you need to submerge one by one being equipped with a helmet and a waterproof cap lamp. But at the end, you'll be rewarded with the best of sights.
Found inside are formations of white and brown stalactites and stalagmites showing signs of oxidized materials which take 50 to 60 years to form an inch. There are also formations of flowstone,  transparent crystals, terraces and speleothems such as cathedral icons and drapes.
Just an advice, it would be best to join a tour group when decided to explore Monigue Cave. You can contact hotels and whitewater rafting outfitters around the city or get in touch with the City Tourism Office. This is for the reason that traveling from the highway to the exact cave site is quite rough. You can also register as a guest at the Mambuaya Barangay Hall to get assisted.
It will always be a pleasure to learn and become a witness of a city's culture, lifestyle, nature and adventure. They bring that very unique feeling only traveling and exploring can give. Just like Cagayan de Oro, what it has become today is because of its rich history, environment and people. And of course, to the city government who do their best in bringing the city to its full bloom. Visit Cagayan de Oro and be lucky enough to get what the city can offer unlike any other city.