19 Apr

Can Oarfish predict Earthquakes? Mapping out oarfish sightings and earthquake events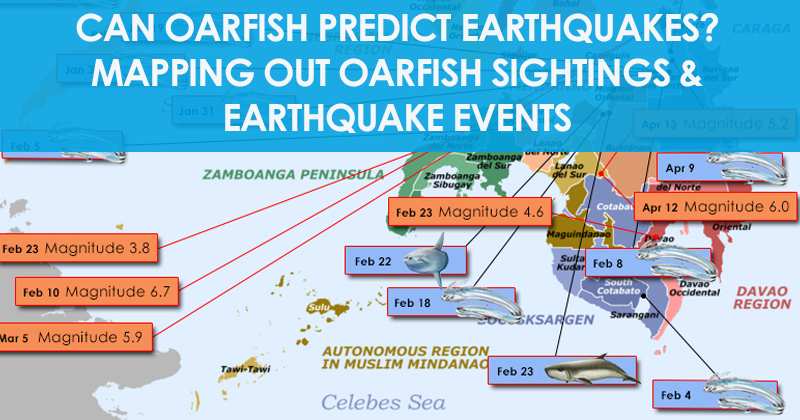 Recently, the country has been struck by massive earthquakes and preceding these events oarfish sightings have also been rounding up in social media. These sparks a long standing debate on whether or not oarfish can predict earthquakes. So we've mapped out and rounded up all sightings in the past few months vis-à-vis earthquake events in the country.
Oarfish lived in deep sea waters about 1,000 meters below can grow up to about 36 feet in length. These deep sea dwelling giants are also known 'Sea Serpents' and for some reason, history sightings tell us that these bony sea giants are known to appear washed up ashore – dead of course – before a huge earthquake strikes.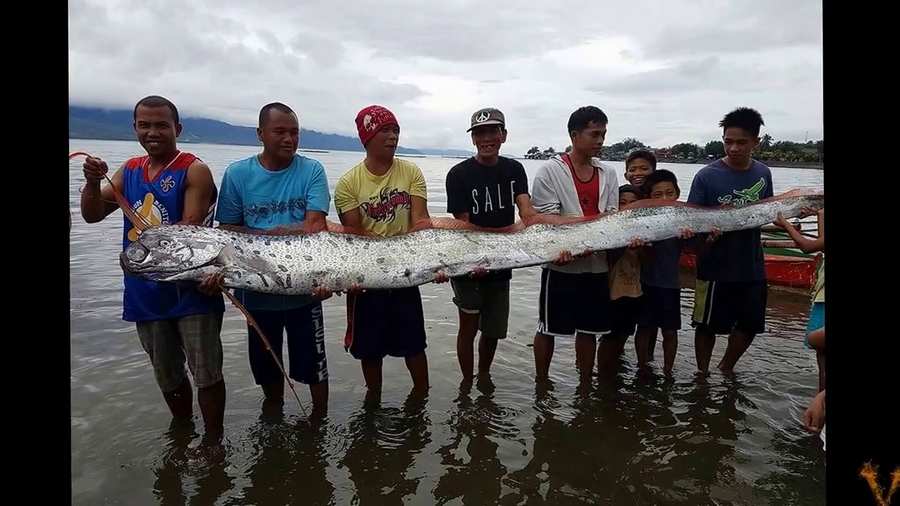 In 2010, the appearance of dead oarfish was followed by a massive 8.8 magnitude earthquake in Haiti, Taiwan and Chile. According to a Japanese ancient myth, the fish rise to the surface to warn of an impending earthquake. Scientists however have different explanations – since these fish are bottom dwellers they are susceptible to seismic movements in fault lines and when their habitat is disturbed by these movements they would likely rise from below. (Source: telegraph.uk)
Although there is really no scientific proof to prove whether or not these fish can predict earthquakes, there is no harm in letting ourselves be warned and be prepared when these fish washed up on our shores.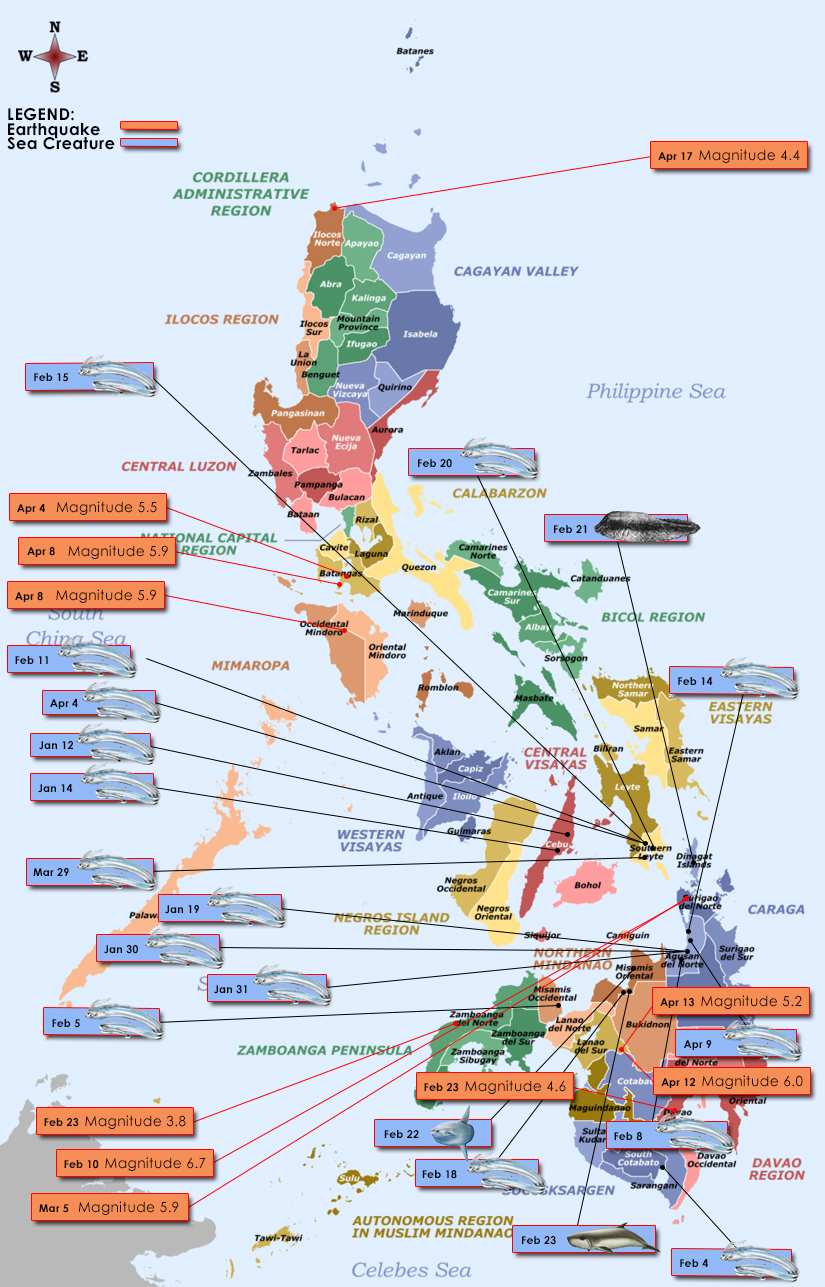 Oarfish Sightings:
January 12, 2017 oarfish Taboc Looc, Danao City, Cebu
January 14, 2017 oarfish Talisay, Cebu City
January 19, 2017 oarfish Masao Butuan City

January 30, 2017 oarfish Masao Butuan City

January 31, 2017 oarfish Lumbocan, Butuan City
February 4, 2017 oarfish Bula, General Santos City

February 5, 2017 oarfish Tudela, Misamis Occidental

February 8, 2017 10-ft oarfish Buenavista, Agusan del Norte
February 10, 2017 10:03 PM Surigao City – Magnitude 6.7
February 11, 2017 oarfish Bontoc, Southern Leyte
February 14, 2017  oarfish Tubay, Agusan del Norte
February 15, 2017 oarfish Bontoc, Southern Leyte
February 15, 2017 12-ft oarfish Brgy. Rojales, Agusan del Norte
February 18, 2017 20-ft oarfish Brgy. Gusa, Cagayan de Oro
February 20, 2017 2 oarfish Brgy. Kawayan, Libagon, Southern Leyte
February 21, 2017 20-ft globster Cagdianao town, Dinagat Island
February 22, 2017 sunfish Balingasag town, Cagayan de Oro
February 23, 2017 pygmy sperm whale Brgy. Tablon, Cagayan de Oro
Earthquake Events
February 23, 2017 9:30 AM Davao City – Magnitude 4.6
February 23, 2017 7:36 AM Zamboanga del Norte – Magnitude 3.8

March 5, 2017 Surigao City – Magnitude 5.9

March 29, 2017 oarfish Padre Burgos, Leyte
April 4, 2017 14.4-ft oarfish Talisay, Libagon, Southern Leyte
April 4, 2017 Batangas – Magnitude 5.5
April 8, 2017 7:09 AM Mindoro – Magnitude 5.9
April 8, 2017 3:07 PM Mabini, Batangas – Magnitude 5.9
April 9, 2017 14-ft oarfish Brgy. Tolosa, Cabadbaran, Agusan del Norte
April 12, 2017 5:21 AM Lanao del Sur – Magnitude 6.0
April 13, 2017 4:01 AM Lanao del Sur – Magnitude 5.2
April 17, 2017 7:28 AM Pagudpud, Ilocos Norte – Magnitude 4.4