20 Mar

CDO Animators to bring first Ph Anime Project to life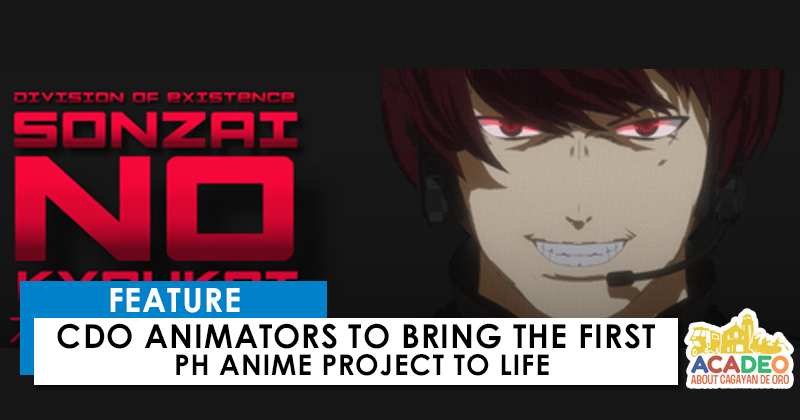 Animators from Cagayan de Oro are making waves in the anime industry as they bring 'Sonzai no Kyokai'' or Division of Existence, the first anime project in the Philippines to life.
Team XGN, the animators behind Division of Existence, is composed of animators from the Philippines and two of them are from Cagayan de Oro City.
Dave Gadrinab, the team leader who also handles the Story , Character/Environment Designer , VFX , Animation, and Rendering hails from Barangay Cugman, Brad Arces, who is responsible for Animatics and Storyboard, comes from Kauswagan, and Elroy Zagada Uta from Patag, who heads the merchandise.
Other members are: Linil Komban for Character Animation , VFX , Rigger; Sri Mule for Character Animation; Joseph Manuel (elder brother of Dave) for SFX / BGM & Caleb Mills – Story / Script.
Division of Existence is a story about John Salazar, a member of Global Security, who guards a prison for paranormal entities. One day the prison cell he was attending to break loose and he found himself in a war between the paranormal and trying to shut down the gate that allow them to enter into our world.
Let us show our support to our fellow Kagay-anons by liking and sharing their fan page.

Title : 存在の境界
English : Division of Existence
Romaji : Sonzai no Kyoukai
Genre : Horror , Action , Military , Sci Fi
Language : English , Japanese
Film Duration : 6 – 12 Minutes
Platform – Youtube , Patreon , Facebook
Status : On Going
Funding : Patreon
Production Group : TEAM XGN
OST : IRON ATTACK!
LINKS
PATREON
https://www.patreon.com/TeamXGN
FACEBOOK
https://www.facebook.com/Divisionofexistence
Twitter
https://twitter.com/AkariNoChikai
Blogger
http://www.blenderxgn.com/
Art Station
https://www.artstation.com/artist/davemg