02 Nov

CDO Councilor Lao Suggests to Have New Cemetery, Apartment-Type Graves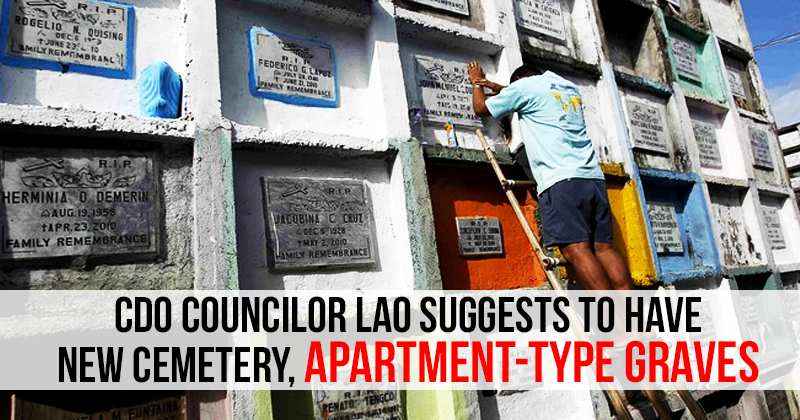 Cagayan de Oro City Councilor Teodulfo Lao suggests constructing two apartment-type cemeteries, once each for the city's two districts as he also intends to close the city public cemetery located in Bolonsori, Camaman-an.
Lao said that it is time for the city to search for a new area as he visited the city cemetery on October 31, Monday.
Lao stated, "Puno na kaayo ang sementeryo sa Bolonsori, kinahanglan na nga mangita og lain and himoon nga apartment-type."
To save some land, the Lao said that the city should consider building constructing apartment-type cemetery adopting the structure used in other cities.
Through these type of structure, tombs can be piled five levels high and stacked by rows, Lao added. As he spoke, "Para dili magpareha sa Bolonsori nga piot na kaayo, hangtod five levels lang ang pagpatong-patong sa mga nitso and abay-abay pareha sa Manila."
Instead of burying departed loved ones in a public cemetery, the city can construct two of this apartment-type cemetery, one for each district to make it more convenient and accessible.
Apartment-type cemetery is also suitable than building columbariums to
hold the ashes of cremated corpse.
The current city-run cemetery is already packed, Lao said, adding that the city also requires larger public cemeteries as the population is increasing.
Since 1982, there are about 200,000 corpses were buried at the 19.8-hectare city memorial park located at Bolonsori, according to the management.
Lao said that he would submit a special report during the next regular session of the City Council, concerning the matter as an urgent and priority issue for the council to consider.
The City Council can examine the probability of transferring the public cemetery as the 2017 annual budget is still up for discussion, Lao added. As he spoke, "Kinahanglan nani mahisgutan sa City Council ilabi na kay maghisgot na kami sa budget for 2017."
News Source: Sun.Star