17 Jul

CDO Brgy Officials Disapprove Home Quarantine, Kagay-anon Arrivals Sent Directly to Isolation Units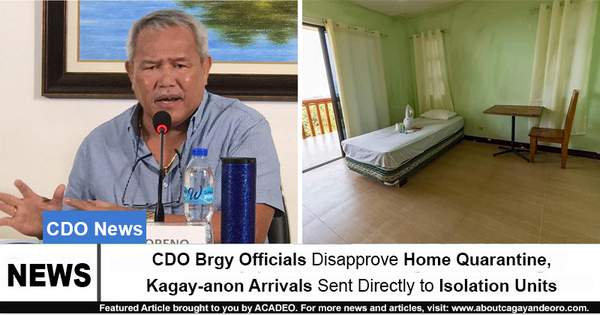 Mga higala! In a press briefing last Thursday, July 16, 2020, Cagayan de Oro City Mayor Oscar Moreno said that he respects the stance of barangay officials and their constituents against the home quarantine of new Kagay-anon arrivals.
Due to this, CDO residents that arrive in airports, ports, and terminals must immediately be transferred to the city's isolation units and make them observe the 14-day quarantine to help them get rid of the coronavirus disease 2019 (COVID-19). Also, this prevents them from infecting their families and neighbors.
In cases of home quarantine, it is the responsibility of Barangay officials and their health workers to monitor and ensure that those who have just arrived in the city must comply with the set health standards. This is why new arrivals are informed ahead whether their respective barangays approve them for home quarantine.
Officials from Barangay Balulang are reportedly filing a resolution this coming week which suggests the prohibition of arrivals for home quarantine temporarily.