15 Jun

CDO City Council Set Annual Budget to P2.4 Billion, Reject Moreno's Proposed Budget of P4.8 billion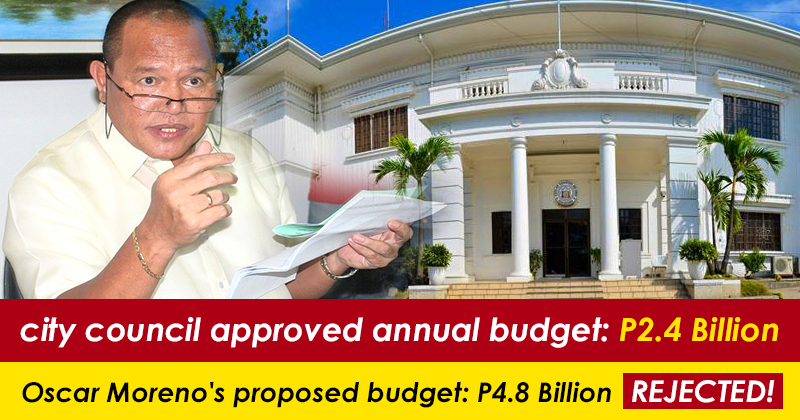 On Monday, June 13, the Cagayan de Oro city council has just approved an annual budget of P2.4 Billion, rejecting Moreno's proposed budget of P4.8 billion.
Previously, in 2015, the budget is set at P2.08 billion. This year's budget is higher than P452 million compared to the 2015 funds.
Councilor Ramon Tabor said the city council based its decision on the "real and actual" tax collection of the City Treasurer's Office in 2015.
Tabor said, "Dili man mabalaka si Mayor Moreno kay kon nagkinahanglan siya sa dugang budget, mahimo man sa sunod city council. Makapakangayo siyag supplemental budget."
Meanwhile, Councilor Roger Abaday criticized the scaling down of the budget from what Moreno already proposed, saying it was clear to him that partisan politics still got in the way even after the elections.
He said, "Nganong mabalaka man sila kon unsa-on paggasto ni Moreno ang kuwarta sa city hall nga na-a may daghang government agencies nga mo-account ana sama sa Commission on Audit?"
Abaday was also unsatisfied with the city council's decision of setting only P1 million for the Moreno administration's peace and order fund. Moreno's proposal for the peace and order budget is not less than P70 million.
Abaday continued and said, "Dili sab kini makataronganon nga P1 million ra ang intelligence fund ni Moreno, samtang kang Dongkoy kaniadto P60 million. It's malicious, cruel and unkind."
According to him, with such low budget for peace and order, it will not compensate the high demand of anti-drugs and criminality that the Duterte administration will implement.
Abaday asked, "Unsa-on man ni Mayor Moreno paghatag sa igong suporta sa kampanya batok sa illegal drugs kon P1 million ra ang iyang intelligence fund?"
he also added, "Nakita ko nga subra kaayo ka gamay. Unsa man ang mahimo sa mayor para ma-implement ang program? Kami na sa city council ang nagbahin asa ihatag. That is a violation. The work of the city council is only to approve and evaluate. Dili kini puwede."
But according to Tabor, the current fund for peace and order is based on the city hall's 2015 budget.
Tabor also added that while the P1 million is too low, they have already directly allocated 41 million budget to aid the Cagayan de Oro City Police Office (COCPO) and a P3 million as an aid to the Philippine Drug Enforcement Agency (PDEA).
Tabor said, "mo na lamang gideritso sa mga law enforcers ang budget alang sa ilang operation kay da-an na man nagsulti si Mayor Moreno nga irrelevant ang city council."