09 Mar

LOOK: Cagayan de Oro City Hall Implements Safety Measures Against COVID-19

Mga higala! The Cagayan de Oro City Hall is now conducting additional safety measures to protect everyone against the spread of the Coronavirus disease or COVID-19!

Employees and visitors coming into the city hall from 7:00 am to 5:00 pm, will be submitted to a mandatory body temperature check, which will be done by designated personnel using a non-contact infrared thermometer.

Below is the protocol posted by Cagayan de Oro City Philippines: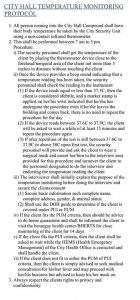 The cooperation of the public is highly encouraged.
For more photos and details: