02 Apr

Cleanup of 'Spaghetti Wires' in Cagayan de Oro to Start on April 15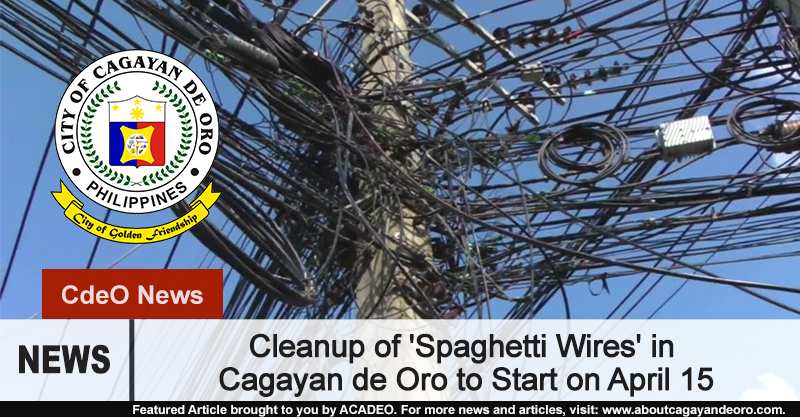 The City of Cagayan de Oro has now created a task force to implement the cleanup and retrieval of dangling electrical/telecommunication 'spaghetti wires' all over the city.
According to an article by Sunstar, the said task force has been named as Task Force Hapsay Kable, which is headed by City Mayor Oscar Moreno and co-chaired by National Telecommunications Commission Regional Director Teodoro Buenavista and City Councilor Teodulfo Lao Jr., the chairman of the city's committee on public utilities. The Cagayan Electric Power and Light Company Inc. (Cepalco), the City Public Service Office, City Engineer's Office, Office of the Building Official, and telecommunication companies such as PLDT, Globe, Smart, Parasat, Philcom, and Misamis Oriental Telephone System Inc. (MisOrTel) will also join the action.
The city plans to start the cleanup and retrieval of these spaghetti wires on April 15 or earlier, as long as they acquire the needed tools for the said operation.
Task Force Hapsay Kable will start at Osmeña Street and will continue every day until all the abandoned or unused spaghetti wires in the city are removed.
Source: Sunstar CDO