05 May

CDeO City Gov't To Allocate Budget for Health Service Improvement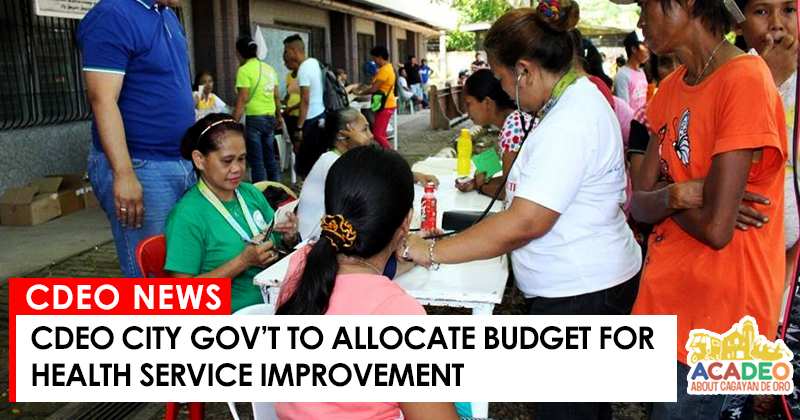 The city government of Cagayan de Oro City is embarking on a new mission to improve the city's health services by allocating most of the city's budget this year on health improvement. City Mayor Oscar Moreno said after the groundbreaking ceremony of the new city-owned rehab that he plans to build another rehabilitation center inside the city jail at Barangay Lumbia, where 80 percent of the inmates are detained of drug-related cases and a mental facility for the mentally-challenged individuals.
Moreno added that the planned rehab center to be built inside the city jail will greatly improve the rehabilitation of the inmates after going through the frank process of the city's justice system. According to him, it is part of the two-way process of penalizing the inmates and at the same time, helping them to become a better version of themselves.
On the other hand, the mental facility will not only hopefully lead to better results for those patients with mental health issues but also lessen the risks of transporting them into far places just to have them treated from time to time.
As of the moment, the city government of Cagayan de Oro entered a Memorandum of Understanding (MOU) with the Southern Philippines Medical Center (SPMC) in Davao City June of last year in response to the growing needs of the mentally-challenged persons in the city. Thus, the agreement will allow patients to be transported to the hospital to seek treatment.
Aside from this, the city has launched another way of assessing the psychiatric conditions of the patients through video conferencing and telecommunication, called telepsychiatry. In this way, doctors and specialist from other places will no longer have to see the patients in the city to assess and provide treatment.
According to Mayor Moreno, both rehab center and a mental facility is projected to start within the year and will be put to use next year.
Source: Sunstar.com