22 Sep

CDO Gov't Offers Educational Assistance For Senior High & College Students: 800 Slots Available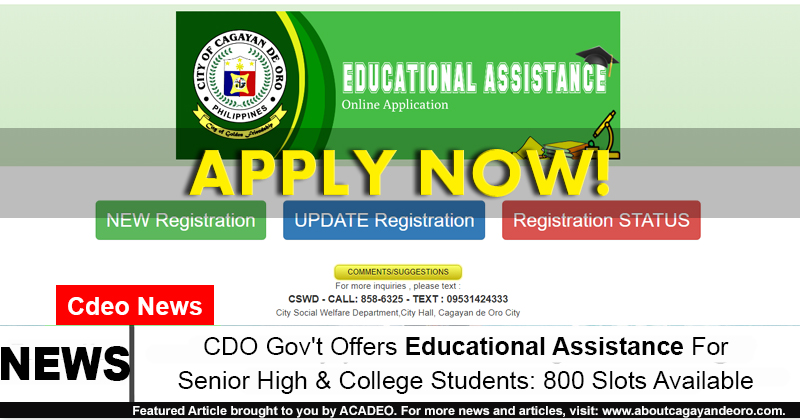 Mga higala! According to a post by the Oro City Social Welfare and Development Department, the Cagayan de Oro gov't has opened applications for educational assistance for deserving Kagay-anon students!
This is open for senior high school and college students and 400 slots are available for each level.
Interested? Apply now higala: https://services.cagayandeoro.gov.ph/educasst
Below are the qualifications and other details:
QUALIFICATIONS
Must be a College student or Senior High School Student Enrolled in Private or Public School with an outstanding balance
Must be a resident of Cagayan de Oro City
The school where he/she enrolls must be within the jurisdiction of Cagayan de Oro City
Must NOT be a Beneficiary of the following:

Special program for Employment of Students (SPES)
City Scholar or the 5,000.00 educational assistance of the City Scholars Office(CSO)
CHED Scholarship
REQUIREMENTS
 Photocopy of Certification of Registration (COR) from the school with Statement of Account;
Photocopy of updated School ID
Official Good Moral Certificate issued by the School Registrar
Grades signed by the School Registrar
Barangay Indigency Certificate;
Photocopy of 4Ps ID (if the family is a beneficiary);
Certificate of No-Business from the City Treasurer's Office (Parents name)
Social Case Study Report (If the requirements are completed at CSWD)
For more details: