06 Nov

CDO Gov't Urges Public To Register With "Higala App" & Help In COVID-19 Tracing

Mga higala! The local government of Cagayan de Oro is now encouraging the public to register in its "Higala App", a web portal that aims to improve the city's contact tracing capabilities!

With this, health personnel and other authorities will easily be able to trace if an infected individual recently visited, shopped, or ate in a specific establishment and determine possible close contacts.

This will also help in avoiding physical contact with objects like pen and paper (when filling out contact tracing forms), since COVID-19 can survive or be transmitted in materials like these.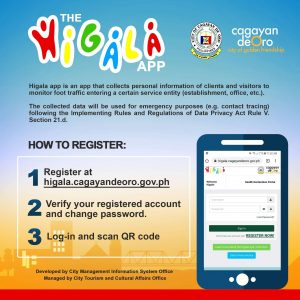 To register, click this link:
A dry run of the Higala App will be conducted this Monday, November 9, 2020.
For updates and more details: