14 Oct

CDO Health Office Tells Public To Disinfect Hands After Handling Cash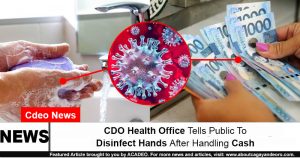 Mga higala! Epidemiologist Dr. Teodulfo Joselito Retuya of the City Health Office (CHO) in Cagayan de Oro is now advising the public to wash and disinfect their hands immediately after handling or receiving cash!
This is because based on recent data, a number of local COVID-19 cases and deaths in the city are persons who owned stores, vendors, commercial businesses, and bank employees who handled money on a daily basis, which is a possible source of infection.
According to a post by Stephen Capillas, this possibility is supported by a survey conducted by the Australian government´s National Science Agency, which stated that COVID-19 can survive in cash, cell phones, and stainless steel for around 28 days through fomites.
Fomites refer to substances or surfaces that were touched by an infected person and can be transmitted by contact to other persons.
For more details: