09 Jun

International School in CDO to Offer Online High School Classes Amidst COVID-19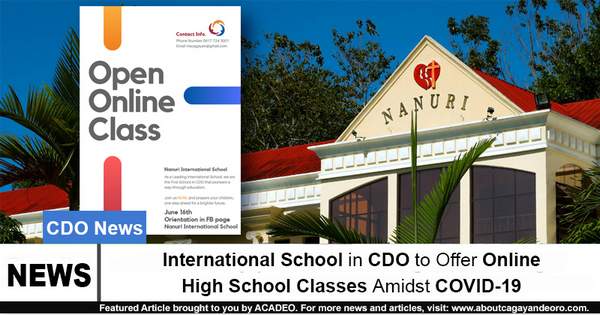 Mga higala! After achieving a successful Online Summer Class through an online system, Nanuri International School, an International Christian School located at Taguanao, Indahag, Cagayan de Oro City, will be offering High School Online Classes.
Considering the threats of coronavirus disease 2019 (COVID-19), this international school pursued an online system to help students continue with their studies and at the same time, keeping their health and safety a priority.
For Grade 7-12, classes will start on June 17, 2020. Consider the following once enrolled in the online system.
Class assignments, projects, as well as grades, will be published through Google Classroom.
Class lessons will be done through Video Conferencing using Skype.
For an advanced understanding of lessons, Google Doc, Google Slides, and other Google tools will be utilized.
Visual aids and research projects will be incorporated through YouTube.
In case of students who have no access to the main methods, they will be taught through phone calls, email, or any other method.
As an effort to check up on their students, the school has called the parents to survey their current situation.
For those who have no access to the school's online system, manual modules will be provided.
For more details, visit their official Facebook page: Nanuri International School