16 Jan

It's Safe To Eat Fish, HIV Cannot Be Transmitted Through Water Or Food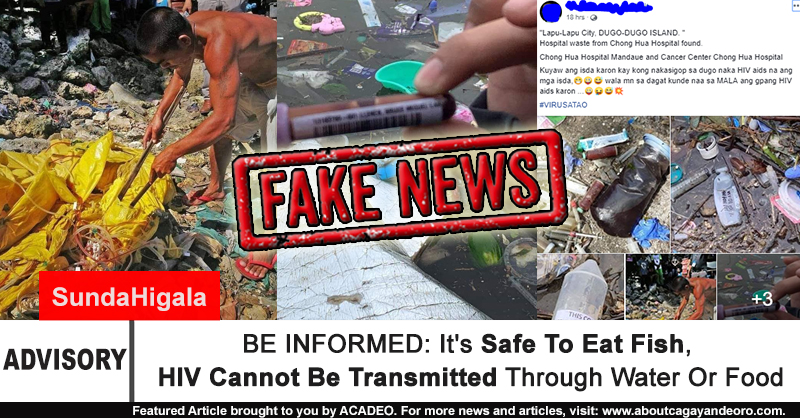 Mga higala! BEWARE OF FAKE NEWS! Please don't believe or share circulating posts that warn netizens not to eat fish due to dumped medical wastes containing blood with the Human Immunodeficiency Virus or HIV, found near the waters of Visayas or Mindanao.
According to the World Health Organization (WHO), HIV does not live long outside the human body. Even if the food contained small amounts of HIV-infected blood or semen, exposure to the air, heat from cooking, and stomach acid would destroy the virus.
Based on the current scientific evidence, WHO and the U.S. Centers for Disease Control and Prevention (CDC) are of the opinion that food is not a source of HIV infection.
Moreover, HIV cannot reproduce outside a human host. It also cannot be spread by:
Mosquitoes, ticks, or other insects.
Saliva, tears, or sweat that is not mixed with the blood of an HIV-positive person.
Hugging, shaking hands, sharing toilets, sharing dishes, or closed-mouth or "social" kissing with someone who is HIV-positive.
Other sexual activities that don't involve the exchange of body fluids (for example, touching).
For more details, check these links:
Center for Disease Control and Prevention (CDC)- www.cdc.gov/hiv/basics/transmission.html
World Health Organization (WHO)- www.who.int/news-room/fact-sheets/detail/hiv-aids
Check some these fake news posts below: