01 Aug

CDO's Jiovani Jalalon Fuels Chiefs over Blazers: Now on a Four-Way Tie in the 2nd Spot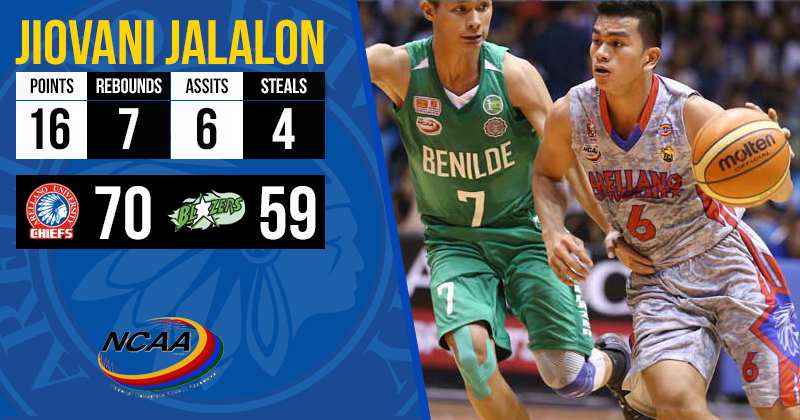 On July 29, Friday, the Arellano University Chiefs continues their dominance and rise to the top as they defeat the College of St. Benilde Blazers in a 70-59 win. Now, they are sitting at the second spot shared with 3 other teams in the tournament.
Arellano's win is propelled again by their leading player from Cagayan de Oro City, Jiovani "The Bus Driver" Jalalon. It was a game where Jalalon did not reach 20 points, which is usually a norm to him.
But the 16 points of Jalalon did not bother Coach Jerry Codiñera, as his main man also recorded seven rebounds, six assists, and four steals, for an amazing versatile performance againt from the best point guard in Philippine College basketball today.
12 of Jalalon's 16 points came in the third quarter where the Chiefs blasted off leaving St. Benilde behind. From that time, they never let the game get close again to let the Blazers come back.
During the post-game interview, Coach Jerry Codiñera said, "We have tough games ahead in the second round and we're a little bit worried that's why we're practicing hard. We must improve more our offense and defense."
Aside from Jalalon, Arellano's Zach Nichols also scored 14 points; fellow Kagaya-anon Kent Salado contributed 11 points while Julius Cadavis recorded eight points and 12 rebounds.
For the Blazers, Christian Fajarito tallied 20 points and 12 rebounds. Amidst his strong performance throughout this season in the National Collegiate Athletic Association (NCAA), the Blazers remained winless in 8 games.