03 Aug

Kagayanon Jiovani Jalalon Leads AU on its 3rd Straight Win on His 23rd Birthday!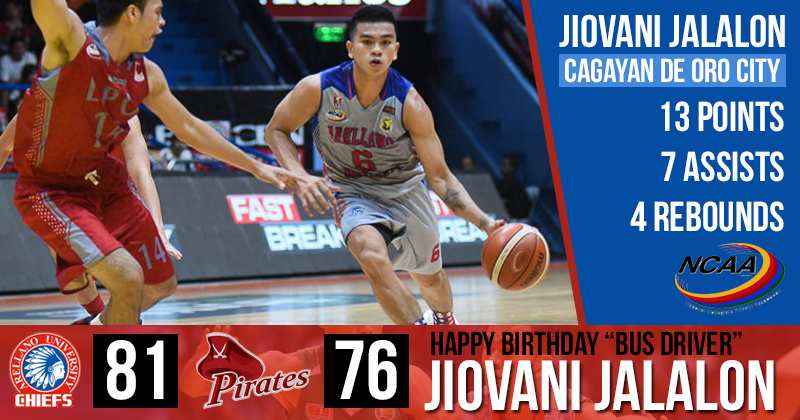 On Tuesday, August 2, the Arellano University Chiefs continues its winning streak, now at 3 games in a row after defeating the Lyceum of the Philippines University Pirates, 81-76!
It was Jiovani "The Bus Driver" Jalalon, Kent "The Conductor" Salado, and Dioncee Holts who helped the Chiefs prevent a late fourth quarter surge by the Pirates.
Coincidentally, it was Jalalon's 23rd birthday and this win serves as a gift to him. He scored 13 points, seven assists, and four rebounds.
Jalalon's fellow teammate from Cagayan de Oro, Kent Salado contributed 17 points and seven rebounds. While Holts has his first monster game this season scoring 20 points and grabbing 15 rebounds.
The Chiefs established a comfortable lead early in the game going into the second half. Yet, the Pirates bounced back in the middle of the game, tying the game at 54 at some point.
The Chiefs did not back down, as Salado lead the Chiefs to answer an 18-6 run against the Pirates to create a comfortable margin of 72-60 midway in the fourth quarter.
The Pirates came back again and inched closer within 3 points, 79-76. Pirates' Raymar Caduyac missed a game-tying three-point shot with 20 seconds left in the game. The Chiefs got the rebound and had fouled Jalalon, sending him to the charity stripe and nailing both free-throw attempts in the process.
Arellano is now tied for the second spot with Perpetual Help and having only the San Beda Red Lions ahead of them.
Jalalon is considered by many as one of the top MVP contenders this season of the NCAA. He is also tagged by the media, coaches from other teams, and various sports analysts as the best point guard in College Basketball today.
This win has established the Chiefs' position as one of the contenders for the Championship trophy this season. After being tagged as underperformers at the start of the season, they are now in a solid ground going into the second round of the tournament.
With the "bus driver's" all around play and the "conductor's" basketball orchestration, Arellano University is looking to stride their way to the top headed by these two Cagayan de Oro City standouts.