06 Oct

CDO Police Reorganized, not Because of Poor Performance but due to New Promotions

The Cagayan de Oro City Police Office (COCPO) has reshuffled its station commanders and unit chief following the promotions of the officials.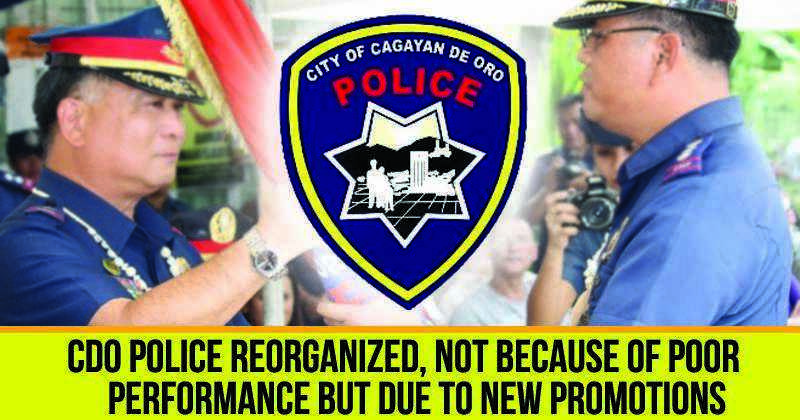 Chiefs of police stations 2, 3 and 7 including the chief of City Anti-Illegal Drug Task Force (CAIDTF) were reshuffled effective on October 4, Tuesday, Cocpo spokesperson Chief Inspector Allan Curato said.
Chief Inspector Arvies Altiche of PS7 was substituted by Senior Inspector Ian Datiles, Chief Inspector Alfredo Ortiz of PS2 was replaced by Chief Inspector Gilbert Rollen and Chief Inspector Arnel Polo took the place of Chief Inspector Ariel Philip Pontillas of PS3, said Curato.
Rollen who was in the administrative position was replaced by Altiche and Chief Inspector Joepet Paglinawan is heading the CAIDTF vacated by Polo.
The reshuffling does not concern the poor performance of the police officers but rather due to the promotion achieved by Ortiz and Pontillas, both fitted the next higher position, Curato said. He added that both of them should have the chart of organization status prior to the promotions.
Pontillas stated, "Need position for my promotion for the superintendent next year 2017."
Pontillas is the deputy chief of Regional Intelligence Division (RID) of the Police Regional Office-Northern Mindanao in Camp Alagar.
Pontillas stated, "September 28 pa akong order, actually, gikuha ko sa region as deputy sa RID."
He added, "For almost 9 years in Cocpo assigned in different stations and special units, I believe I delivered a good police service to the Kagay-anons. I would like to thank the officers of Cocpo for the trust and confidence given to me."
During President Rodrigo Duterte's visit in the city on September 22, he awarded police officials with the Medalya ng Kadakilaan, who had an outstanding performance in operations for the administration's campaign against illegal drugs and Pontillas was one of the awardees.
News Source: Sun.Star