03 Aug

CDO Ports are to be inspected by BOC-CDO team and PDEA units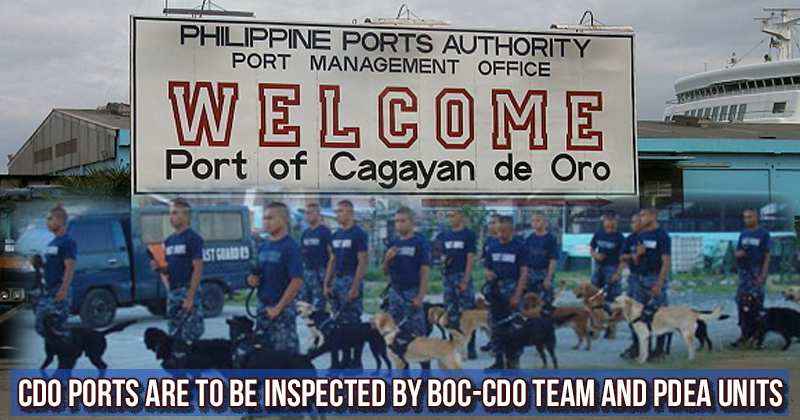 Bureau of Customs-Port of Cagayan de Oro's Anti-Smuggling and Anti-Corruption Team (BOC-CDO Team) and Philippine Drug Enforcement Agency's (PDEA) in Northern Mindanao has teamed up to extend the war against illegal drugs in Duterte's administration.
This team up aims to obstruct the production and possible entry of illegal drugs in northern Mindanao especially through CDO port and other sub-ports particularly the Mindanao International Container Terminal (MICT), and ports located in Ozamis and Iligan.
PDEA in Region 10 has sent two of its K9 units to BOC-CDO last week, to inspect shipments seized at the Designated Examination Area (DEA).
Yesterday at Mindanao Container Port Terminal in Tagoloan, Misamis Oriental, PDEA agents upheld by drug-sniffing dogs, was in search for illegal drugs.
Customs Deputy Commissioner for Intelligence Group (IG) Jessie Dellosa and BOC District Collector Ruby Claudia Alameda, aims to support the Duterte's administration with the war against the proliferation of illegal drugs in the country.
Through Regional Director Adrianne Alvarino, the BOC-CDO team had already begun their tighter coordination with the PDEA.
Alvin Y. Enciso, BOC-CDO Customs Intelligence and Investigation Service (CIIS) officer-in-charge said, "We are very grateful to the PDEA who has been fully supportive of our anti-drug campaign".
Together with the former Customs Commissioner Nicanor Faeldon, and both BOC-CDO and PDEA units would investigate shipments at the DEA to make sure that no imported illegal drugs or its precursor were able to enter the country. Particularly those that came from those "red flag" countries and areas that are known to be one of the producers and manufacturers of these illegal assets.
Enciso added, "We are also working out an information sharing system with the intelligence and enforcement offices through the National Intelligence Coordinating Agency (NICA). Hopefully, this will help us pinpoint the location of shipments that might be carrying illegal drugs".
Philippine Coast Guard (PCG), National Bureau of Investigation (NBI), Philippine National Police (PNP) and the Armed Forces of the Philippines (AFP) are also anticipated to form an alliance to boost the campaign against illegal drugs, Enciso said.