25 Jun

CDO Scholarship Program Grants Scholarships To 2,000+ Kagay-anon Youths For Batch 2020: List Released!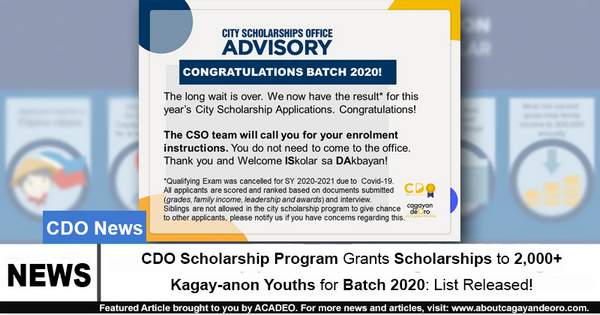 In a Facebook post by the CDO City Scholarships Office, the city government announced that it has added over 2,000 Kagay-anon youths as beneficiaries of the Cagayan de Oro City Scholarship Program!
Promotions and screenings were done by the people of the said scholarship office last January of this year, 2020. Applications were screened and interviews were then held to ensure a fair selection of scholars.
The members of the City Scholarship Board also helped in the selection process to identify the deserving applicants.
In the midst of the pandemic, the city government didn't think of culling down the budget or limiting the slots, but instead, granting full scholarships to aspiring Kagay-anons scholars.
See the full list of scholars in the post below: