19 Jul

Cagayan de Oro Table Tennis Player, the Flag Bearer for Team Philippines in the Olympics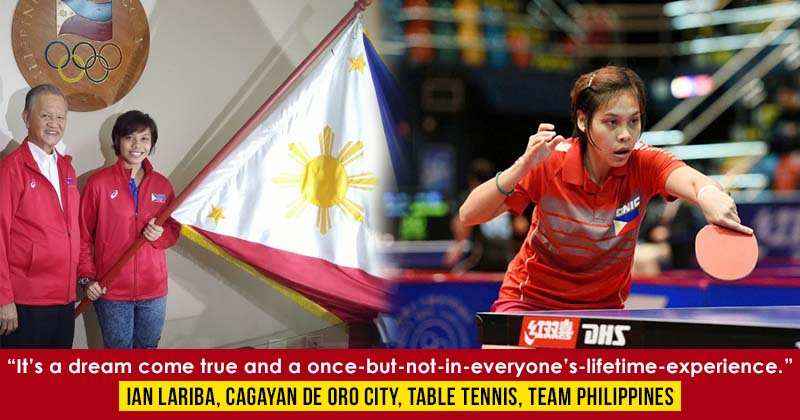 The talented table tennis player from Cagayan de Oro City, Ian Lariba, has been tasked to carry the Philippine flag during the parade of athletes in the opening ceremony for the 2016 Rio Olympics!
It was announced by the Philippine Olympic Committee President Jose "Peping" Cojuangco on Tuesday, July 19 at the sports body's offices in Pasig City.
Ian Lariba who is a student of De La Salle University is the first table tennis Olympian of the Philippines, a tough sport that has been dominated by the Chinese delegates.
Cojuangco said, "First of all, she (Lariba) competes in a very tough sport that is dominated by the Chinese and the Koreans. I think that Ms. Lariba has a chance to compete for a medal because she's hurdled her sport's qualifiers that already features a very tough field. Of course, you have the best already in the Olympics but I have the utmost confidence in her."
He also added, "And second, she is one of our few young athletes who will be making her first appearance in the Olympics. Among our young athletes, she's most qualified."
Lariba was shocked after knowing that she will be carrying the flag of the Philippines during the opening ceremonies. She said, "I was surprised when Mr. (Joey) Romasanta called me into a room (before the press briefing) regarding this," related the 23-year old Lariba. "I didn't know what to say. I was groping for words. I hoped that Mr Romasanta didn't think I was ungrateful. But when I found the courage to talk, I could only say, 'Thank you.' But it is an honor."
"I am still trying to process being the flag bearer. I am already having difficulty containing my excitement about going to the Olympics. This is the dream of every athlete. And now, I'll be with the Philippine delegation carrying the flag. It's a dream come true and a once-but-not-in-everyone's-lifetime-experience," she added.
Lariba's first game is set on August 6 at 9am in the preliminary round of the table tennis competition.
All of the Philippines are excited about the upcoming event in Brazil this August, but the Kagay-anons are the most enthusiastic among all of us Filipinos, for our fellow Kagay-anon will carry the flag of the Philippines.