09 Jun

CDO's Jalalon Near Triple-Double Pushed Arellano University to Semis! – San Beda Eliminated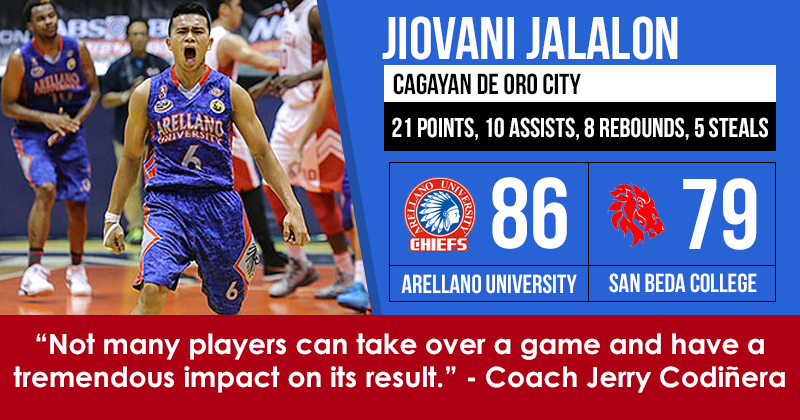 On Tuesday, June 7, Cagayan de Oro local, Jiovani Jalalon, propelled the Arellano University Chiefs to the semifinals of the 2016 Filoil Flying V Preseason Premier Cup at San Juan Arena by beating the San Beda Red Lions 86-79.
Jalalon stuffed the stat sheet with an almost a triple-double performance, recording 21 points, 10 assists, 8 rebounds, and 5 steals.
San Beda tried to push their way near the end of the game, but Jalalon's 5 crucial Free-throws sealed the Chief's win in a series of foul plays by San Beda to stop the clock.
Arellano head coach Jerry Codiñera praised Jalalon by his impressive dribbling and court vision, he said, "Not many players can take over a game and have a tremendous impact on its result."
He also added, "He is my extension on the floor. He can feel the game. And with his maturity, he is like a coach on the floor."
Condiñera said that he will use this tournament as a motivation going on the much bigger NCAA competition. He said, "This tournament (Filoil) first, we worry about the NCAAs later."
Before ending the media interview after the game, Condiñera commended his best player, he said, "Just when you think you've seen it all, there's something new. As a coach, he is not only very coachable but fun to watch. Minsan napapatingin ako sa mga assistant coaches ko with yung look na, 'nakita mo yun?' And I have the best seat in the house."
Jalalon is considered as one of NCAA's craziest ball handlers, no wonder that he is locked in the national team for two consecutive years now.
Imagine Jalalon playing in the PBA soon, much better if he would be playing together with fellow Kagay-anon Carlo Lastimosa in Blackwater Elite, what delight it will be for us Kagay-anons!