03 Jul

CDO's Jiovani Jalalon, the Philippines' Best Point Guard in College Basketball Today!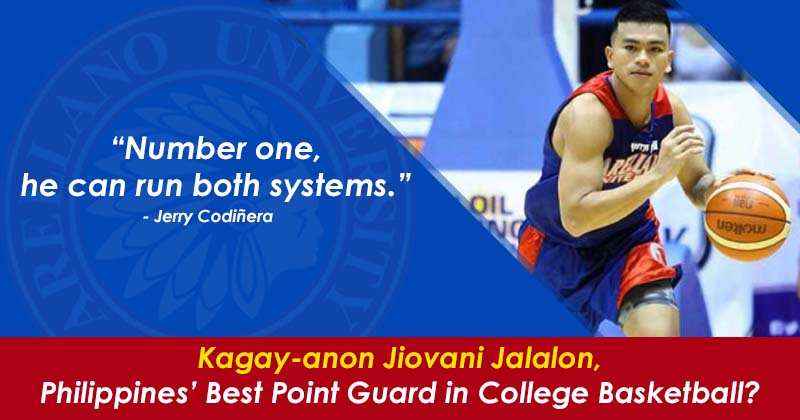 Jiovani Jalalon from Cagayan de Oro City is hailed by Jerry Codiñera as the best point guard in College Basketball in the Philippines during the NCAA Season 92 press conference at the Mall of Asia Arena in Pasay on June 22.
"Number one, he can run both systems," Codiñera said.
The Arellano Chiefs are the consensus favorite to win the NCAA Season 92 men's basketball championship, and Jalalon is primed to become this year's MVP of the tournament.
Recently, the versatile point guard played for the Philippine team that won gold in the 2016 SEABA Cup, where he scored, assisted, rebounded and defended well in the court.
Last year, during the 91st season of the NCAA, the stat sheet stuffer Jalalon recorded multiple triple-double games for the Arellano University.
Recent tournaments that Jalalon joined aside from the SEABA Cup was the Father Martin's Cup where they won the title and finishing second to La Salle in the Filoil preseason tournament where he had been included in the mythical five of that tournament.
His coach praises him and believes that Jalalon will become this year's best player in the NCAA. He said, "He can run the dribble-drive, he can run the Triangle System. He's a quick guard, he gets his assists, he can score anytime at will, he has the heart, he is strong, and he's an excellent defender. So he has everything. He's young, 21, and he's driven."
He also added, "he has a better chance of getting it [the MVP award] because of what we acquired – the rookies this year. We have decent rookies. Winning an MVP takes luck; it takes the right wins, the right combination."
Jalalon is a scoring fire power! He recorded 66 points, 11 assists, and 9 rebounds in Arellano's final two Filoil games this offseason.
"Considering we placed fifth last year, our main goal is to enter the Final Four first and to be more consistent in what we do as a team, we look at it on a game-to-game basis, and hopefully, we'll improve," Codiñera said.
With the much improved Jalalon manning the point, Arellano is eyeing its first NCAA seniors championship this year in a much more realistic setting.