26 Oct

CDRRMO Prepares For All Saints' Day and All Souls' Day, Boost Security and Emergency Measures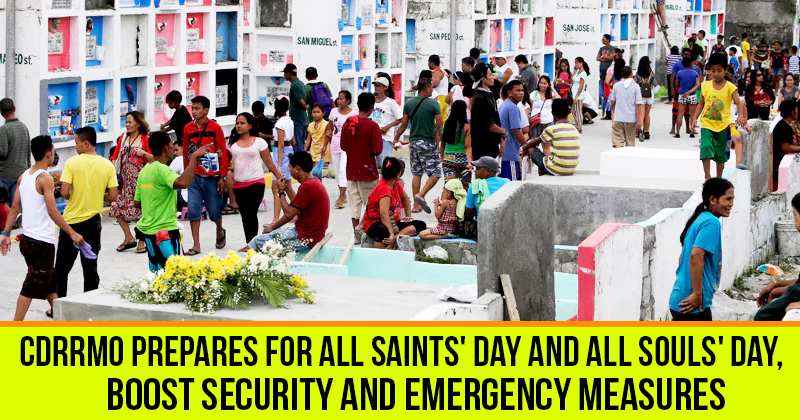 Since All Saints Day and All Souls Day is just around the corner, the City Disaster Risk Reduction and Management Office (CDRRMO) summoned stakeholders for a meeting on Tuesday, October 25, to prepare security and emergency measures around the cemeteries.
The meeting was held to organize inter-agency plans and operation for the upcoming holidays, CDRRMO Officer Allan Porcadilla said.
The police will guarantee the security, peace, and order while the CDRRMO will prioritize on the consequence management, Porcadilla added. As he spoke, "Kung sa pagbantay sa police naay gubot ang CDRRMO ang motubag sa epekto sa gubot mao na ang consequence management."
Different rescue groups and volunteers were also summoned to attend the meeting for the orientation of their task and functions during the holidays.
The Incident Command System and Incident Management Team will be initiated on October 31 and will deactivate on November 3, Porcadilla said.
Cemeteries within the control of barangays will also disperse their personnel on October 29.
The police will still guard in the different cemeteries until November 6.
To avoid the same mistakes committed previous years, Porcadilla said that the police will not leave their respective posts until the said date. As he spoke, "Sauna kompyansa kaayo ta kay pag-abot sa November 2 abi natog wala nay tawo so gi-pull out nato ang atong mga personnel then naay nahitabo so gipabalik na sad. So mao na atong gilikayan karon."
He added, "Magsugod ang mga barangay sa October 29 kay taas man nga holiday so gi expect nga naa nay magsugod og visit and ang police sa November 6 pud taman kay basin naa pay mohabol og visit."
Medical teams such as medical first responders will also be available in all cemeteries across the city to provide emergency assistance.
Porcadilla also warned the public to secure their homes before leaving as robbers will be active especially during holidays. As he spoke, "Dili gyud dapat tagaan opportunity ang mga daotang elemento nga makahimo og krimen sama sa pagpangawat so i-secure gyud ang mga balay samtang walay tawo kay toa sa mga sementeryo."
He added, "Gi-discourage sad nato ang katawhan nga dili magdala og packbag, shades nga posibleng madudahan sa mga police. Then always gyud magbantay sa kaulingon batok sa mga kriminal."
News Source: Sun.Star