16 Aug

Celebrate Diversity Of Music In Prohibition Music And Food Festival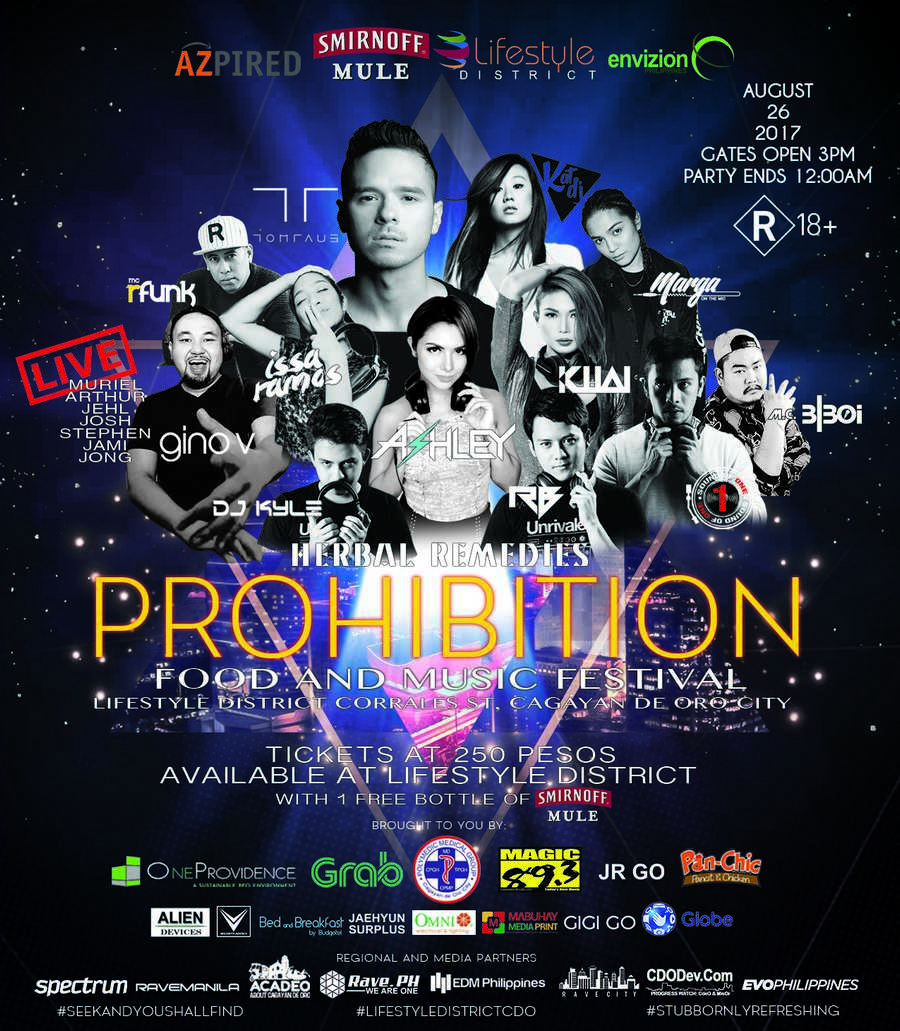 "Music is a piece of Art that goes into the ears then straight to the heart."
Prohibition Music and Food Festival is all about the heart, from the organizer's heart to yours. It is a celebration of the diversity of music as an expression. A showcase of different musical genres for an eclectic spectrum of tastes. This year, as a music festival, Prohibition will expose you to genres of reggae, hip hop, retro and contemporary pop, and EDM with a bespoke program to make you smile, dance and cheer. The stage will showcase the best of the best local and national artists, starting off with chill out and indie Djs, a masterful hiphop Dj an all-star band, a reggae show master, our own locally produced LIVE set and finally the powerhouse and electrifying Djs of Manila. We will have small stages as well, each and every locator in Lifestyle will have their own commissioned parties emphasizing on the diversity of music. Choose your poison.
Prohibition is a food festival. Catering the festival crowd. Expect a range of flavours and tastes in this very special occasion tailored for you at festival prices. Be ready to take a journey on their food train.
Prohibition will be a fiesta of its own. In a very festive ambiance and a secure location, it will bring you memories of frolic, cheer and camaraderie to talk about and share with. And you can't dare to not miss out on those memories.
Lastly, Prohibition is about the heart. The organizers are doing this for the love of music, for the love of fun, for the love of life. This is a non-profit venture. We will bring the best in the business to you so we can give your best to who needs it the most. FROM OUR HEART TO YOURS, FROM YOUR HEART TO THEIRS. We guarantee each and every one with a full heart at the end of the event.
PAY IT FORWARD!
For more updates, you can follow their Event Page: Prohibition 2017 at Lifestyle District  and their official FB Page Lifestyle District
#SeekAndYouShallFind #LifestyleDistrictCDO #StubbornlyRefreshing #Prohibition2017