21 Nov

Celebrate Soirée 2017 A Night With The Hair And Makeup Artists Of Northern Mindanao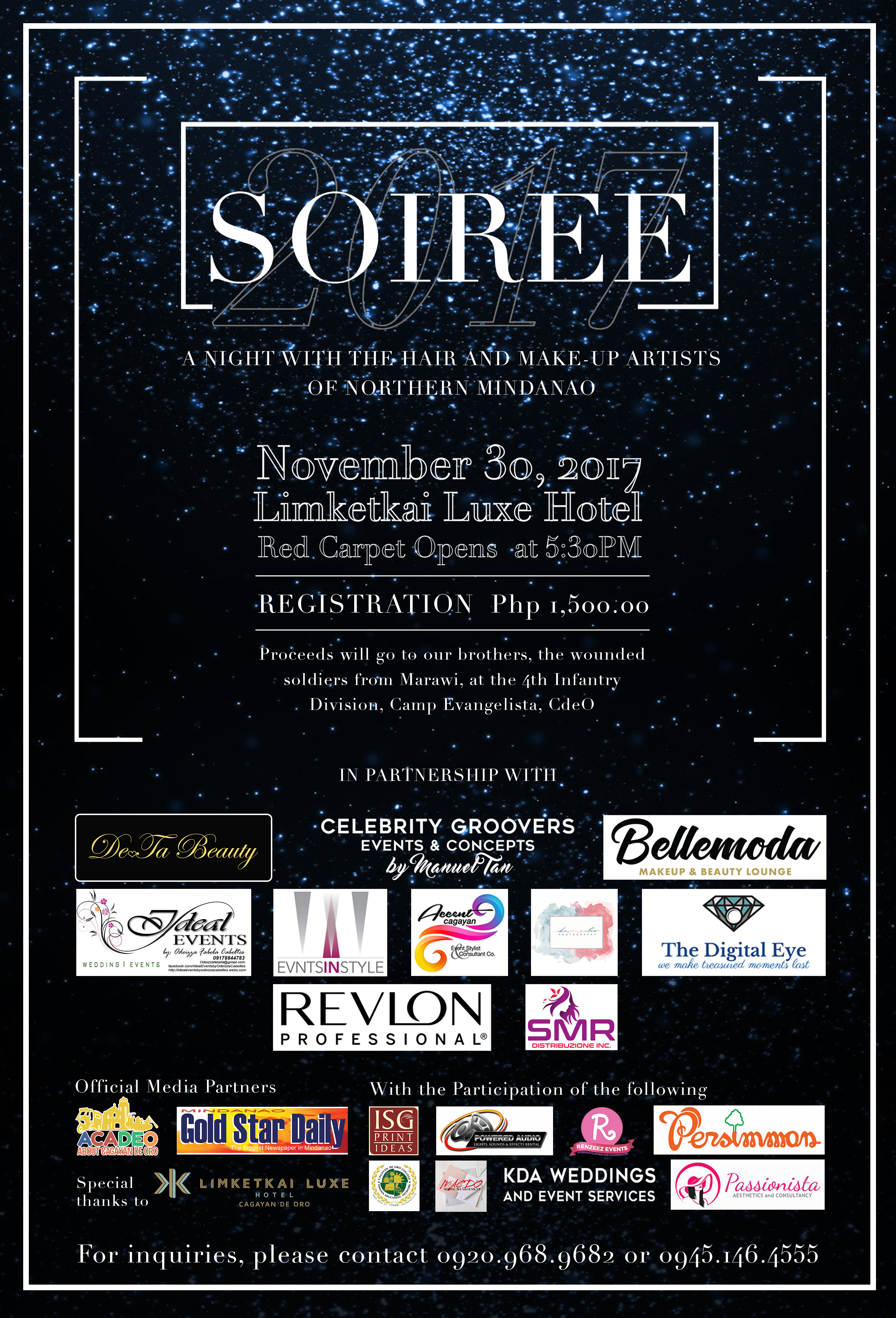 When it comes to special occasions, may it be in fashion shows, weddings, or gig hostings, beauty is in the details. And speaking of beauty, our preparations will not be complete without our own "fairy godmothers" in these events; our hair stylists and makeup artists. In fact, even if you are wearing the prettiest dress, you will certainly be a laughingstock if you have a horrible hairstyle and makeup. And that is certainly not something we wish to remember after any celebration.
True enough, if you are a makeup artist, you're expected to do your magic on a person thru your skills and creativity.  You are responsible for showing the aesthetic potential of anyone. Which is why we would like to take this time to reflect on their artistry and appreciate every makeup artist and hair stylist out there for putting all the efforts to make us the most beautiful person we could ever be.
And on Thursday, November 30, 2017, is the turn of the fairy godmothers all around Northern Mindanao to look stunning and beautiful dressed up with those elegant gowns and sexy stilettos, as they celebrate a night with their colleagues- the Soiree 2017.
Soiree 2017 will be a night for the hair and makeup industry to rest from all their hectic schedule in order to have a colorful and fun-filled bonding event to celebrate their artistry and give honor to the hair and makeup artists who were in the industry way before they became one.
One of the highlights of Soiree 2017 will be the giving of recognition to three (3) three hairstylists and makeup artists who represented and brought honor to Northern Mindanao.
However this night will not only be about the glitz and glamour but a dedication to our nation's brave and selfless knights, who sacrificed their lives to keep our nation's peace and keep every Filipino safe at night, the brave soldiers at 4th Infantry Division (Diamond), Camp Evangelista, Cagayan de Oro City, who fought for the freedom of Marawi City.
Don't forget this November 30, 2017 (Thursday) at Limketkai Luxe Hotel, Soiree 2017 a night with the hair and makeup artists of Northern Mindanao.
Red Carpet Open at 5:30PM
Dress Code and Color Motif: Formal, Black and White