09 Mar

Celebrate Your Inner Creative with the Samsung Galaxy A71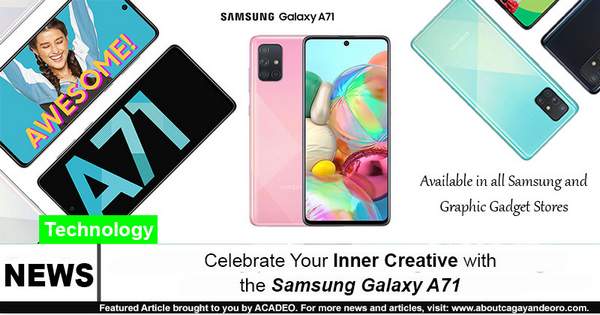 Mga higala!
What do you look for in a smartphone? If you're like many of the global trendsetters who are active on social media, you want a phone that lets you explore your creativity with ease and quality. Whether you're taking selfies with friends in Cagayan de Oro or vlogging your latest creative endeavor, a reliable smartphone can be surprisingly hard to come by.
It's not enough to have a smartphone that lets you watch videos and check for social media updates – a great smartphone lets you shoot crystal-clear videos, record audio with crisp sound, and take high-definition photos, while still keeping you connected to your loved ones and friends 24/7.
You don't create content just for the likes – the content you make is an expression of your most authentic self, and you need a phone that helps you communicate that.
The new Samsung Galaxy A71 aims to be that phone. Express your creativity with this powerful smartphone that's jam-packed with features every digital native would love.
Check these features out: the Samsung Galaxy A71 has a Quad Rear Camera setup that has four settings (64MP main camera, 12MP Ultra Wide, 5MP Macro, and 5MP Depth lenses), making it perfect for taking high definition photos under all sorts of conditions. Its 6.7″ Massive Infinity-O Display and Super AMOLED Plus color technology makes sure your photos and graphics don't experience color loss and distortion.
The A71 also has an advanced 8nm Octa-Core processor and a Super-Fast Charging 4,500mAh battery, which means you can go live with video without experiencing a drop in video quality or connectivity. And for those who love making videos, the Samsung Galaxy A71's Super Steady Video feature is a built-in video stabilizer, so you can shoot smoother videos while on the move.
On top of all of these great features, the smartphone also boasts an 8GB RAM, 128GB ROM, external memory capacity that's expandable up to 512GB, On-Screen Fingerprint Scanner, and Dual SIM capacity. The sleekly designed phone also comes in three colors: Prism Crush Black, Prism Crush Blue, and Prism Crush Silver.
The phone is now available in Samsung and Graphic Gadgets stores.
The Samsung Galaxy A71 is a product of the Samsung Electronics Co., Ltd., which aims to inspire and shape the future through transformative ideas and technologies.
If you're looking to invest in a new phone with quality high-end features, you can't go wrong with Samsung. Ask about the Samsung Galaxy A71 at your nearest electronics store today!
Check out the entries of the following participating schools for the SAMSUNG Galaxy A71 #danceAwesome Challenge Interschool Dance Contest!
Announcement of winners will be on March 31, 2020 with a top prize of P50,000.