21 Oct

CEPALCO and NGCP: 11-Hour Scheduled Power Interruption on Oct. 22, Saturday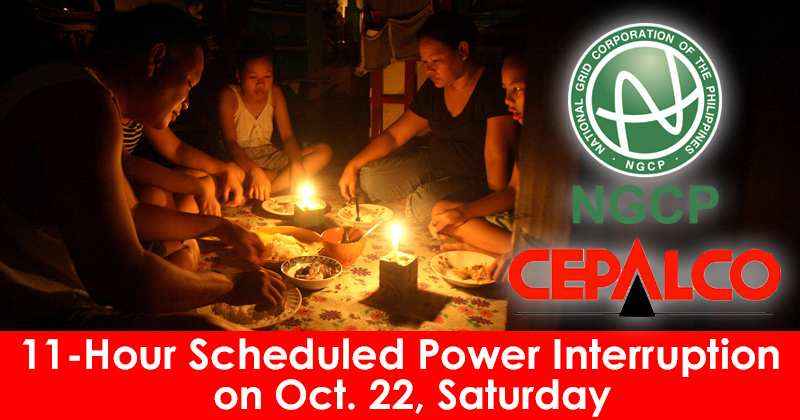 The Cagayan Electric Power and Light Company, Inc. (CEPALCO) announced that the National Grid Corporation of the Philippines (NGCP) advised them of a scheduled power interruption on October 22, 2016, Saturday.
The blackout will affect in some areas as the NGCP will facilitate shutdown of their 75MVA power transformer at their Opol substation to conduct rectification works on the deluge water spray and correction works on its 69KV drop lines.
To take advantage of the interruption, CEPALCO will also conduct line maintenance work at Max Suniel Street in carmen and another segment of line conductor stringing works of the 69KV Kauswagan-Puntod line project at crossing Capisnon, Kausgwagan-Bonbon road. A load transfer activity will be facilitated to feeders not affected by the line works.
It will be an 11-hour outage and will commence at 7 a.m. and will last until 6 p.m.
The blackout will affect the areas along RN Pelaez Blvd, Kauswagan Road from Kauswagan Elementary School including Cahoy Compound, Villa Vicente, Fairlane Village, Pasil, DMMPSC Compound, San Rafael, Zone 4, and Kabina Compound and all of Barangay Bonbon and Barangay Bayabas.
The power interruption in the areas from Trinity Tree St., Water Lily St., Lirio–Mabolo Sts., Mabolo–Marigold Sts.; Portion along Max Suniel St. including Oak St. and Ipil-ipil St.; Portion along Vamenta Blvd. from Max Suniel St. to Jasmin St. and Along V.Castro St. including Ipil-ipil St., Mahogany St. and V.Neri St. towards Jasmin St. will be 5 hours and 30 minutes only. It will commence at 7:00 a.m. to 12 noon for the line maintenance and from 5:30 p.m. to 6:00 p.m. – 30 minutes, for the load transfer.
The feeders 1, 2 and 3 at Barangay Carmen will have a load transfer starting from 7:00 a.m. to 7:30 a.m – 30 minutes and another 30 minutes at 5:30 p.m. – 6:00 p.m.
Carmen Feeder 1 includes the areas along Vamenta Blvd. from Fernandez St. towards greater part of Ilaya including: Seriña St. from COA towards Gumamela Ext., Guani Coliseum and Maharlika Police Station; Acacia St and Acacia Extension and all of Macanhan, Carmen towards all of Lower Balulang.
A portion of Carmen along Yacal St. towards Lirio St., portion of Vamenta Blvd from Poldo's Lechon towards RN Pelaez Blvd., Waling-waling St. up to GSIS area including Ferrabrel St., Mango St. and portion of Rosal St. and Marigold St.; along RN Pelaez Blvd. from Paragon, Kong Hua School up to Kauswagan Barangay Hall and Eco Church at San Isidro Village including John the Baptist and San Isidro Sts.; along Montalban St. from near Tiano Bros. St. towards Burgos St., del Pilar St. and Magsaysay St. including portions of Macahambus St. and Abellanosa St. from Burgos St.; portions of Antonio Luna St. in the Capitol side from corner Corrales Ave. and towards vicinities along Apolinar Velez St. up to corner Mabini St. including the portion of Macahambus St. from Apolinar Velez St. and Tiano Bros. St. from Macahambus St. are included in the Carmen Feeder 2.
While areas in barangay Patag and Camp Evangelista including Citi Hardware Bulua area, Apovel, Terry Hills, Soldier's Hill and all of Anhawon area; a portion of Waling-waling St. from corner Agoho Drive to Calamansi Drive down towards along Villarin St., Carmen up to Chinatown; Seriña St. from Villarin St. down to Madonna and Child Hospital and Max Suniel St. from Villarin St. down towards portion of Mabolo St.; including Matilde Neri St., Dabatian St. and COC-Phinma area; and portion of Lirio Extension area are covered in Carmen Feeder 3.
Cepalco stated that it will bring back the power immediately even earlier than the scheduled time when the line and switching operations conducted by NGCP and CEPALCO are done.
Source: CEPALCO