03 Jul

Public Notice: CEPALCO Scheduled Power Interruption on July 5 (Sunday)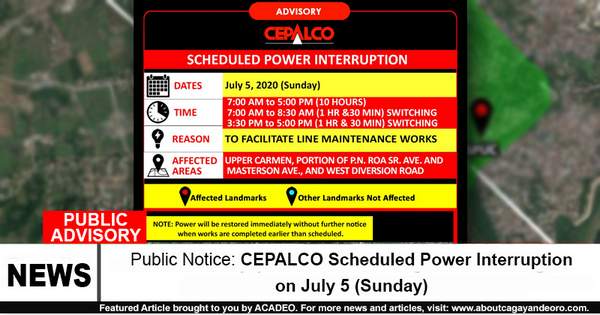 Notice to all Cagayan Electric Power and Light Co Inc. (CEPALCO) customers: there will be a scheduled power interruption this Sunday, July 5, 2020.
The reason for the said interruption is to facilitate line maintenance works in Upper Carmen, specifically at Zone 10 and Upper Dagong.
Here are the affected areas of the power interruption and their respective time of interruption:
7:00 AM – 5:00PM (10hrs)
Zone 10
Zone 11
Zone 12
Lower Dagong
Upper Dagong
Sacred Heart Village
Mother Ignacia Subdivision
SPUC/SPUM
Pryce Plaza Hotel
7:00 AM – 8:30 AM (1.5 hrs) and 3:30 PM – 5:00 PM (1.5 hrs)
Portion along P.N Roa Sr Avenue from Hall of Justice up to Marie's Grill establishment/Tobil gas Station.
Portion along Masterson Avenue from SM City-Petron Gas Station down to Chinese Cemetery including Manresa Farm/Searsolin and DILG.
2:30 PM – 5:00 PM (2.5 hrs)
Along West Diversion road, including Golden Glow North Subdivision and The Courtyards Subdivision
Zone 13, Puli, Upper Carmen
Silver Creek Subdivision
Silver Creek Town Homes
Rest assured that power connections will be restored immediately once line works are completed, even without prior notice if done earlier than scheduled.