25 Jul

Enjoy A Challenging Adventure With The Mount Hibok-Hibok Of Camiguin

Mga higala! Have an amazing weekend with your friends or family, and enjoy a challenging adventure to one of the most popular volcanoes and hiking destinations in the Philippines- the Mount Hibok-Hibok of Camiguin Island!

Mount Hibok-Hibok is one of the many active volcanoes in the country and is part of the Pacific Ring of Fire. It has an elevation of 1,332 meters (4,370 ft) and a base diameter of 10 kilometers.

It is famous to hikers and climbers for its beauty, exciting trail, and the majestic view from its summit overlooking Camiguin and its stunning White Island, the island of Bohol (north), Eastern Mindanao (east), the island of Siquijor (west), and more.

For a sneak peek and guide see the video and photos and read the instructions/tips given by one of our avid contributors- Jhong Bagtasos, below: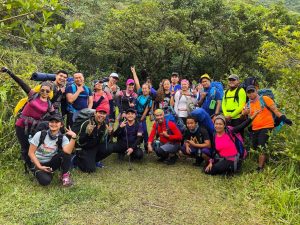 HOW TO GET THERE?
1. Contact Camiguin Tourism Office (facebook), pay your permit fee and hire a tour guide(s). I recommend Ronald Rabile (09269469660).
Permit/Environmental Fee: Php 200/pax
Tour Guide Fee: Php 1,200 (per group)
*minimum of 3 pax to a maximum of 5 pax in a group.
For booking, permits and briefing kindly go to PAMB (Protected Area Management Board) at DENR Office (Lakas, Poblacion, Mambajao).
You may also call/text:
A. Office – (088) 3870040
B. Emily Endico – Park Maintenance Foreman
09177728352
C. Roberto Rufino – Protected Area Superintendent
09257005985
2. Ride a bus from the Agora Bus Terminal to the Balingoan Bus Terminal. Expect 2 hours and 30 minutes of travel time and a fare of 175 pesos as of July 2019.
3. Buy barge ticket (P225) in Balingoan going to Benoni Port. Travel time: 1 hour and 30 minutes.
Balingoan to Benoni first trip is 4:15 am, the last trip is 4:15 pm. Benoni to Balingoan first trip is 4:30 am and the last trip is 5:30 pm.
4. From Benoni Port, ride a jeepney, multi-cab or motorela going to Mambajao. Expect 45 minutes to 1 hour travel time and a fare of 26 pesos.
5. Meet your local guide(s) in Mambajao.
NOTES:
– You have the option to choose day hike or overnight at the crater and which trail to hike. Mt. Hibok-Hibok trails are Yumbing, Ardent and the new trail at Sitio Itum.
– Expect 4-5 hours hike ascent to the crater/summit and another 4-5 hours descent (depends on your pacing).
– This is a strenuous activity, make sure you are healthy and physically fit.
– If you opted for a day hike, bring 3-4 liters mineral water, food, extra clothing, sun and rain protection like umbrella and poncho/raincoat and mosquito repellants.
– If you prefer an overnight stay at the crater, bring 3-4 liters water, food for 2 days, butane burner, extra clothing, sun and rain protection, mosquito repellants, personal medicines/first-aid kit, power bank, tent, sleeping bag, and jacket. Expect very cold temperature during the night until early morning.