08 May

CHED Merit Scholarship Program Still Accepting Applicants: Apply Now!

Mga higala! If you're an incoming first-year college student who wants some help in finishing their education, you should apply for the CHED MERIT SCHOLARSHIP PROGRAMS (CMSPs)!

This program aims to help young Filipinos achieve their dreams with financial assistance of around P80,000 to P120,000.

Interested? Check out the details below:
CRITERIA OF ELIGIBILITY (CMO 08 s. 2019)
Filipino citizen
Graduating senior high school students/High school graduate
General Weighted Average (GWA) of at least 93% or above (For Full State Scholarship Program (FSSP) and Full Private Education Student Financial Assistance (FPESFA), GWA must be 96% or above | For Half-SSP and Half-PESFA, GWA must be at least 93% to 95%)
Combined annual gross income of parents/guardian not to exceed Four Hundred Thousand Pesos (Php400,000.00) or solo parent/guardian whose annual gross income does not exceed the said amount
Avail of only one government-funded financial assistance program
Documents Requirements (CMO 08 s. 2019)
1. Certified true copy of Birth Certificate
2. Academic:
Senior High School Graduate
– Certified True Copy of Grades with General Weighted Average (GWA) in Grade 11 (1st and 2nd Semesters)
– Certified True Copy of Grades with General Weighted Average (GWA) in Grade 12 (1st and 2nd Semesters)
High School Graduate
– Certified True Copy of Report Card for incoming freshmen students eligible for college
3. Financial: Any one (1) of the following documents:
– Latest Income Tax Return (ITR) of parents or guardian;
– Certificate of Tax Exemption of parent from the Bureau of Internal Revenue (BIR);
– Certificate of Indigence of parent either from their Barangay or Department of Social Welfare and Development (DSWD);
– Case Study report from DSWD; and
– Latest copy of the contract or proof of income may be considered for children of Overseas Filipino Workers (OFW) and seafarers.
4. Other Requirements:
– Certificates and/or identification cards issued by the appropriate offices or agencies for student-applicants belonging to the special group of persons such as the Underprivileged and homeless Citizens, PWDs, Solo Parents and their Dependents, Senior Citizens and Indigenous Peoples
Application Procedure
Prepare the complete documentary requirements.
Scan or take a picture of the documentary requirements clearly.
Accomplish completely the CHED Student Financial Assistance Program (StuFAPs) online application: https://bit.ly/R10CSPApplicationAY23-24 (Note: Use CAPITAL LETTERS in filling out the form.) 
Wait for the notification from CHED. Results will be posted on our Facebook page: www.facebook.com/chedro10.
Qualified applicants will be given detailed instructions through Email, SMS, or letter.
Priority Programs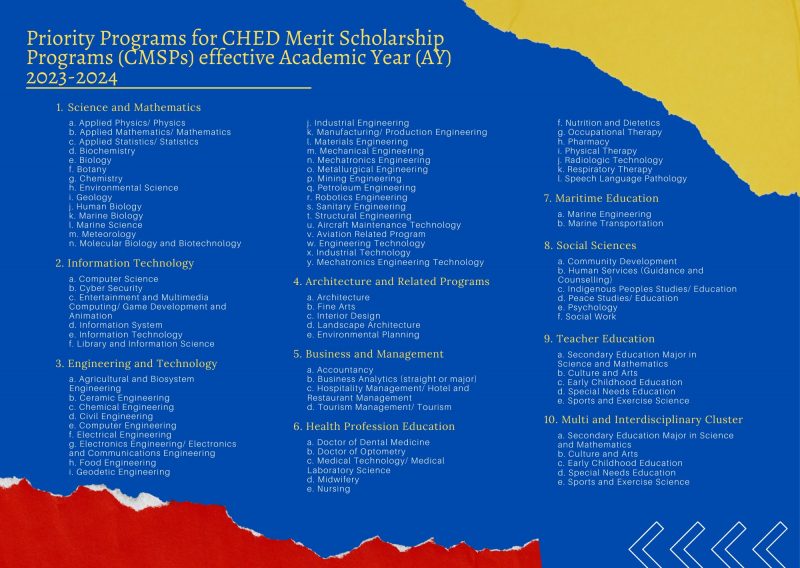 Deadline
May 31, 2023
Apply now higala!
https://bit.ly/R10CSPApplicationAY23-24
Source: