14 Jul

CHED Now Accepting Scholarship Applications For 2021: Up To P60,000 Per Year!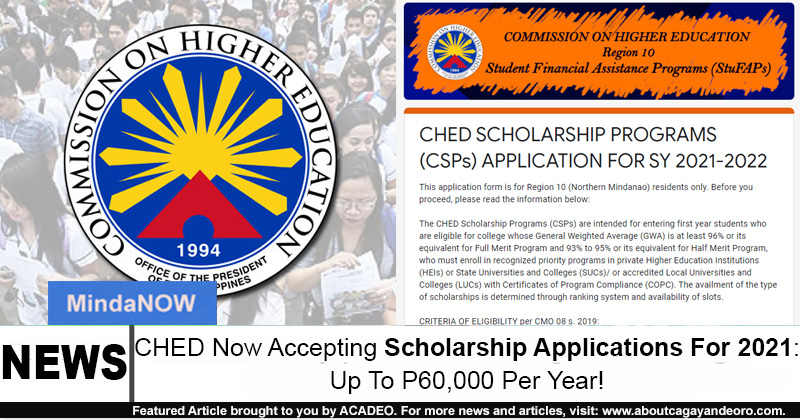 Mga higala! The Commission on Higher Education (CHED) is now accepting applications for CHED Scholarship 2021!
ICYDK, with this scholarship program, students will be able to receive:
Private Universities
Full scholars- P60,000 per year (P40,000 stipend and P20,000 tuition)
Half scholars- P30,000 per year (P20,000 stipend and P10,000 tuition)
Government Universities
Full scholars- P40,000 per year
Half scholars- P20,000 per year
Interested? Check out the details below:
Qualifications
The applicant must have Filipino citizenship and attain 85% marks to get qualified for it.
The net income of guardian should not cross P400,000 otherwise he/she must provide medical certificate (if any illness) or the school certificate of two or more dependents.
The special group applicants like disable persons, solo parents, or with more dependents should submit certifications or identity cards issued by their respective offices.
Requirements
Verified birth certificate
Report card of last school education as the freshmen are preferred over others
Any single income or financial proof document as discussed above
Responsibilities
Maintain the educational performance percentage of 85% for full scholars and 80% for half scholars
Carry on regular courses or research loads as provided by HEIs
Complete the degree within the mentioned time frame
The scholar must have written proof of respective CHEDRO in case of any transfer to the other HEIs
HOW TO APPLY?
For  Region 10, visit the link below:
For more details, visit: