08 Jun

Talented Chess Player from Cagayan de Oro City, Ruelle Canino Won Gold in Thailand!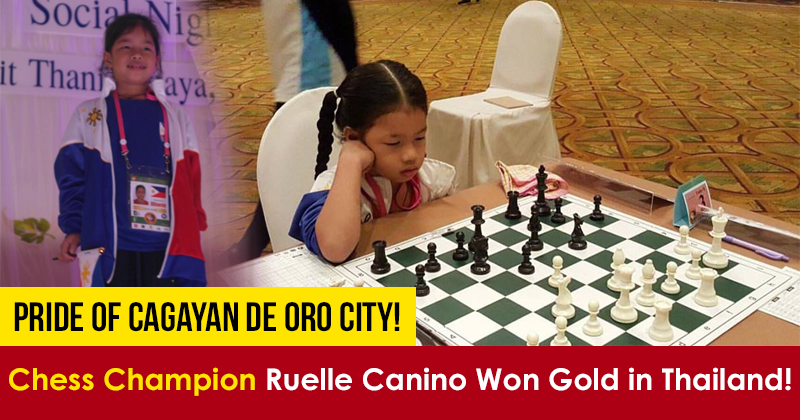 The young Ruelle "Tawing" Canino from Kauswagan, Cagayan de Oro City is hailed as the champion of the 17th ASEAN Age Group Chess Championship in Pattaya Thailand.
Joining the 8-under girls' class, she's played 9 rounds during the tournament. Won 7 of them, got a draw on one match against Vietnamese Ton Nu Quynh Duong, and only defeated once by Nguyen Thu An of Vietnam.
With that, she got 7.5 points of the possible perfect 9 points. Against any of the competitors, she is one full point ahead of them. She shined among any other and considered as the best player for the team Philippines.
Barangay 23 captain Jaime Joshua Frias III expressed his delight in Canino's success. He said, "As Tawing's (Canino) present chess trainor, sangko sa langit akong gibati nga kalipay kay grabe nga sakripisyo among gihimo mga 3 months `mi nag-preparar. Ako sab dakong pasalamat sa mga amigo nga nitabang sa bata financially para makauban ang inahan sa Thailand."
The financial supporters of Canino that Frias mentioned were Gilda "Gigi" Go of Barangay 21, Engineer Pedro Balite, Ph.D of Barangay Kauswagan, Jocelyn "Bebot" Rodriguez of Barangay Nazareth and Romeo Bacarro of Barangay Tablon.
National Chess Federation of the Philippines (NCFP) executive director GM Jayson Gonzales is the head of the Philippine delegation.
Well, it seems that Kagay-anons are not just Boxers and Basketball players; after all, we also shine in the world Chess!