25 Oct

Chinese Government Donates 47 Heavy Equipment to Aid Marawi Rehabilitation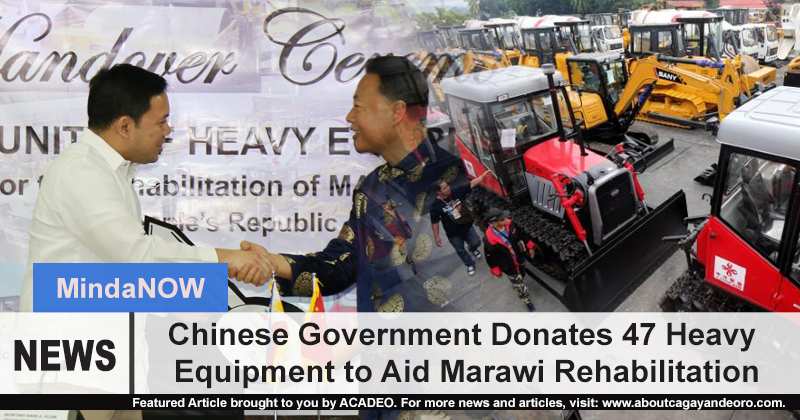 The government of China handed over 47 heavy equipment to the Philippines yesterday, October 24, that will help in the rehabilitation efforts of the government in rebuilding the war-torn city of Marawi after almost five months of battle with the Maute-ISIS terrorists.
In an article from GMA News Online, Public Works Secretary Mark Villar said that the donation of the P155-worth of equipment was an act of friendship of the Chinese government and the very first tangible assistance received by the Philippines from any foreign state for the recovery of Marawi City.
Chinese Ambassador to the Philippines, Zhiao Jianhua, said that China has guaranteed to back the Philippines in bringing back things to normal in Marawi City and every help it will extend will be suited according to the needs of the country.
Jianhua also congratulated the Philippine government for defeating the forces of terrorism in Marawi City.
Villar disclosed that land development plans are ready for launching on November 25 but the total cost is yet to be determined.
There are also plans to turn Marawi City into a tourist destination after its full recovery which only needs to be executed as soon as possible with the help of the local government.
Included in the donated heavy equipment are eight units each of excavators, wheel loaders, dump trucks, and cement mixers; five units each of compactors, track-type tractors, and bulldozers; and one unit container van.
The Department of Works and Highways (DPWH) will lead the rehabilitation works of the government to ensure that families displaced by the war will be able to go back to their homes in the city.