23 Jun

Chinese Poachers Seized, P9 Million Fine Sanctioned!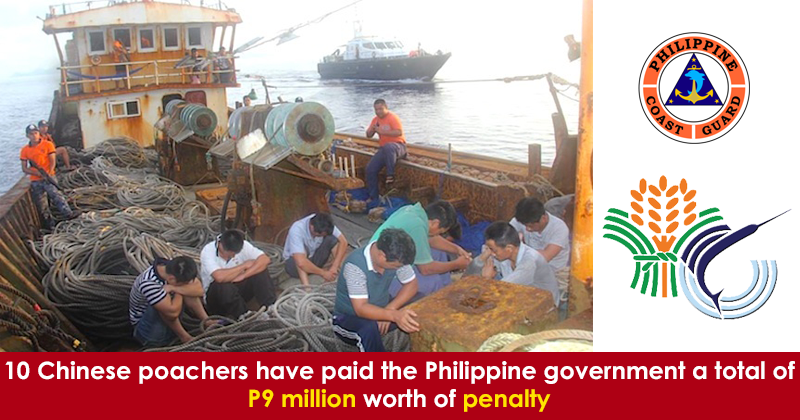 On Wednesday, June 22, Bureau of Fisheries and Aquatic Resources (BFAR) office announced that 10 Chinese poachers have paid the Philippine government a total of P9 million worth of penalty after being charged for poaching, gathering, and possession of precious corals, and use of destructive gears in Philippine waters, as identified in the Republic Act 10654 or the Philippine Fisheries Code.
The Alien Control Officer of the local immigration department, Geronimo Santos, is in action for a summary deportation of the poachers.
The Chinese fishermen were Liang Gui, Su Jia Ying, Zhang Ceng Fu, Wang Sheng Li, Shun Ji Ting, Zhuo Dao Jie, Wang Jia Yuan, Zhao Lian Zhau, Ye Xiao Jian, and Xie Yong Feng.
These Chinese nationals manning the vessel M/V Lady Luck have been arrested on May 25 by the Philippine Coast Guard and BFAR-Cagayan Valley.
"As they approached the subject vessels, all the lights were switched off and the two vessels started to evade the authorities, and one of the vessels managed to escape. At one time, the fishing vessel even rammed one of our patrol boats," said Samuel Agaloos, law enforcement chief of BFAR-Cagayan Valley.
On the capture, the vessel is identified that it has been registered in China and had no jurisdiction to operate in Philippine waters.
The battle against foreign poachers has been intensified by the Philippine government, which leads to the acquisition of 100 new patrol boats to protect its fisheries and marine resources from poachers.