05 Feb

Choobi Choobi – Lingaw Lingaw Kaon: A Different and Fun Way to Eat Out with Family and Friends

Have you ever experienced going into a restaurant, ordering the food, the food arrives, the food is actually good, but something is still missing; there's almost no fun to it. There's nothing wrong with going into a restaurant and actually having fun while savoring the great dishes. Unfortunately, many restaurants in Cagayan de Oro simply take out the fun in eating out. It's the same old order-wait-food arrives-you eat-and pay up routine. In the long run it gets kind of bland to just eat out for the food. If you ask Cagayanons, there's no "lingaw" in eating out if it's all routine.

It's a good thing that a new "lingaw kaon" place just opened in Cagayan de Oro, well, in two locations to be exact. Choobi Choobi – Lingaw Lingaw Kaon opened its first Cagayan de Oro branch at the Ayala Centrio Mall while the second opened at the Limketkai Center, on the second floor facing Shopwise. These two make them the sixth and seventh branches of the Choobi Choobi chain nationwide. The Centrio Mall branch opened last September 19 while the Limketkai Center branch opened last November 27.

If you're thinking in terms of Cebu's famous Bucket Shrimps or Red Tail Shrimps then you're on the right track because Choobi Choobi is one of Cebu City's popular seafood restaurants that offer "bagged seafood dishes" are their specialty. This means that certain seafood dishes are served hot in special plastic bags. For instance, this restaurant's best seller is the "Shrimp in the Bag" (at Php350). These bagged shrimps are flavored in different ways. Now some customers don't like ordering fish dishes when they eat out because, well let's face it, fish is usually a common viand fare at home meals, but in this case it's worth trying their Flying Pla Pla (Php160). Another bagged treat you should try is their Singaporean Style Slated Egg Shrimps in a Bag that is cooked in salted duck egg. Another signature dish is the Stan's Fried Black Pepper Shrimp; most of their shrimp, squid, shellfish, and fish dishes are so unique they aren't found in other restaurants.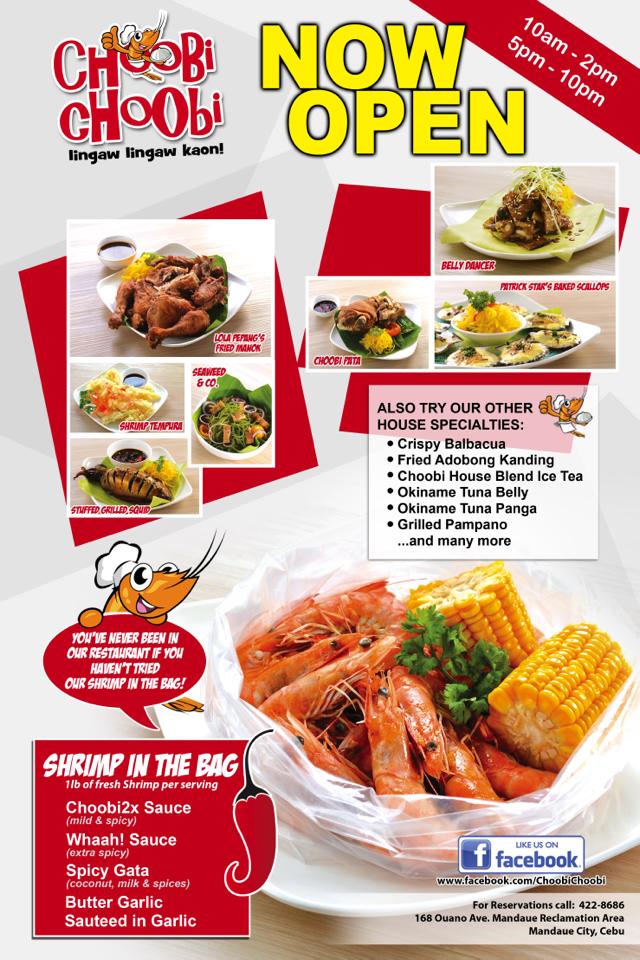 Reading the menu of Choobi Choobi is already fun in itself since much of it has funny names. For instance, the appetizers are called Kick Start.
Their star kick starter is Patrick Star's Baked Scallops. Their Souper Soups will get you chuckling further especially with their Tinolang Manok Bisdak (local chicken broth that many swear is delicious), Utan Monggos, Utan Bisaya, and Sabaw sa Halaan (Clam broth with sweet corn).
Then your eyes find the License to Grill.
You chuckle even further when you see the Belly Dancer (grilled pork belly that will make you dance, according to the menu), Sinugbang Pasayan (imagine yourself at the beach, eating grilled fresh shrimps, according to the menu), and the mysterious Lola Nene's Genghis Khan Chicken (5 pieces of boneless chicken thigh grilled with Lola Nene's special marinade) that really has nothing to do with the former Mongolian ruler. And if you're wondering what Grilled Sa-ang is, it is mollusk or cockleshell.
All of their bagged dishes are imported and you'll probably be curious about the Giant Bamboo Clam and the Lobster Fish that they call Monk Fish. They even have Chilean Mussels in a Bag.
The House Specialties feature non-seafood dishes that are just as inviting and delectable, especially with the Choobi Pata, Mama Pina's Fried Herbed Spring Duck, Lola Pepang's Fried Manok, and Spinach with 3 Kinds of Egg. The Fry, Fry the Batter Fry features the House Specialties but served in fried form, as well as an additional Crispy Adobong Kanding. They also have vegetable dishes in their Tanny's Garden. Of course the Rice and Noodles, Drinks, and Desserts round out their whole menu.
Choobi Choobi's expansion into Cagayan de Oro all started when the Cebu based restaurant chain joined the Franchise Asia Exhibit 2015 last June 12 – 14 at the SMX Convention Center at the Mall of Asia in Manila to open its doors to franchising. Obviously, two franchisers have answered the call to open "lingaw lingaw kaon" in this city. Like other major franchises, this restaurant chain already has a proven rate of success, a proven business model, and previously set up business systems. According to Choobi Choobi Flavors Corporation's CEO, Stan Tanchan, aside from the present five branches in Cebu and the two ones in Cagayan de Oro, franchisers are set to open two more branches in Cebu as well as one branch at the SM Premier Mall in Davao and its first Manila branch along Panay Avenue in Quezon City. There are also plans to open branches in Bacolod, Iloilo, Cavite, Laguna, Las Piñas, and Baliwag (Bulacan).          
Though the name of the restaurant sounds Korean, Choobi Choobi is a Chinese Fukien derivation that means "to enjoy." This is where its Cebuano tag line, "lingaw lingaw kaon" has been derived from. Far from being a Chinese restaurant, the chain cooks up mostly Filipino comfort dishes in a unique and special manner. The first Choobi Choobi branch opened in 2013 at Parkmall Cebu and the franchise hasn't looked back ever since.  
For the Christmas season, there is even an opportunity to have your company Christmas party exclusively at the Choobi Choobi branches for around Php400 per person starting price. This means you'll need to book the branch exclusively. Of course in the future this isn't limited only to the holiday season but also for birthdays, meetings, reunions, and any kind of event or celebration. For their Christmas specials, when you order a bag of Scampi Baby Lobsters (Php 499 per pound, around half a kilo), you get a free pitcher of Iced Tea.
Also, if you add Php35.00 per head for any order you can get UNLI RICE for a large feast for everyone. All of the above applies only to dine-in orders.
What great timing for Choobi Choobi – Lingaw Lingaw Kaon to open two branches in the city for the holiday season. Now you have all the more reason for your family or friends to go out and have fun while eating great seafood and other dishes. Perhaps after you finish eating everyone will be saying, "na lingaw ka sa pagkaon" (I was amused with the food).