01 Jun

Cigarette Plain Packaging to be Pushed Under Duterte's Administration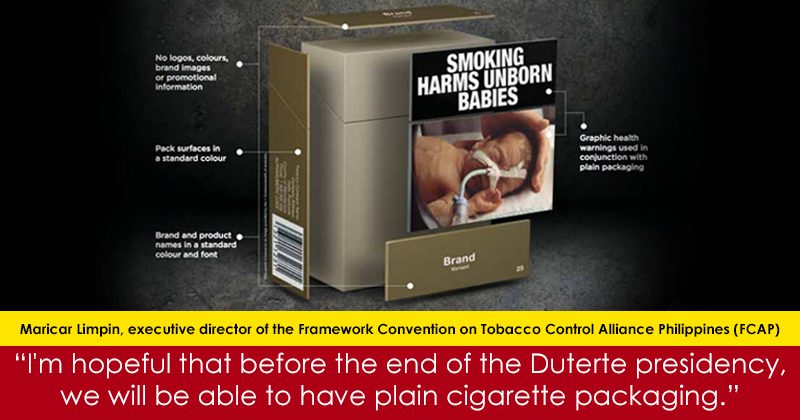 On Tuesday, May 31, the World Health Organization's (WHO) advised countries to remove logos, colors, brand images, or promotional information on cigarette packs.
The Philippines is included in those countries who signed the Framework Convention on Tobacco Control, which has implementation guidelines that advise countries to adopt the plain packaging system for cigarettes.
During the World No Tobacco Day, Maricar Limpin, executive director of the Framework Convention on Tobacco Control Alliance Philippines (FCAP) said, "I'm hopeful that before the end of the Duterte presidency, we will be able to have plain packaging."
Plain packaging involves the prohibition of the use of logos, product colors, brand images, and other promotional items on a cigarette pack.
Limpin said that for the space of 4 to 5 years, this plan will likely to materialize.
If the Philippines will be able to achieve this, it is only the second country behind Australia who fully implemented plain packaging. They've executed it in December 2012.
"Right now what we want to do is first fully implement the graphic health warning law," said Limpin who wants to further enhance the implementation of the law. It was signed way back in 2014 and only took effect in March 2016.
Limpin also addressed that the current design of the cigarette packagings is enticing to the people. She said, "Kung napansin niyo, cigarette packs really evolved. The packaging is really very enticing, very colorful. It's part of their marketing strategy, to entice young people, the young ones, to buy cigarettes. Importante, mag-prepare na tayo maipasa, maitulak natin sa ating bansa."
In the whole world, there are about 6 million tobacco-related deaths per year. More than 5 million of that are direct tobacco users. In our country, there are 240 deaths per day or 87,600 per year.
Health-related groups and advocates praise Duterte's approach to implement the same smoking ban in Davao City on a nationwide range.
While the drive looks promising, we must remember that the graphic health warning law took 7 years before it was approved in the Philippine Congress, and another two years to take effect.
With Duterte's strong push in this matter, will he make it before his term ends?