18 Apr

Circa 1850 – Setting the Trend for All-natural and Well-prepared Meals in Big Servings

The ever growing popularity of fast food restaurants is strongly evident in urban centers such as Cagayan de Oro City. Naturally, fast food is popular because it is affordable and, of course, it is "fast" and quickly served. However, the downside is that these foods are prepared and cooked in mass production and thus, are heavily seasoned and high in preservatives, fats, calories, and sugar. Health-wise, fast foods leave a certain amount of doubt to the body's health.

It's a good thing that there many restaurants in Cagayan de Oro that are opening and serve truly healthy and properly cooked food minus the artificial ingredients. One of these fine restaurants is Circa 1850, offering delicious and healthy dining menu lineups that are reasonably-priced.

With its European inspired ambience and interior design, it isn't hard to see why it has caught the attention of many Kagay-anons. The best thing about Circa is that their food comes in generous servings. Due to this reason, customers always come out satisfied and feel that they got good value for their money.
How it started
There is a local joke that had Jose P. Rizal been alive today, he would certainly be taking his meals at Circa 1850 or at Sentro 1850 because of his strict regimen to healthy food. The ambience would also suit the good doctor better than any fast food joint. Actually, both restaurants are owned and operated by the partnership of Rene Sia and Eric Yap, the latter being established in 2001. Circa retains the fusion and modern global cuisine mixed with Southeast Asian heritage cuisine that, with newer dishes served, that Sentro became popular for.
For some time Rene and "Chef" Eric had been discussing about establishing a different restaurant that still emulated Sentro without looking like an expansion branch. It was Chef Eric who discovered the empty space on the ground of the then Tune Hotel in 2013.
Environment-friendly materials
The restaurant is built mostly by using recycled timber and bricks taken from the defunct and condemned Jacinto steel mill in Lugait, Misamis Oriental. You will notice this when you check out the bolts on the timbers, including everything from the door jambs, vertical beams, iron fittings, and even the fire bricks.
Some of the bricks came from as far as Torpedo, Scotland; Sandy Bay, Devon, England, as well as chimney kiln bricks from Pakistan and India. Even the kitchen equipment and cooking wares have been carefully selected in order to retain as much of the food's original flavor as possible. In compliance with ISO 14001, its kitchen floor has anti-bacterial coating to ensure that food preparation is always clean and safe.
That Circa experience
Like its predecessor, Circa is now establishing a loyal following of food lovers, or generally just people who want to spend good money on good food with the family, a group of friends, or work colleagues.
Menu dish names like Balinese Swordfish, Steamed Fish Hainanese, and Tuna Tataki Salad with Lime Vinaigrette are certainly dishes you won't find anywhere else in the city. Instead of fine dining, the restaurant wants to cater to a more homely or family oriented ambience. Unlike fine dining restaurants, you don't need to worry about dress codes; people can come as they are because what's important is enjoying the food.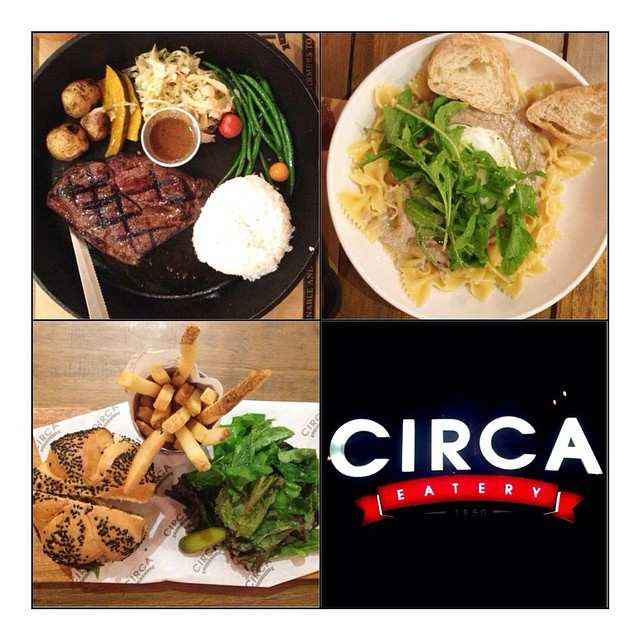 When talking of food, the restaurant is certainly in good hands because of Chef Eric's pedigree. Chef Eric comes from a line of great cooks and chefs loaded with kitchen secrets and recipes handed down through the generations, beginning with his grandmother, mother, and his famous aunt, the late Gloria Dychauco, the popular owner and celebrity chef of the famous Pots 'n Pans Home Bake and Coffee Shop along Don A. Velez Street back in the 1980's.
Chef Eric gets his food ideas and inspirations from the so-called Slow Food Movement from Italy started by Carlo Petrini in 1986. It is actually Italy's answer to the fast food craze brought to its shores by the Americans and British. Slow food advocates the preservation of the region's traditional cuisine and encourages the use of natural ingredients taken from the local ecosystem. In this way, the agricultural products of local farmers can sustain local small and medium businesses while benefiting from these businesses themselves. This movement is Italy's answer to industrial and mass produced artificial foods that are questionable when it comes to the body's health.
All Circa wants is to give food lovers an alternative to the often drab and bland foods served in malls and commercial restos. It is a place that is both retro and modern, vintage and updated, traditional and innovative, and of course, the way proper food should be, prepared well, cooked professionally, and tasting deliciously divine. The preparation of all its foods uses as much natural ingredients and condiments as possible, including salt, rather than smothering the natural taste with unnatural dips like gravy. This is why the availability of fresh ingredients in the locality is very important to the restaurant.
The Best-sellers
When asked about their bestsellers, Eric and Rene point out that most of their menu lineup are already bestsellers, such as the Shrimp Scotch Eggs with Roasted Sesame Dressing, Beefsteak Tomato, Uni Pasta with River Shrimp, and Bistecca Fiorentina.
Although the restaurant accepts takeout orders, the owners recommend that the food be truly experienced in a dining-in experience in order to fully enjoy the "slow food." Even their iced tea, lemonade, and freshly squeezed juices are made from natural fruits and ingredients.
Feathers on their hat
All of Circa's chefs have won medals or accolades during the Kumbira Food Festivals. They only hire the most professional of chefs and cooks with high levels of experience. Some of their best cooks were from the former La Vetta Restaurant and Café in Limketkai Center while others were trained by the Master Chef Carsten Radke from Berlin, Germany.
Location and Contact Information
Circa 1850 is located on the ground floor of the Red Planet Hotel (formerly Tune Hotel), Claro M. Recto Avenue, almost in front of MUST. You can get in touch with them at (088) 852-1850. They are open from 7:00 a.m. to 2:00 p.m. and from 5:30 to 10:30 p.m.