09 Jul

City Government Records 2,777 Returnees Since April, 53 Tested Positive for COVID-19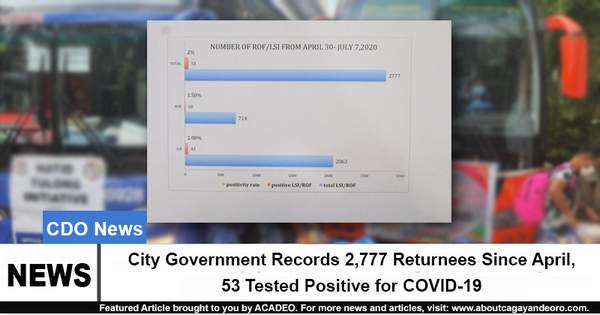 Mga higala! Since April of this year, the local government of Cagayan de Oro has welcomed a total of 2,777 returning residents who were stranded in different parts of the world, due to the quarantine restrictions implemented to fight COVID-19.
Based on the data from the City Health Office (CHO) for April 30 to July 7, 2% of the returnees tested positive for coronavirus disease 2019 (COVID-19), which is 53 in figures.
The authorities have been doing their best to make sure that all returnees are sent to isolation facilities in the city and that those who tested positive for the disease are brought to Temporary Treatment and Monitoring Facilities.